This blog is about a record on temporary display at The National Archives as part of Stories Unboxed. You can see it for yourself by visiting the first floor of our building in Kew during opening hours.
As a state archive, The National Archives holds numerous records relating to migration and citizenship, including one of the archives' most iconic and treasured records: the Empire Windrush passenger list.
But what is the passenger list? What can we learn from it? And why does The National Archives hold it?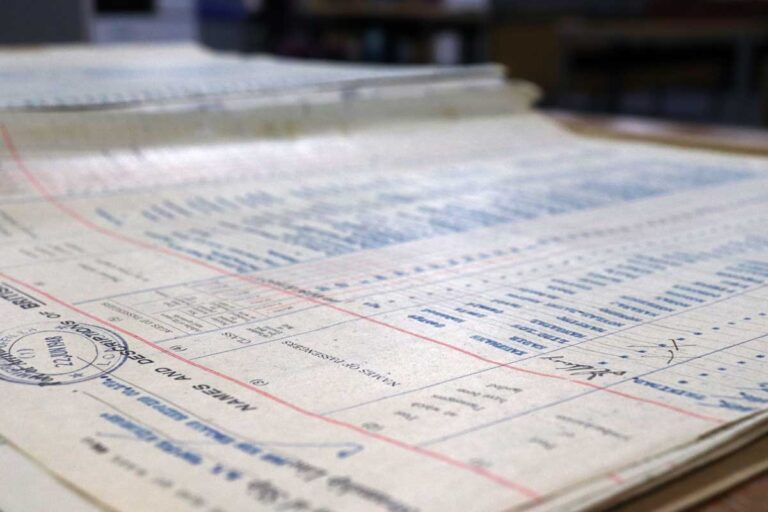 Introducing the Empire Windrush and its passenger list
The Empire Windrush visited numerous ports on its route to Tilbury docks in 1948. The first port that passengers embarked at was Port of Spain (Trinidad), followed by Kingston (Jamaica), Tampico (Mexico), Havana (Cuba), and Bermuda, before crossing the Atlantic to reach Tilbury Docks. Passengers disembarked at Tilbury on 22 June 1948. There were 1,027 passengers onboard the ship, all with their own personal story.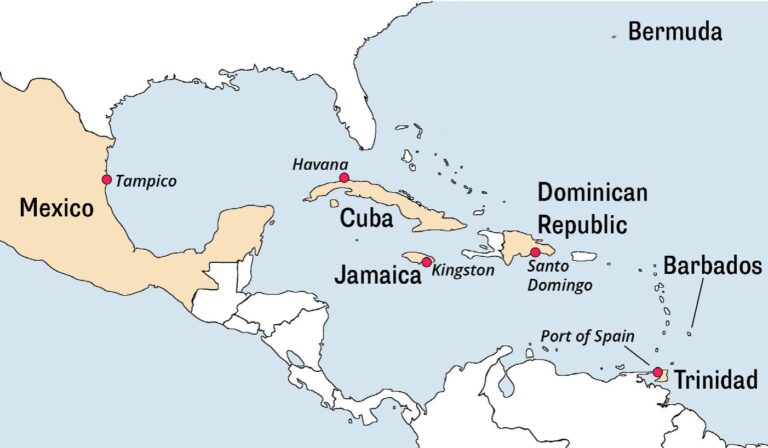 The Empire Windrush was one of many ships which carried migrants from the Caribbean to Britain in the post-war period. For example, the Ormonde docked in Liverpool in March 1947 and the Almanzora arrived in Southampton in December 1947.
Nonetheless, the story of the Empire Windrush has become symbolic of post-war migration to Britain. It's difficult to know exactly why this is, but it is likely due to a combination of factors. There were significantly more passengers on the Empire Windrush compared to earlier ships, particularly from the Caribbean. Debates around migration and citizenship were at the forefront of British politics as well, as the British Nationality Act was being discussed in Parliament around this time. The huge press presence at the port also means that a large amount of newspaper articles and photographs survive that document the ship's arrival, which may have influenced this too.
The British government initially encouraged migration from its colonies and Commonwealth countries to boost the workforce after the Second World War. In 1948 it passed the British Nationality Act, which created the status of 'Citizens of the United Kingdom and Colonies'. This new legislation around citizenship aided post-war migration to Britain, as it gave people from British colonies the right to live and work in Britain.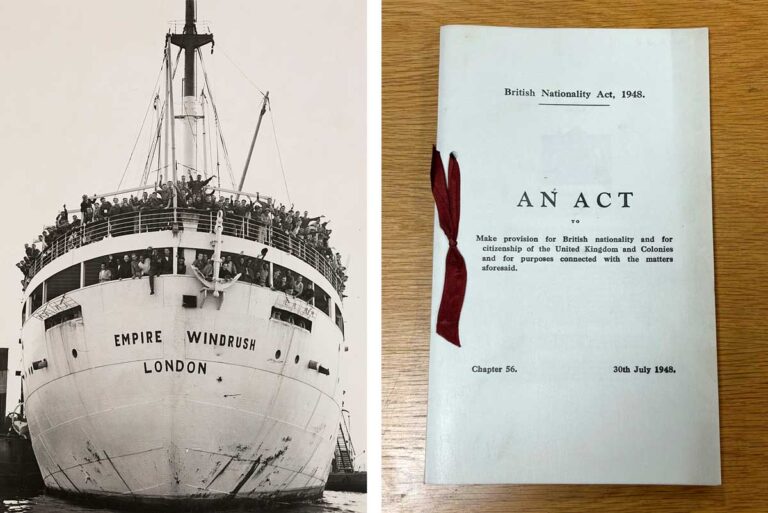 The passenger list is an invaluable record as it provides a wealth of information about the passengers onboard the Empire Windrush, such as their names, ages, occupations, onward addresses, and their last country of residence. These details can also provide an insight into patterns of migration in the post-war period, particularly from British colonies and Commonwealth countries.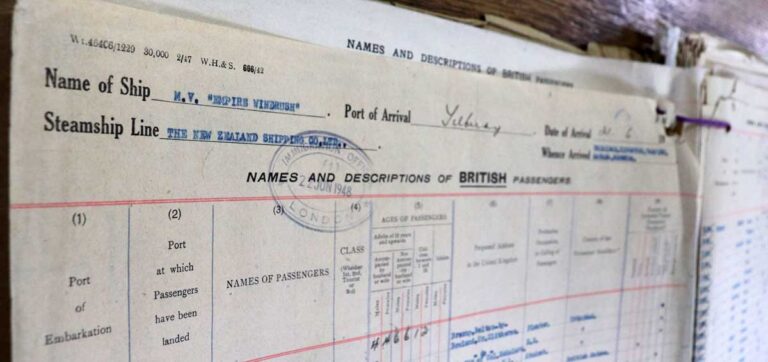 There is also great value in looking at the original record, which is discussed in Matthew Mead's research (see footnote 1). It highlights details about the Empire Windrush which have often been forgotten. The passenger list details the exact passenger numbers everyone was given, the various ports the ship stopped at (emphasising that it did not just stop at Kingston, Jamacia), the numerous Caribbean countries passengers were from, and records the original date of docking as 21 June 1948.
Other records in our collection corroborate this 21 June date and note that passengers actually disembarked on 22 June 1948 (see footnote 2). This was likely due to two main reasons. Firstly, the ship arrived in the evening of 21 June (see footnote 3). This would have made it practically difficult for passengers to disembark straight away to make their onward journeys at night. Secondly, it enabled officials from the Colonial Office and Ministry of Labour to board the ship once it had docked, to assist with passengers' onward journeys, accommodation, and employment plans (see footnote 3). As a result, studying the original record offers clarity on various misconceptions around the Empire Windrush.
Exploring the diversity of passengers
There was a diverse range of people onboard the Empire Windrush. Although the passengers were mostly male, there were also women and children onboard. They ranged in age from just six weeks old to 80, and travelled in different capacities. Some passengers travelled with their families, some alone.
Passengers travelled on the Empire Windrush for a variety of reasons. Some migrated to Britain to seek new opportunities and economic stability, others were joining family and friends. The poor economic situation in the Caribbean also influenced post-war migration to Britain, as well as other places such the United States of America.
The passengers were largely from the Caribbean – over 800 people gave their last country of residence as somewhere in the Caribbean. A common misconception is that all passengers were migrating from Jamaica. However, people migrated from numerous islands in the Caribbean including Trinidad, St Lucia, Grenada and Barbados, as well as Jamaica.
For example, 26-year-old Aldwin Roberts from Trinidad was onboard and listed his occupation as 'Artist'. He was a calypso singer and is better known by his stage name, 'Lord Kitchener'. During the journey, he wrote the song 'London is the Place for Me', which he performed on the ship's arrival to Tilbury.
21-year-old Mona Baptiste was similarly from Trinidad. Although her occupation was listed as 'Clerk' in the passenger list, she was a blues singer and went on to work for the BBC. Baptiste was famously pictured at Tilbury with her saxophone and a group of Royal Air Force (RAF) servicemen.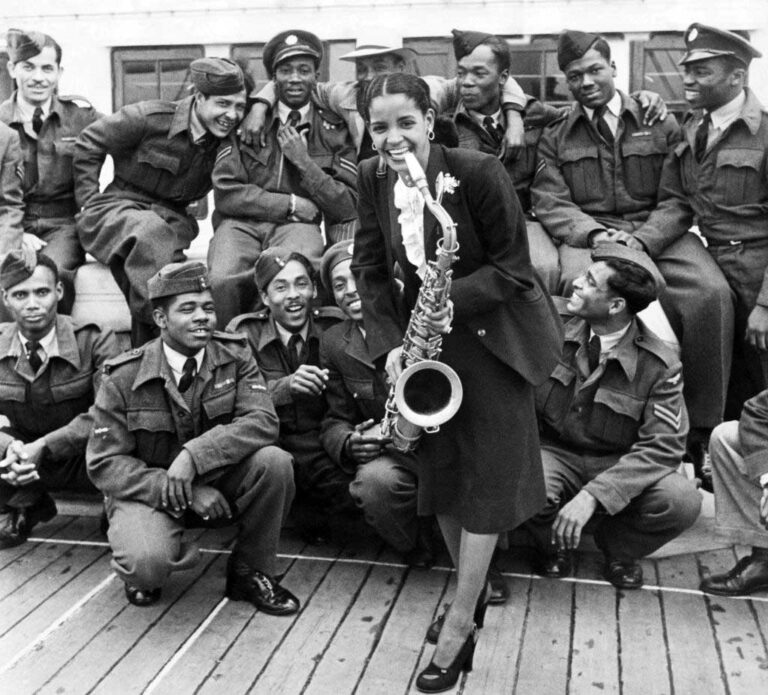 The passenger list also sheds light on lesser-known migration stories. For instance, it records that 66 Polish refuges joined the ship in Tampico, Mexico. Displaced by the Second World War, they were able to travel to Britain as a result of the 1947 Polish Resettlement Act. This offered British citizenship to displaced Polish troops and their families who were unable to return to Poland.
30-year-old Pelagai Potapowicz and her daughter were two of the 66 Poles onboard. Their onwards address was located in Plymouth and Potapowicz's occupation was listed as 'H.D.' which stood for household domestic.
Seven of the passengers onboard listed their occupation as 'Nurse' and likely went on to work for the newly established National Health Service. 35-year-old Jamaican nurse Ena Clare Sullivan travelled on the ship to undertake training at West Middlesex Hospital.
A small number of passengers were already residing in Britain and were returning from holidays or travels abroad, such as the writer, political activist and heiress Nancy Cunard.
Many of the passengers onboard were ex-servicemen. During the Second World War, thousands of Caribbean men and women were recruited by the British government to serve in the armed forces. Whilst some hoped to re-join the military, others were searching for new employment opportunities. 22-year-old Samuel King from Jamaica served as an RAF engineer during the war. He listed his occupation as 'Carpenter' on the passenger list and subsequently re-joined the RAF on his return to Britain. King went on to become the first Black mayor of Southwark.
Why does The National Archives hold the passenger list?
Passenger lists for ships arriving to Britain from ports outside Europe and the Mediterranean were kept by the Board of Trade's Commercial and Statistical Department. The Empire Windrush passenger list, in addition to passenger lists for people arriving to Britain from 1878 to 1960, can be found in the record series BT 26.
Throughout history, people have struggled to navigate citizenship and prove their right to live somewhere. Legislation that limited migration from the Commonwealth was introduced in the early 1960s, and the boundaries of belonging were continuously reorganised in Britain throughout the 20th century.
The Empire Windrush passenger list can be called up to view in our Reading Room on application of a reader's ticket, but during June is it part of our Stories Unboxed display – on public view on the first floor – as part of our Windrush 75 commemorations. It can also be accessed remotely online through Ancestry. More information about it, as well as other passenger lists, can be found in our research guide on Passenger Lists.
The iconic passenger list for the Empire Windrush offers a unique insight into the stories of those onboard and represents a symbolic moment in British history. As populations shifted in the post-war period, the Empire Windrush forms part of a broader picture of global flows of movement throughout the 20th century. However, it is important to acknowledge that passenger lists are government records and cannot provide us with information on the lived experiences of those onboard.
We hope researchers and visitors will enjoy the opportunity to see the passenger list close-up, which forms part of our Windrush 75 programme.
Footnotes
Matthew Mead, 'Empire Windrush: Cultural Memory and Archival Disturbance', Moveable Type, 3 (2007), pp.112-128.
Interim Report on the Empire Windrush by A. H. Poynton, 30 June 1948, LAB 26/218, The National Archives.
'Empire Windrush. Arrival of West Indians: Scheme for Reception and Dispersal', CO 876/88, The National Archives.