One of the main aspects of Project Omega is replacing the existing editorial system, PROCAT Editorial. While most of the work so far has been around developing the data model, this month we are starting a new phase of the project – PROCAT Evolution! Designed over 20 years ago, PROCAT Editorial is the main editorial interface used internally to manage the record data for the catalogue.
Running in parallel with the ongoing development work, this work stream will focus on the replacement interface which staff will use to manage the catalogue record information.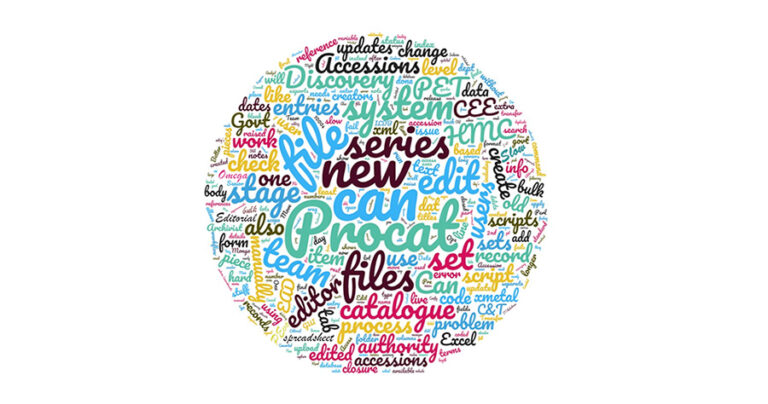 To kick the project off we have a team from Torchbox working with us to help us understand the business processes around the editorial workflow and to create some initial designs for the new interface. Torchbox is an 85-person, employee-owned digital agency which works more or less exclusively with not-for-profit clients. This is not their first time working with The National Archives, as they created and maintain the Wagtail CMS which powers Project Etna and have wider experience in the GLAM (Galleries, Libraries, Archives and Museums) sector – they're just now finishing up a project to relaunch tate.org.uk (also on Wagtail).
A word from Paul Vetch at Torchbox:
The Torchbox team is really excited to have begun working on a project to research and design a new user interface for the replacement for PROCAT Editorial.
We began last Monday, so we're finding our feet but so far we've spoken to eight key stakeholders with many more conversations and workshops lined up. We've already been struck by the overwhelming positivity towards the project and enthusiasm for the opportunities it offers.
During the first month of our work we'll be doing a deep dive into the way PROCAT Editorial functions now and the challenges and constraints that it presents (over and above its daring pink and burgundy colour scheme). More fundamentally though, we'll be trying to understand the underlying business processes that need to exist and starting to model the ways in which a new, design-for-purpose, system could make it easier and more efficient to carry them out.
As well as ensuring we get the basics right we also want to look to the future and explore the art of the possible, thinking about ways in which a completely re-imagined, ground-up redesign of the Catalogue UI could actively support archivists to work faster and smarter in the future. This will include the potential to take advantage of the rich underlying data model it will be built upon.
We'll look forward to meeting more of you over the coming weeks and we'll be documenting our work as we go in a set of sprint notes which will be visible to all.
We're looking forward to working with Torchbox on this project and sharing more on the project as it continues.