Prizes, in nautical parlance, are enemy ships captured in wartime. The glory days of English/British prize-taking are the subject of the Prize Papers Project (see www.prizepapers.de), a joint enterprise between the University of Oldenburg and The National Archives. This is about captures in the wars between 1652 and 1815, and the papers removed from each captured ship to use in court, to prove enemy or neutral status.
It is a cataloguing, research and digitisation project, running from 2018 to 2037, on records of the High Court of Admiralty (HCA) covering the capture and judgment of about 35,000 ships. Many of these ships were carrying seafarers' personal archives, and a large number were carrying letters for delivery across the seas. The digitisation will finally allow these intercepted letters to be delivered to their original destinations.
Two volunteer teams have been working for several years now, supporting the intense amount of archival work necessary to open up these rather disordered prize collections. Our volunteers work on the initial stages of the project's several work packages. One team focusses on sorting and preservation packing, the other on cataloguing.
Our Monday cataloguing team of volunteers has been working on the American War of Independence (series HCA 32). Four volunteers are reading the court papers for each ship, to discover and describe their voyage and capture history. Samples of their work are the Le Duc de Toscan, a French hospital ship taken off India, or Betsey of Boston, an American privateer carrying papers about slave estates in Saint Domingue (now Haiti).
We do have some extra capacity on this project, if anyone is interested. The capture histories are largely taken from the examinations of the captured crews: these are in English, although the other papers are in about 18 other languages. To see if you can read the writing, have a look at this one.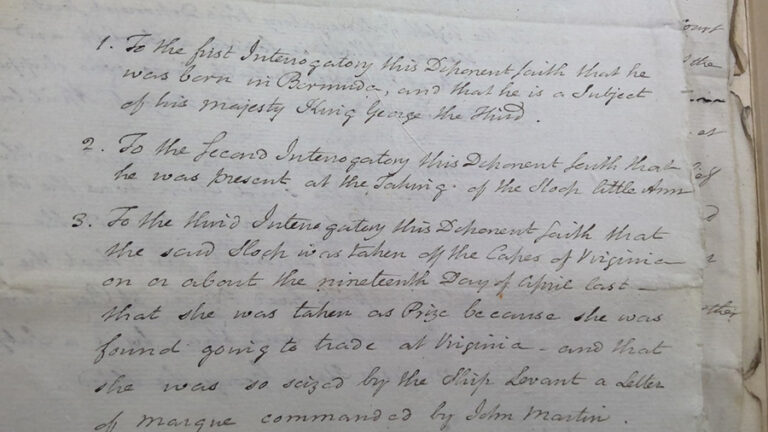 This project is designed first to support the work of Randolph Cock, who is sorting over 150 boxes full of letters taken from these ships and at some unknown point completely muddled up. It is really helpful for him to be able to identify ships sailing from or to a particular port, narrowing down the likely carrier of the muddled letters from or to Amsterdam, Boston, Bordeaux, Martinique etc. Its second aim is to speed up the full cataloguing of the actual documents of this war, ready for digitisation.

Our Tuesday preservation team of volunteers started in Collection Care several years ago, working on already-identified bundles of court/ships' papers from the 1740s and 1750s – cleaning and repacking them in proper archival envelopes and folders. Next, they took on a major cataloguing project, on the printed prize appeals against judgments, between 1793 and 1815. These appeals, which are easily readable and full of fascinating information about trade, communication and capture, are now available online (see Introducing the Printed Prize Appeals: Selected examples from HCA 45 and Prize Papers Portal). In their current project, they are actually identifying papers from ships taken in the 1690s-1720s, and scattered across multiple boxes. They use ship indexes from the 1690s-1720s, typed up by staff to help identify the separate collections.
Sorting out papers from the 1690s
The team uses chemical sponges to clean of the dirt – cream on starting, black on finishing. The sorted documents move back to National Archives staff for final cataloguing, and then enter the digitisation stream run by Oldenburg.