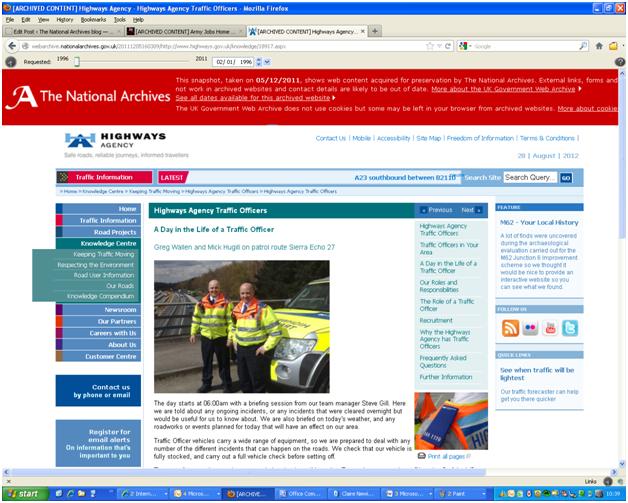 Not long after I joined The National Archives someone asked me whether I thought there was any point archiving the 'job vacancies' or 'careers' sections of government websites. The person who asked felt these sections contained current information which would not be of interest once the posts advertised had been filled. As someone with an interest in both family and social history I disagreed. Although the 'current vacancies' section of a website archived 18 months ago probably would not be the most popular resource, I believe that this and other content related to work and employment captured in the web archive will be invaluable to the historians of the future.
The world of work is hugely important to family and social historians. A person's job can tell us a great deal about their life. It can indicate their status in society, what quality of life they had and how educated they were, amongst other things. Most family historians researching in the UK will first find out about the occupations of their ancestors from a few words on a birth, marriage or death certificate or from a census return. Sometimes it is fairly obvious what the job entailed: my own family tree features a bus driver, a chauffeur, a cricket ball maker and a vast number of agricultural labourers, but some are more of a puzzle 1. The first image below is taken from my grandparents' 1941 marriage certificate. My grandmother's father's occupation is given as 'Carter'. A quick poll of colleagues in my office (none of whom are family history experts, I hasten to add) demonstrated that none of them knew what being a carter would entail.

The next image is an extract from the 1891 census. 2 My great-great grandfather's occupation is given as 'Foreman Platelayer' which was a complete unknown to me when I first saw it. Of course, even if you felt you had a fair idea what an occupation entailed you might be interested to find out more.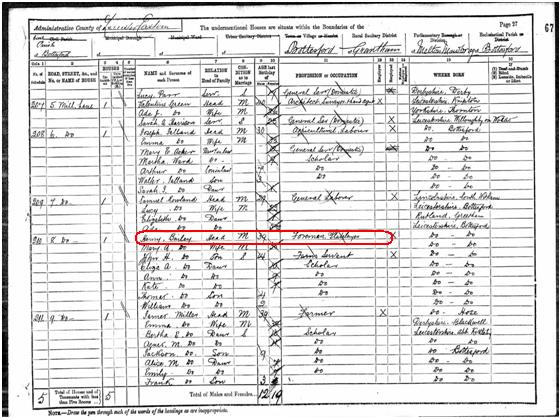 As mentioned in previous posts, when we archive websites we ask our crawler (robot) to archive all content hosted in a particular domain. If details about job vacancies are included on that domain we will capture them. This 'current vacancies' page was archived in February 2009 as part of the website of Yorkshire Forward, a regional development agency which closed earlier this year. It includes a wealth of information about each of the jobs advertised. A summary of each advertised role is provided, alongside a list of the skills required to do the job and details about the salary. The 'Employee benefits' section provides general information about working for the organisation. From the perspective of a social historian or sociologist I'd be interested to see how this will compare to jobs in the future. I wonder if in 2109 organisations will be advertising childcare vouchers, flexi time and an on-site reflexologist as employee benefits.
In addition to 'current vacancies' pages, some organisations provide role profile type features on their websites. The National Archives' website features 'Staff profiles' which demonstrates the diversity of roles available. We have archived several versions of this page part of  archived versions of The National Archives' website.  The Highways Agency has gone further and provides a 'Day in the life of a Traffic Officer' feature on its website . In my opinion this is a valuable source of information about a very 21st century job.
Possibly the most well-known UK recruitment campaign of all time is the 'Lord Kitchener wants you' poster used to encourage men to enlist in the British Army during the First World War. In the 21st century the British armed forces use their websites to provide information about joining up.  Below is an image taken from a version of the Army Jobs website archived in April 2005.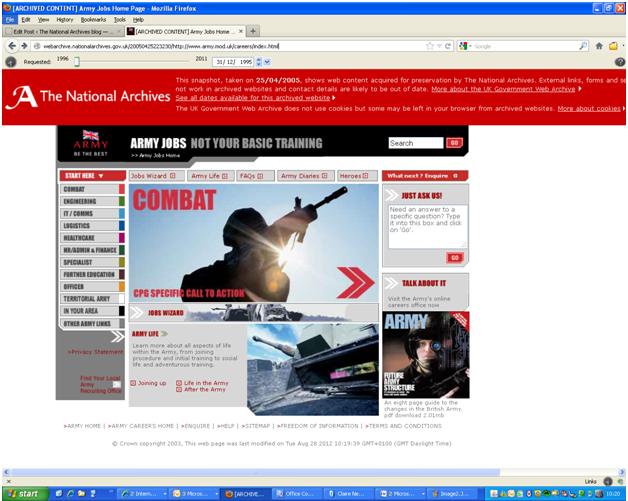 More recently, the armed forces have started using multimedia content and social media sites for recruitment. This type of content presents challenges for web archiving but we will do our best to capture it as completely as possible.
The examples I provided above are just a sample of the information we hold in the web archive related to jobs, careers and employment.
As any good historian knows, no individual source provides a complete picture. We should always question the motives behind the production of a source. I would always complement a description of a job or occupation from an official source such as the Web Archive with a first-hand description perhaps taken from an autobiography, blog or newspaper interview. However, I firmly believe that the UK Government Web Archive will be a valuable addition to sources used by family and social historians in the future. 3
If my post left you wondering about my own family history employment mysteries please read on. A carter was a person who drove a horse drawn cart. My great grandfather lived in an agricultural area of Surrey and would allow my grandmother to ride on the cart horses when she was a child. A platelayer worked inspecting and maintaining railway tracks. My great-great grandfather worked for the Great North of England Railway (GNER) for several decades in this capacity.  His story took a tragic turn in 1921 when his wife of 45 years died after being hit by a train a short walk from their home.
Notes:
1. Agricultural labourer was such a common occupation in England in the 19th century and earlier that my colleague Mark Pearsall gave a whole public talk about researching them ↩
2. Thank you to Audrey Collins for helping me out with this ↩
3. Including the extensive series of 'My Ancestor' books' from which I borrowed the title to this post ↩