The recent BBC drama 'Vigil' was set on a fictional Royal Navy Vanguard-class submarine, operating as part of Britain's 'continuous at sea deterrent'. It starred Suranne Jones as a detective helicoptered out to join the crew of the submarine to investigate the death of a crew member. Filmed on a specially constructed set, viewers got a real sense of the claustrophobic living conditions, even though the real submarines have even tighter spaces.
Working on a submarine has always meant living 24 hours a day for months at a time in cramped conditions with minimal privacy – hardly an appealing prospect to most people, so you might wonder what would attract someone to join this service?
A current Royal Navy recruitment campaign called 'Made in the Royal Navy' consists of short, one-minute commercials showing young people travelling, learning skills and developing into professionals. Each one features a tag line such as 'I was born in Blyth, but I was made in the Royal Navy'.
Travel and responsibility appear to have been key selling points in Royal Navy recruitment at least since the mid-20th century. A wonderful example of this is the film 'Voyage North', which was commissioned by the Central Office of Information (COI) in 1964 and was set on the serving Royal Navy submarine, HMS Artemis. You can watch 'Voyage North' on the Imperial War Museums' film website free of charge.
The National Archives has the 'production file' for 'Voyage North' 1 which contains COI working papers such as scripts, story outlines (treatments) and lists of camera shots required. One document explains that the film was aimed at '5th-6th form schoolboys at Public and Grammar Schools' with the intention to 'stimulate the most intelligent 5th-6th form schoolboy of the best type to join the Royal Navy as an officer recruit by inspiring him and appealing to his spirit of adventure'.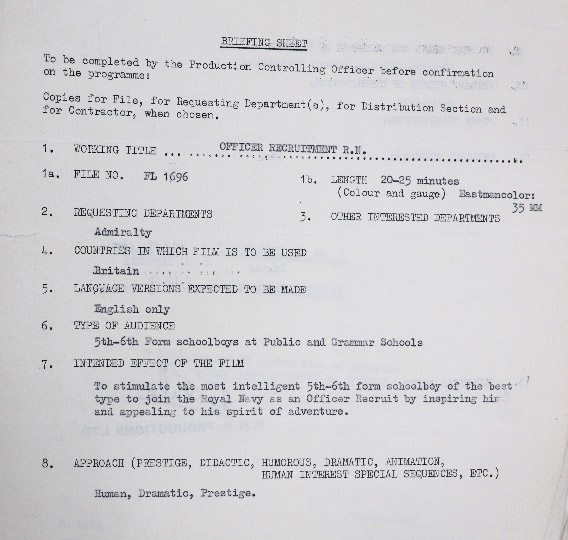 The film is a little over 20 minutes long and it shows a new young officer, Ellison, narrating his experiences on Artemis as it sails from the UK to the Arctic and eventually to Copenhagen. Early on in the film, Ellison is seen at the submarine base in Gosport with a group of other young recruits. They go through a simulated underwater escape; ascending through 30m of water in the Submarine Escape Training Tank – now known as Fort Blockhouse – which still stands in Gosport.
Later in the film we see Artemis edging its way through ice flows and the crew playing cricket on the ice. At one point Ellison narrates a letter he's writing home, saying:
'We had some tricky moments leaving the frozen North, manoeuvring the boat around loose bits of pack ice. A hell of a lot of hard work but very interesting too. My next job will bring a lot more responsibility with it. What I'd really like would be a draft to one of the new nuclear submarines, I reckon that's where the future lies.'

Another interesting item in the file is a list of sound effects, captured in the filming, such as the polishing of boots and a sonar 'ping,' which were to be retained in the library for possible use in other films.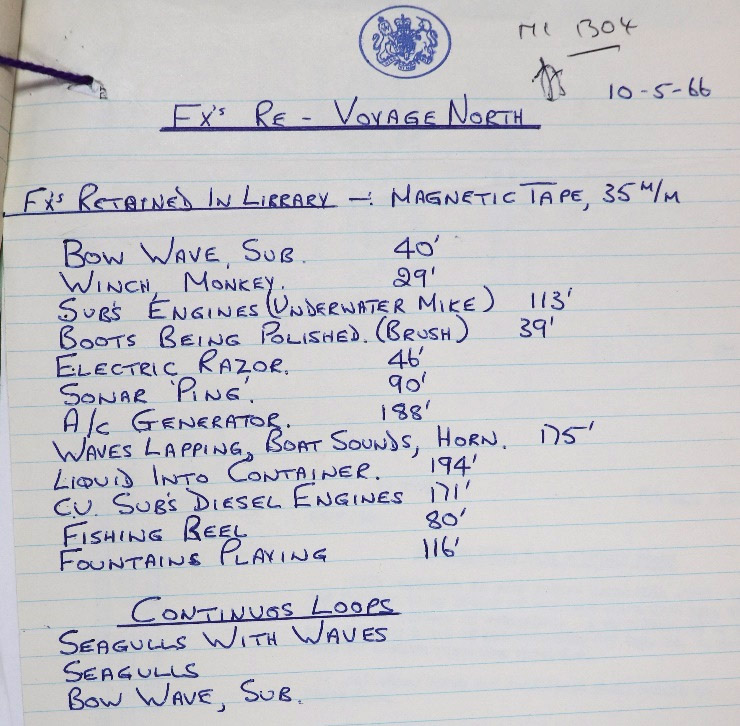 Featuring in a recruitment film for the Royal Navy was not the last time HMS Artemis was involved in a drama though. In fact, what happened to the submarine a number of years later is worthy of a feature film in itself.
On 1 July 1971, HMS Artemis sank while refuelling in Gosport, the home of the submarine service. An account of the sinking on a BBC Making History web page explains:
'Artemis was in Gosport for maintenance and was being made ready to leave again. She had been brought out of dock but most of the senior officers were not aboard and she was under the command of the sonar operator.

When she was alongside and taking in fuel they had run cables through the hatches into the engine-room to power her systems, and as she was ballasted down to take the fuel for her diesel engines, water came in through the hatchways which because of the cables were not closed.

Very quickly the vessel began to sink. The Duty Petty Officer David Guest went below to shut down whatever parts of the ship he could. There was a group of Sea Cadets aboard and Guest quickly cleared them out and went on making sure there was no one else there.

He found two engine-room mechanics aboard, but because of the water coming all three were unable to get out and they shut themselves into the forward compartment in the torpedo stowage area.

The ship sank to the bottom of Haslar Creek. The three men were trapped on board the sunken submarine for 13 hours but eventually managed to escape in immersion suits through the forward escape tower.' 2
The real-life escape has echoes of the early scene in 'Voyage North' where the new recruits ascend up through the Submarine Escape Training Tank in Gosport – which was presumably visible from where Artemis sank.
Three officers and a rating from Artemis were charged with negligence and tried by court martial. The National Archives' file ADM 194/154 contains the Admiralty Board's quarterly return of officers tried by court martial for October to December 1971, which shows that the submarine's Lieutenant Commander was found not guilty of negligence, but two other officers were found guilty. Reports in newspapers 3 at the time also show a Stoker was found guilty of negligence, although it was noted that he had had no training for 18 years.
On a more positive note, The National Archives' file DEFE 49/34 contains recommendations for gallantry awards to the four men who took action to save others as Artemis sank. The men were:
David Guest, an Ordnance Electrical Artificer First Class aged 37, who had been serving for 19 years
Robert Croxon, a Leading Marine Engineering Mechanic aged 23, who had been serving for seven years
Donald Beckett, an Acting Leading Marine Engineering Mechanic aged 24, who had been serving for seven years
Ian Ralphs, a Marine Engineering Mechanic aged 23, who had been serving for five years
The file explains that the general criteria used for assessing gallantry awards were:
More than 50% risk to life – George Medal
More than 20% but less than 50% risk to life – the British Empire Medal or similar
Up to 20% risk to life or serious injury – QCBC (Queen's Commendation for Brave Conduct)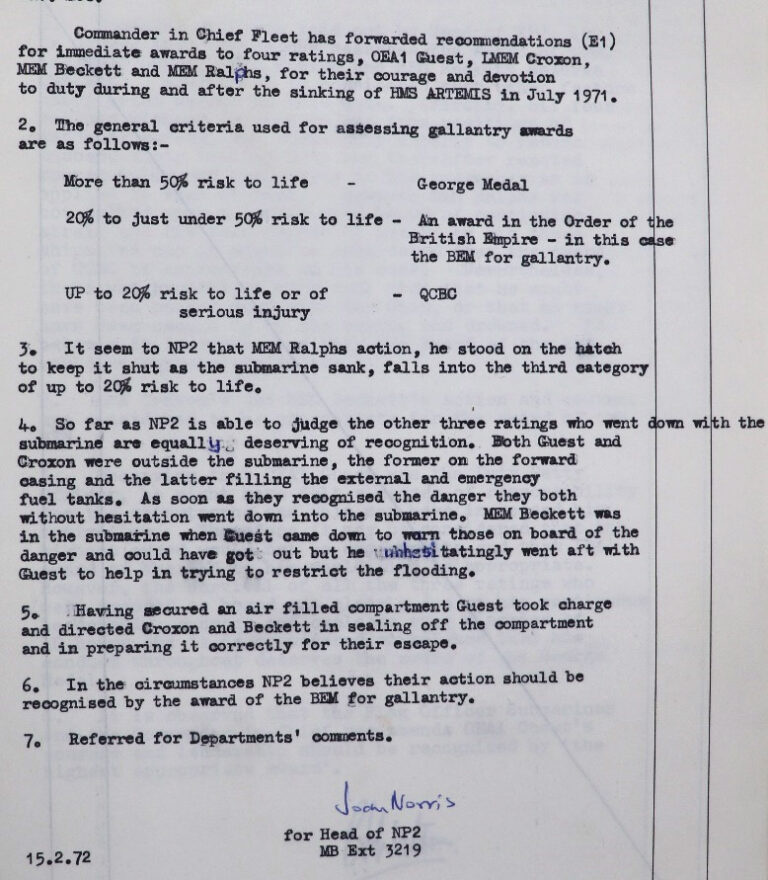 The papers in the file show that it was initially suggested that Ralphs should be awarded the Queen's Commendation for Brave Conduct and the other men should be awarded the British Empire Medal for gallantry. Ultimately, however, David Guest's award was raised to the George Medal and the other men all received the British Empire Medal for gallantry. You can read the full recommendations, which mirror those in the file, in the London Gazette online.
The National Archives has been working with the Imperial War Museums and the British Film Institute to highlight our shared collections relating to the COI and to mark 75 years since it was created. Keep an eye out for more blogs focusing on other films over the next few months, and search #COI75 on Twitter.