COVID-19 and lockdown highlighted the difficulties researchers have when they have no access to those additional finding aids that are only found on site at The National Archives. Usually unpublished or handwritten, these finding aids can be essential for accessing records in some cases. One such finding aid is the index to Colonial Office correspondence (CO 201) for settlers to New South Wales covering 1820-1833.
To make this index widely available we have now added its contents to Discovery, our catalogue. We scanned the index and created a PDF version, which we then uploaded to Fromthepage.com, an international, volunteer-based transcription website. A group of volunteers then transcribed the index, and following checks to ensure the files were in alphabetical order, the records were uploaded to Discovery. You can now search them by name, date and type of correspondence. The volunteers also managed to highlight a few people of interest.
Making a new life in Tasmania
Tasmania, well known today as the home of the Tasmanian Devil, was formerly two separate colonies: Van Diemen's Land and New South Wales. Van Diemen's Land was named after Anthony van Diemen, the Governor General of the Dutch East Indies. The island was first encountered by Abel J Tasman in 1642, and then in 1770, Captain James Cook sighted and took possession of the newly named territory: New South Wales. By 1788 New South Wales had become a penal colony, its first convicts landing at Botany Bay.
Although the first arrivals were mostly convicts, there were others who wanted to make a new life in these new lands. By the early 19th century, settlers started to apply to the Governor to become land owners and the opportunity, and passage, to see the New World.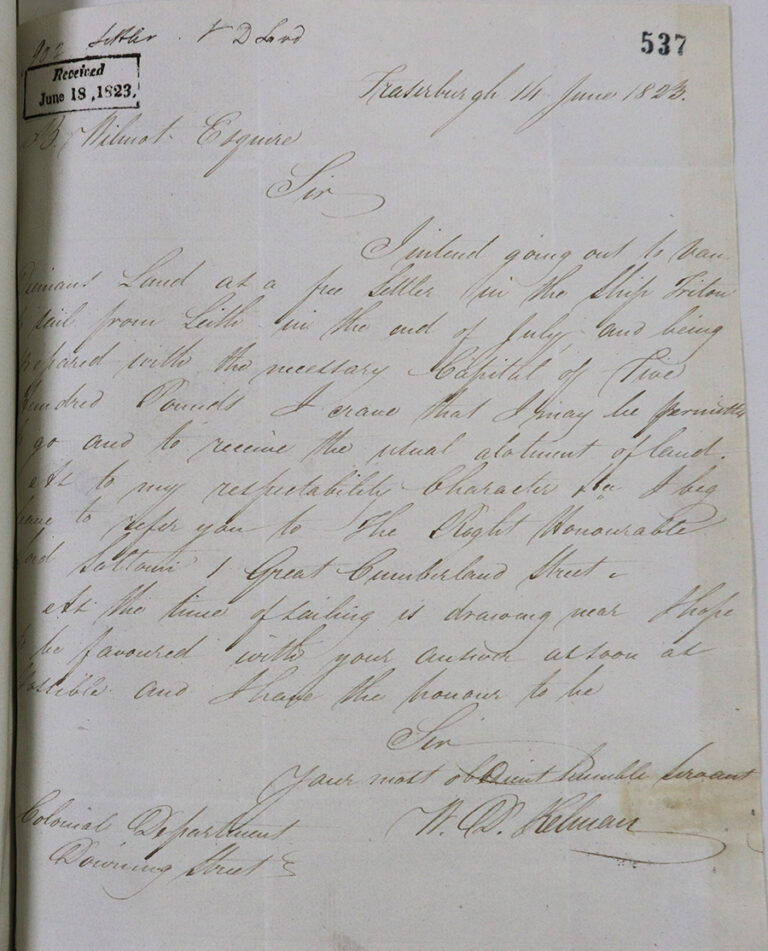 One such settler was William Dalrymple Kelman, who wrote in June 1823 requesting a grant of land. Born in Fraserburgh, Scotland in 1800, he wanted to head off for the new world and a new beginning.
Another was John Busby, a prominent surveyor and engineer, who requested passage for himself and his family in March 1823 (CO 201/148/19), with his son James, a Scottish viticulturist, also requesting a grant of land in July 1823 (CO 201/148/40).
These two groups left in 1824 on the Triton bound for Van Diemen's Land. On the voyage, Kelman befriended Catherine, the daughter of John Busby, and they married in New South Wales in 1827 (see footnote 1). James Busby was granted 2,000 acres on the Hunter River, and the land was named as Kirkton after the family home in Darlington, England.
In 1832, the New South Wales government paid for vines to be brought from Spain and France. Around 365 vines were planted in Kirkton, the remainder in the Botanical Gardens. William Kelman managed the vines, advised by James Busby, and they then extended the vineyard to 10 acres. James was sceptical of the project at first, but Kelman of Kirkton became one of the most influential vineyards in Australia (footnote 2). Hunter Valley is now known as one of Australia's largest wine regions.
Officers and ratings
Settlers were not confined to civilians wanting a new life. Both army and navy personnel wanted to make a new life following retirement and the end of the European war with Napoleon Bonaparte. The correspondence in series CO 201 includes requests for grants of land from Captains, Lieutenants, Surgeons and Pursers from the Royal Navy.
Lieutenant George Briscoe Skardon served in the Royal Navy from 1805. In 1825 he requested and received a grant of 2,000 acres in Longford, Tasmania. There he built a small home for his wife and children. In 1842 census records, it is reported that 28 people resided at Little Hampton Villa, and 14 of them were former convicts. The land was farmed for cattle and sheep. George Skardon served as a magistrate, justice of the peace and churchman, and died in 1850 (footnote 3).
Lieutenant Colonel Charles Wall served with the East Kent regiment (known as The Buffs). In 1822 the regiment was deployed to New South Wales, arriving on the convict ship Mangles. Following the return of the regiment to Britain, Wall retired and in November 1827 (CO 201/190/233) he applied for a grant of 2,000 acres of land in New South Wales. He died in 1841 aged 61.
Pensioners (Chelsea Hospital) also applied for grants of land. William McDowell, a pensioner of the East India Company, applied for a grant of land in 1833.
Widows of former military officers also applied to settle in the new world. Mrs Susan Pilford requested a grant of land in August 1831 (CO 201/237/176). Her former husband was a Captain in the 67th Regiment of Foot.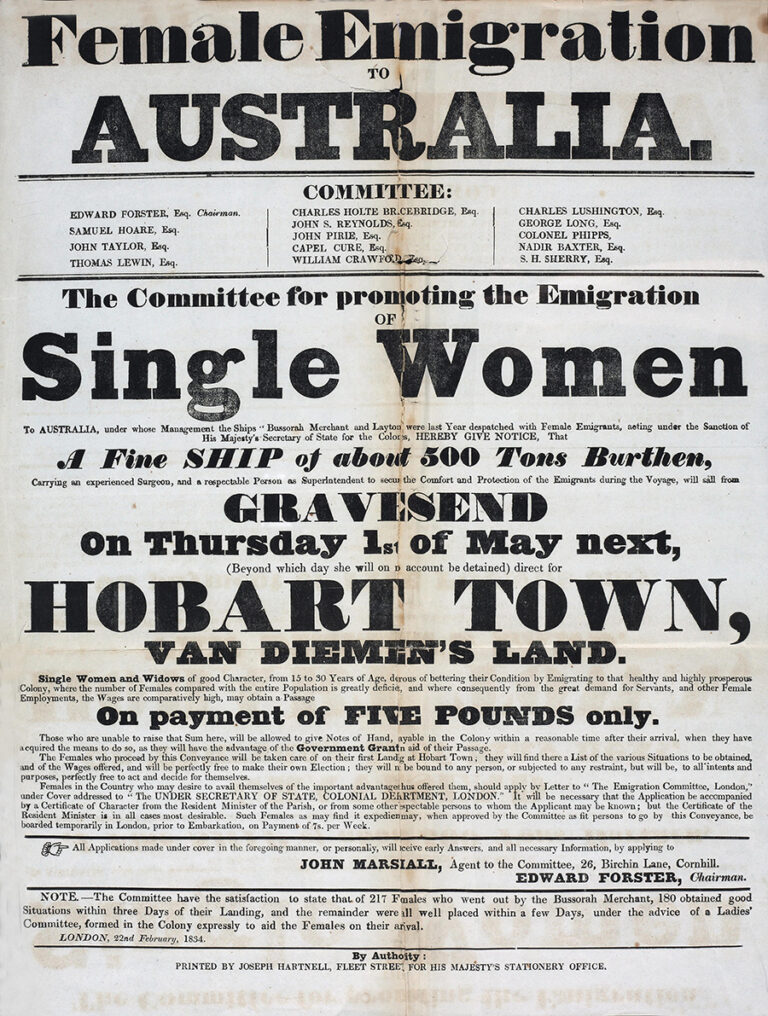 International Volunteer Day
International Volunteer Day (IVD) aims to celebrate solidarity through volunteering. The United Nations Volunteers programme co-ordinates IVD each year on 5 December to recognize and promote the tireless work, not just of UN volunteers, but of volunteers across the globe.
At The National Archives, without help from our volunteers both on site and remote we could not make our records more accessible. You can find details of volunteering opportunities on The National Archives' website. Or to try a local archive, search for contact details. You can also register for free on fromthepage.com to find an array of volunteer transcription projects.
Footnotes
William Dalrymple Kelman 1800–1863 – Australian Royalty
HAFS Journal Vol 8 No 1 – May 2005 – Hungerford & Associated Families Society
Lieutenant George Briscoe Skardon RN (1786-1850) – History Over Dinner