I know it is still early November but Christmas is next month, so get your skates on and come and visit The National Archives shop. We have a wonderful selection of stocking fillers and books inspired by history: books on everything from the Suffragettes to World War Two, to medieval history and genealogy, and much more. There couldn't be a better place to come and do your Christmas shopping!
Recommended for Christmas
One of the most popular books on our recommended Christmas list is Tiny Histories, a great read for history buffs and pub quiz fans of all ages.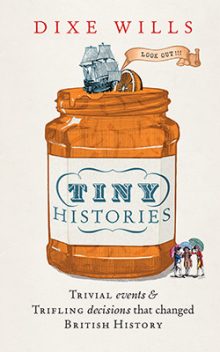 This is a brilliant little book, full of strange but true stories from the world of politics, war, art, literature, food, health and safety, and science. It describes split-second decisions, unlikely coincidences, unfortunate episodes and chance meetings – seemingly inconsequential events that have made Britain what it is today.
If you, a friend or a relative want to know how lighthouses, lemons or Lawrence of Arabia changed the course of history, you'll find the answers in this book. It's the perfect present for inquisitive minds!
Another great book to help you navigate our great city is The A to Z History of London. This popular book draws on maps and photographs from the A to Z archives, revealing how the city of London has changed over the last century, making comparisons between the historic and contemporary A-Z maps. There are a lot of 'did you know?' questions, which are answered in a thoroughly informative way. For instance, did you know that there used to be S (South) and NE (North-East) London postcodes?
This beautifully designed book is a great gift for any map lover and historian, and presents a whole lot more than the 1936 A-Z iconic street map.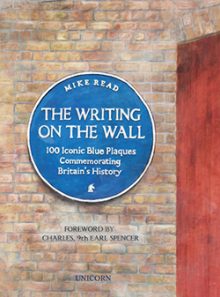 This year I was gripped by a television programme that delved into the past of one house and its residents; it got me wondering about some of the characters that have lived in mine. Or perhaps I should say…some of the ghosts of Christmas past? Well, for those who are also fascinated by this idea, The Writing on The Wall describes the meaning of the 'blue plaque' and its historical significance in relation to the people and the dwellings they lived in. Erected on the front of a building, blue plaques are symbols commemorating some of the most famous people in our history. From David Bowie to William Shakespeare, from Lennon to the victims of Jack the Ripper, the book explores a plaque's recipient and reminds us of an important contribution they made to Britain from the 16th century to the present day.
Of course, I couldn't forget to mention one of our best sellers – Bradshaw's Handbook (otherwise known as 'Bradshaw's Guide'). Appearing first in the 1860s, this collector's item was the first national tourist guide of Britain, describing the sights to be seen in towns and cities encountered along selected railway journeys in each region. This magical book will transport you back in time for a glimpse through the carriage window at a Britain long past.
We love this book – it never fails to please and is a 'first-class' Christmas present (excuse the pun) for any traveller, railway enthusiast or historian.
Do you think you have what it takes to be a detective? Ever since it opened its doors in 1829, Scotland Yard has used the science of detection to solve the most macabre of murders and catch the most audacious of thieves. The Scotland Yard Puzzle Book takes a look through the history of this famous institution and recreates some of the most complex puzzles ever faced by its detectives.
If you have an analytical mind, this book will keep you on your toes as you tackle the conundrums that have confounded the best detectives in history. Good luck!
One for all the family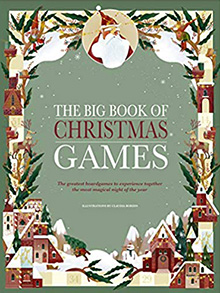 As I mentioned, we reckon we have something for everyone and of course that includes the kids.
If you are looking for something unusual, The Big Book of Christmas Games (and I mean big) is a fun and practical way to keep all the family entertained during the festive season. Eight traditional board games are recreated in a Christmas version with wonderful illustrations. Children can detach and assemble the cardboard figures at the back of the book to play the games. The fun part is putting together the pieces to make the tokens and dice, and then challenge each other in an obstacle race to play the 'Game of the Goose', or find out who's the first to gather all the ingredients to make a perfect Christmas pudding.
Merry Christmas!