The end of November marks our annual celebration of projects and initiatives currently taking place at The National Archives. Catalogue Week (formerly Catalogue Day) is now in its second year as an online event.
Over the next five days we will be releasing 17 blog posts and presentations providing an update on a number of current or recently completed cataloguing projects, in addition to updates on other initiatives and processes taking place across The National Archives and beyond.
We are also pleased to include a presentation from an external colleague undertaking a Professional Fellowship in partnership with The National Archives and Research Libraries.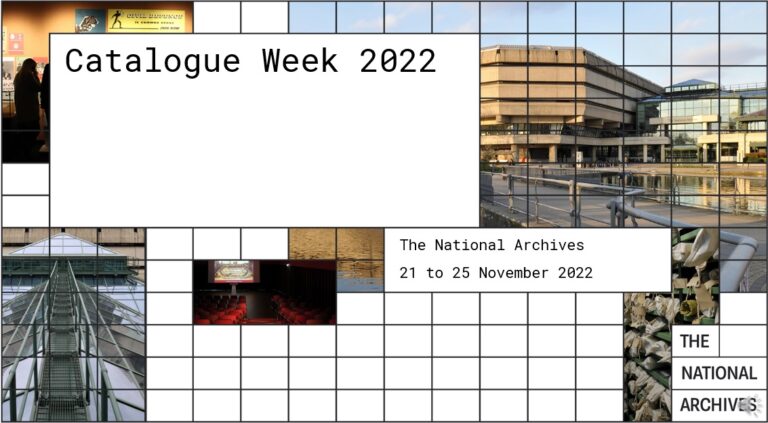 ---
Monday
Content released today begins with an introduction to the cataloguing of selected World War Two Service Personnel Records. Meada Wadman discusses the enhancement and standardisation of data from transferring departments, series allocation, data loading and approaches to addressing project challenges.
Bruno Pappalardo's blogpost is the first in a series charting the progress of the Royal Navy Captains' letters Volunteer project, showcasing the incredible work carried out by a Volunteer team to make these letters more widely accessible. Jessamy Carlson's blog on early 20th century nurses' records sheds light on nursing experiences during this period in our third instalment today.
On a more technical note, Sarah Castagnetti discusses the role of Optical Character Recognition in capturing data from printed journals and the implications of such work in improving access to, and opportunity for, future research.
We finish with an overview by Sophie Anstee de Mas of cataloguing projects funded by the Archives Revealed Grant Scheme. This partnership programme between The National Archives, the Pilgrim Trust and the Wolfson Foundation is the only funding stream in the UK dedicated to cataloguing and unlocking archives.
---
Tuesday
We travel back to the medieval and early modern periods for Tuesday's contributions. We begin with a blog by former National Archives colleague Emily Jennings, who takes us behind the scenes of a recent project to accession CP 56, an unsorted Common Pleas record series.
Dr Sean Cunningham's blog describes how original deeds have been used alongside newly catalogued contents of the Duchy of Lancaster's Great Crowcher book to identify patterns of earlier archival arrangement.
Finally, Dr Daniel Gosling's presentation ends the day with an overview of the cataloguing work recently completed on a number of series relating to the Equity Court of Exchequer.
---
Wednesday
Our midweek contributions bring us back to the 21st century with a comprehensive overview of what's happening in the wider archive sector. Caroline Catchpole's blog describes how the self-publishing tool Manage Your Collections (MYC) has allowed UK archives to both connect their collections to a wider user base and to shed light on the communities using it.
We end the day with a contribution from our external presenter, Holly Smith, who provides a fascinating overview of the Women's Aid Archives and its material together with a look at how Holly is utilising the collection to champion inclusive cataloguing.
---
Thursday
We travel back in time again on our penultimate day of this week's offerings, beginning with Chris Heather's blog on the cataloguing of HO 42's Home Office Correspondence of King George III, which has thrown light on the counterfeiting of coins and banknotes in 1810.
Dr Amanda Bevan's blog describes how work on the Prize Papers has allowed the team to discover new perspectives on seaborne trade, war and sea and seafaring careers.
Finally, Charlotte Smith explores the richness and diversity of the records of the Judicial Committee of the Privy Council through an exploration of the Indian appeal.
---
Friday
Our final day provides four illuminating contributions, beginning with Liz Haines' overview of CO 730, a series containing original correspondence sent to the Colonial Office relating to Iraq under 1920's British Mandate.
Our second contributor, lead volunteer Mel Draper, traces the work of the ZSCP 11 volunteer team's work as they develop sophisticated technical solutions to negotiate new ways of working during the recent pandemic.
Continuing the technical theme, Alex Green and Faith Lawrence provide a progress report on work being carried out to replace the current National Archives cataloguing system in their Project Omega blog post.
Dr Katherine Howells brings our event to a wonderful conclusion with a blog describing the highlights from recent volunteer cataloguing work on the COPY 1 collection, which uncovered a variety of unexpected images and stories.
---
With increased content available for users in this extended event, we hope that there is something to meet all interests. I would like to extend my thanks to all the contributors who made this weekly celebration of our cataloguing projects and initiatives possible. Colleagues from across the office, our remarkable volunteers and our external contributor have made this event possible, and I hope that all of our readers enjoy the presentation and blog entries made available.
Jane Langford, Senior Archivist, Catalogue, Taxonomy and Data Team