On day two of Catalogue Week 2021 we hear from Faith Lawrence and Alex Green with an update on Project Omega and a blog (with Paul Vetch) covering the evolution of PROCAT. We also hear from Julius Welby as he updates us with The National Archives' contribution to the Archives Portal Europe Project.
---
Project Omega: An update on the new cataloguing system
Faith Lawrence and Alex Green provide an update on Project Omega, The National Archives' future cataloguing system, both in terms of where we are now – what progress has been made in the past year – and what the next steps are going forward.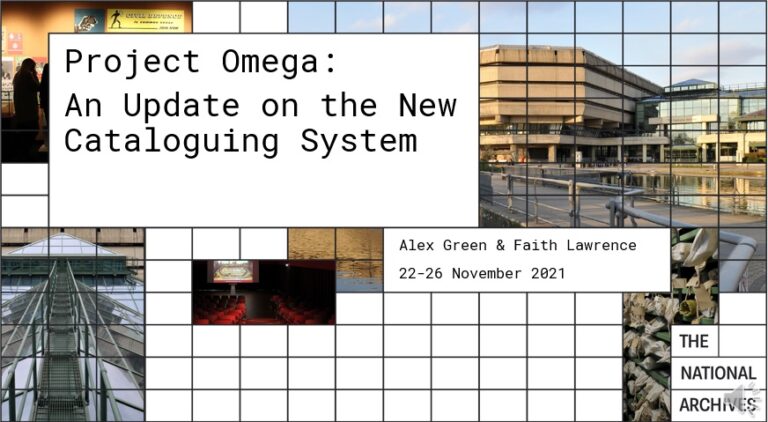 ---
PROCAT Evolution: Designing a new editorial system
One of the main aspects of Project Omega is replacing the existing editorial system, PROCAT Editorial. While most of the work so far has been around developing the data model, this month we are starting a new phase of the project – PROCAT Evolution! Designed over 20 years ago, PROCAT Editorial is the main editorial interface used internally to manage the record data for the catalogue.
Running in parallel with the ongoing development work, this work stream will focus on the replacement interface which staff will use to manage the catalogue record information.
---
The National Archives now contributes to Archives Portal Europe
There has been a long-term project within the Cataloguing, Taxonomy and Data (CTD) department here at The National Archives to export the top three levels of our public catalogue for inclusion within the Archives Portal Europe (APE) website.
APE is an ambitious project, bringing together data from over 7,000 European archival institutions. The web portal allows users to perform searches across all of these archives from a single interface. It provides access to almost 290 million descriptions, as well as information on archival institutions throughout the continent.