Welcome to day 2 of the blog! I have landed myself this illustrious spot thanks to Valentine's Day and having stumbled upon something suitably soppy in the records. This unusual find is the perfect beginning to my blog, as the sheer variety of amazing things that are brought to the surface every day here could keep me talking forever!
In (an admittedly small) celebration of National Poetry day last year, I searched our Catalogue for all things "poetry", which you'll soon also be able to do through our new Discovery service. 92 hits indicated a range of files spreading across records of the Tate Gallery (NG), British Council (BW) and Prerogative Court of Canterbury (PROB) to name but a few.
However, one of the most unusual was a single entry under Records of the National Archives (RW): 'Lady Margaret Sackville: private correspondence received from James Ramsay MacDonald' in RW 1.
Lady Sackville (1881-1963) was an English poet who edited the collection A book of poems by living women, in which she connected the social freedom of women with the freedom of imagination. She had a long affair with Ramsay MacDonald, letters from whom are collected in the RW 1 files and are full of gushing love and proposals of marriage from the then-politician.
So, in honour of Valentine's Day, a poem taken from one of MacDonald's love letters on 5th May 1915 (transcribed myself so please excuse the bits I'm unsure of! – indicated in [ ]):
'The Return of the Lady' (RW 1/2)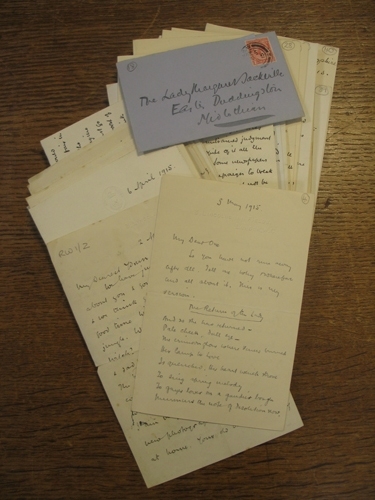 And so she has returned –
Pale cheek, dull eye –
[No] crimson glow where Venus burned
Her laugh to Love
Is quenched. Her heart which strove
To sing spring melody
To [gayer] lover on a gaudier bough
Murmurs the note of desolation now.
So I with fluttering wing
Return to her side
And try to waken slumbering thoughts of Spring
And the closed gates of my heart's garden fling
Open, inviting, wide
And whisper: "Love, come hither, bring
Your heart here and abide."
MacDonald remarks after the poem: "Of course you will put this in the fire and it will blaze fiercely as love always does." – Thankfully she didn't!