If you take a look on our website you'll see that we have a number of boards and advisory groups that work with The National Archives.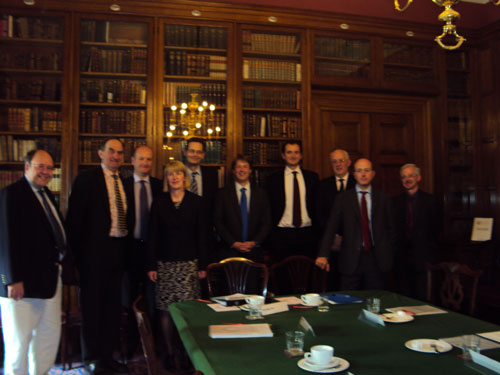 One of those groups is the Forum on Historical Manuscripts and Academic Research (a bit of a mouthful). This particular forum is a subcommittee of the Advisory Council on National Records and Archives.
Back in 2003, the then Public Record Office (PRO) merged with the Royal Commission on Historical Manuscripts (HMC) to form The National Archives. Jumping forward nearly ten years, the Archives Sector Development department at The National Archives now undertakes the functions of the old HMC and therefore lead on the 'Historical Manuscripts' (or, private archives) bit of the work. As for the 'Academic Research' bit of the title – that's us in the Research Team.
The two teams keep the subcommittee updated on current work and the committee members in turn offer help and advice at a strategic level.
Amazingly, the Forum's full title is even longer than stated above – it is 'the Lord Chancellor's Forum on Historical Manuscripts and Academic Research' and that's because The National Archives reports to the Lord Chancellor.
The Forum is chaired by the Master of the Rolls, a post currently held by Lord Neuberger of Abbotsbury (also presiding officer of the Civil Division of the Court of Appeal). Other members are:
Dr Bendor Grosvenor, Art historian and adviser on Culture Policy
Ms Elizabeth Lomas, Researcher and Tutor at Northumbria University, formerly Head of Records Management Services for the Royal Household
Dr Clive Field OBE, Honorary Research Fellow at the University of Birmingham, formerly Director of Scholarship and Collections at the British Library
Professor Michael Moss, Professor of Archival Studies at the University of Glasgow
Dr Christopher Ridgway, Curator at Castle Howard
Dr Clive Cheesman, Chair of the Friends of The National Archives
Dr Ian Mortimer, historian and historical biographer
Oliver Morley, Chief Executive and Keeper at The National Archives is also a member of the Forum, on an ex officio basis as the Historical Manuscripts Commissioner
The Research Team work hard to engage with the academic community and are keen to lead on, partner or support scholarly research and, therefore, appreciate the opportunity to talk through ideas and approaches with such an eminent forum.
Last year three of the forum members kindly gave their time to be the judging panel for The National Archives' annual research prize. This prize is given in recognition of the most outstanding peer-reviewed article or book chapter written by a member of staff. There are two categories: interpretative research (into the records); and applied research (solving a 'how-to' problem, such as assessing the reaction of materials to different environmental conditions, or how to appraise digital records). We'll be putting a call out for submissions from The National Archives' staff for this year's research prize in the Autumn so look out for a blog post about that later in the year.