In this blog, we hear from Sierra Leonean artist Ngadi Smart, whose artwork, Windrush Stories is currently on display at The National Archives.
A mixed media artist, primarily interested in collage art, Ngadi has produced work for major publications such as The Atlantic, Time Out London, Eastpak, and The Guardian. Her photography has also been published on CNN, British Journal of Photography, Vogue Italia, Atmos Magazine, and I.D Magazine. Through her distinctive, bold style, she touches on themes of cultural identity and racial discrimination, as well as feminism and gender. Ngadi also provided the illustrations for Jeffrey Boakye's book Musical Truth, which is available from our online shop.
National Archives Migration and Citizenship Researcher Chloe Lee caught up with Ngadi to talk about her experience creating the artwork Windrush Stories and to hear more about her artistic process.

---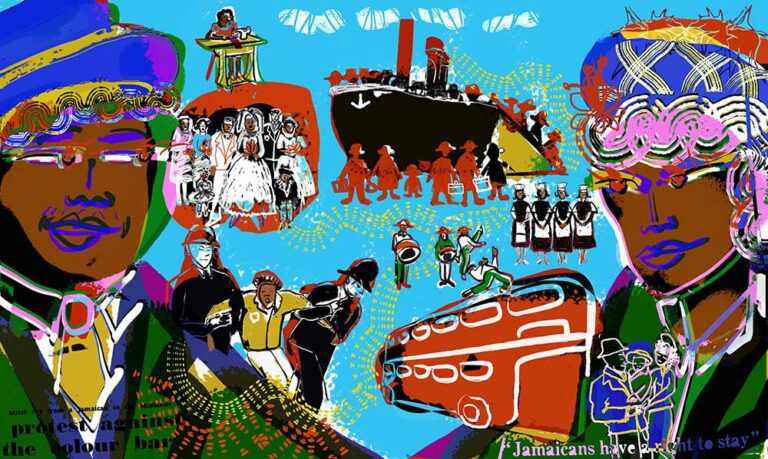 Chloe Lee (CL) – Hey Ngadi, thank you so much for catching up with me today. Can you tell us a little bit about your journey as an artist?
Ngadi Smart (NS) – I've always drawn. I took illustration as an undergraduate bachelor course. When I graduated, I took jobs that weren't really that creative. But when I was in the Ivory Coast, I started to do more work that was more in-sync with me. I started to do more photography and illustration projects and slowly got more traction. Now I'm able to be an artist.
CL – Is there something about environment that influences you as an artist?
NS – I think where you live, or where you have lived for most of the time, influences pretty much everything you do. It definitely leaves an imprint on your identity. Experiencing living and breathing in an environment – it definitely marks you.
CL – Do you find there's a difference working in the British context and the context of the Ivory Coast?
NS – No, because I was born here [in Britain]. It's all part of me really. I've sent time here and there, and I've spent time in the Ivory Coast as well. I can relate to both sides of me, being West African and then another side of me, having lived in the West.
CL – I can empathise with that in my own way. Do you think your approach has changed over the years?
NS – I started with illustration, then photography. Now I combine them both into collage.
CL – I've looked at some of your work for Water Aid. Do you think there's something in the layering of mediums which enables you to inscribe on the image in a different way?
NS – I do like a lot of layering. I think you can discover things. You place something, you take it away. It may stir you in a different direction. It's important to be open to change in life, as well as an artist in your creative process, because you never know what that change could open up for you.
CL – 'Layers' offer an interesting metaphor when you're a person who feels like there's lots of different facets to your identity.
NS – Yeah. I'm just so eager to show all the different facets where I've come from.
CL – There is some collage in the 'Windrush Stories' artwork. Can you tell me a bit more about the process? Is working with historians something you've done before?
NS – Actually it's not – this was my first time. I looked at records on the day that I visited, and some were sent to me. I hadn't been to the National Archives before. I didn't know it was like that – open and available. That's amazing! You have all those records and that we can touch some of them. It was crazy to me. It was a really cool commission. I was very thankful for it.
You think of an archive, and you think, "Ooo precious!" This is a document that you cannot touch! I'm sure you have documents like that because of preservation purposes. I think there was a medieval record from the 13th century, and they were like, "Yeah sure, touch it!" and I was like, "that's crazy!".
CL – There's a tension between making things accessible and being inclusive, plus preservation and conservation. Meeting the needs of the British public in all its diversity and richness is an ongoing challenge for us here.
NS – I would have liked to include personal diary entries, which you don't keep at The National Archives. That would have been really interesting, and I feel like we could have gone a bit deeper.
CL – We were conscious of that throughout the [Windrush 75] programme. It means we must be a bit more creative in our research and look beyond what's here at The National Archives. These are individuals with complex lives that we're looking at, but it can be easy to generalise.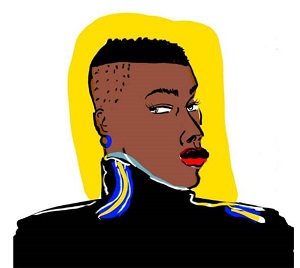 A historian called Greg Dening said that "artists have the ability to alert us to our fictions". I wonder if that rings true for you?
NS – If it means artists have the ability to make us dream…further, then yeah that's true. Without art there's no hope, there's no envisioning the future. I think in the most difficult moments like COVID, what did most people turn to? Even people watching TV, that is all part of the creative industry. I would say art is a defining medium throughout the centuries. It's marked revolutions, wars and religion. I think it's intrinsically tied to the human condition and human experience. So yeah, maybe I do believe that.
CL – I see it in terms of exploring 'well-known' stories and exposing myths. We quite often position the past as 'backwards' or no longer relevant, but when you look at the records you see instances of people exercising their right to protest or doing things in a way that we might consider 'modern'. I find that fascinating because so often people aren't just one thing.
If you could visit a moment in history, where would you go?
NS – The 1970s. It was a hard time for Black people, but it was also a time of invention, renovation, freedom, and critical thinking. It was a time when people challenged war and its effects. And it's a wonderful time for music, which is such a big influence and inspiration.
CL – What's your favourite 70s tune? Have you got a playlist you can share?
NS – I was listening to Funkadelics the other day. I don't know if you know them? They're like a 70s funk band.
CL – I'll have to listen! We created a playlist for Windrush [75th Anniversary]. We tried to get a sense of the musical legacy of the Windrush Generation – which is impossible in 15 songs!
NS – They say music is a universal language. You don't need to understand what people are saying to enjoy their music. That's why Brazilian music is so loved. Even people who don't speak Portuguese still adore it.
CL – Is there a project that you're particularly proud of?
NS – The Water Aid commission, because it was in Sierra Leone, the country of my nationality and background. It was such a big project of two months and I really got to see the country, and travel across it which I've never done.
CL – How do you stay in touch with your Sierra Leonean identity?
NS – One good thing about growing up in my family full of strong Sierra Leonean women and men, is that my grandma and family made sure Sierra Leonean culture was an important thing in our lives, so I've always been somewhat in touch with it regardless of where I have lived.
CL – I'm reading a book called Thread of Gold by Catherine Joy White about Black womanhood. She talks about these women-centred places, like the kitchen for example. Alongside physical records and documents is the embodied archive. I'm thinking particularly of tacit knowledge, like cooking, which is an art form I guess…
NS – Yeah definitely, it's like a form of collage.
CL – There's also a comparison between cooking and writing.
NS – Ok, I have to check out this work.
CL – We have an event in September, I'll send you the details!
It was so great to hear a bit more about your work and what inspires you, thank you so much Ngadi!
NS – It was really enjoyable, thank you so much.
---
Document inspiration
To support the development of Windrush Stories, TNA Records Specialists invited Ngadi in to the archives to explore our repositories and view documents related to the arrival of the Empire Windrush and the broader Black British experience.
The documents Ngadi explored are listed below. Read more about how to do your own research, here at the National Archives.