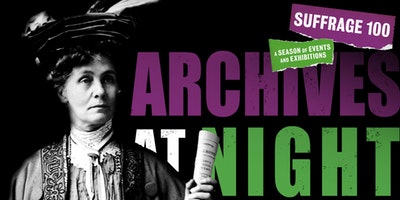 Friday 18 May 2018, 18:30
---
Next year marks 100 years since some women were allowed to vote in parliamentary elections and 90 years since women got the vote on equal terms to men. To mark these important anniversaries we are planning an exciting programme of events and activities that will span the whole of 2018.
In preparation, over the last several months my colleagues and I have been scoping over 200 women's suffrage-related records held at The National Archives. Taking this time to look at the records in depth has been fascinating and has allowed us to draw out some of the key themes of the collection.
We already knew that The National Archives has a world renowned collection of documents relating to the 20th century part of the women's suffrage movement. We also already knew that our records offer a unique perspective on the suffrage movement through the eyes of the UK Government; particularly from departments that were tasked with managing the response to the women's suffrage campaigns.
However, our detailed record scoping highlighted some other particularly important points on the collection.
Our records reveal the places that were integral to the suffrage movement
A large proportion of our records, more than we expected, describe places and the spaces within them in great detail. Many also show how suffrage campaigners utilised their national networks.
Examples of this include accounts of a meeting in Wales where suffrage supporters were attacked by the crowd. Other documents reference the movement of supporters across the country as well as the location of meetings and events; this document HO 45/10695/231366 includes a map of the 1913 National Union of Women's Suffrage Societies' (NUWSS) Suffrage Pilgrimage.
The pilgrimage had six main routes to London which saw the uniformed pilgrims cover the majority of the country between 18 June and 26  July on which date they met in Hyde Park in London at 5pm and had a mass meeting. The pilgrimage map illustrates that, contrary to popular belief, the women's suffrage movement touched the vast majority of the country and was not confined to big cities and towns.
Our suffrage records are full of personal voices and stories
These personal stories can be in the form of first person accounts of force feeding (by both the prisoners and prison staff), transcripts of the meetings of suffrage organisations and letters from loved ones to relatives taking part in militant activities.
Lady Constance Lytton is a relatively well-known suffragette who was arrested in 1910 and imprisoned in Liverpool under the alias of Jane Warton. As Jane Warton she went on hunger strike and was forcibly fed; it was her belief that she received far worse treatment as Jane than she did when she was previously imprisoned under her true name. The case received a lot of media attention particularly because an existing heart condition meant that force feeding was not suitable for her. The case was investigated and in a Home Office file it is argued that had Lady Lytton allowed medical officers to examine her in prison, whether or not she was using her alias, then they would have realised that forcible feeding was not suitable.
Within the same Home Office file Lady Lytton wrote to Herbert Gladstone, then Home Secretary, to explain that in using an alias she was not playing a practical joke on him. In fact she assumed the identity of Jane Warton to investigate whether she would be treated differently as a working class woman. Here we can discover Constance's story in her own words.
Our records demonstrate the wide range of tactics used by suffrage campaigners to achieve their goals
While our collections contain many documents on constitutional campaigning, such as petitioning and marches, it was militancy that the government was most concerned about, and the form of campaigning that they had the most interaction with (i.e. via the Home Office and the court and prison systems).
In addition to the tactics of the campaigners, our records also reveal some of the methods that the police used to manage the developing suffrage situation. My colleague Vicky Iglikowski has already written a blog post about how the Metropolitan Police requested motorbikes to keep up with suffrage supporters who were using motor cars to evade them.
Our records reflect the wider context of women's rights at the time
Something that strongly comes through within our collection is the voices of working class women who were passionate about enfranchisement as well as other causes. The records show the other strains on women's lives while they were campaigning for the right to vote, such as the impact of the First World War.
An example of this is that suffrage societies including the Women's Freedom League and the Independent Women's Social and Political Union were against the implementation of Regulation 40D of the Defence of the Realm Act which allowed the imprisonment of women who transmitted venereal diseases to men serving in the military.
Our suffrage documents detail the reactions surrounding the women's suffrage movement
These could be from the public witnessing militant actions, the press reporting on the actions of both suffrage supporters and the Government, the reaction of Government departments and the ministers themselves to acts of protest and their own departmental policies, and lastly the suffrage supporters themselves reflecting on their own situation and the treatment that they received. Some examples of these personal voices can be found in our education classroom resource Cats and Mice.
What to do next
As part of our work around next year's centenary we are planning to publish several more blogs which link to the themes of our collection. Do keep an eye out for them and in the meantime you can read our existing blogs on women's suffrage here.
As well as blogging we will also be running lots of public events, the programme has already started and we will announce the events for January onwards shortly – keep an eye on our What's On pages for more details. We also try to podcast many of our events; you can find recordings of past events on our media player.
Our next women's suffrage related event is 'Sylvia Pankhurst: Suffragette, Socialist and Scourge of Empire' on Tuesday 7 November at 14:00.
Hopefully all of this will inspire you to start your own research within our suffrage records whether as part of a local history project, to research an ancestor or just to find our more about a landmark campaign by men and women for equal franchise. For advice on where to begin I would recommend consulting our women's suffrage research guide.
Good luck with your research!