The Education team at The National Archives believes firmly that archives are for everyone. Last year we engaged with more than 13,000 school students aged from five to 18 years in taught sessions, held both on site at the archives, and online via video conferencing and our virtual classroom.
Giving students the opportunity to work with original sources is central to everything that we do. It inspires and enthuses them; it helps them to see that studying history involves an enquiry-based approach; and it enables them to make their own interpretations about the past.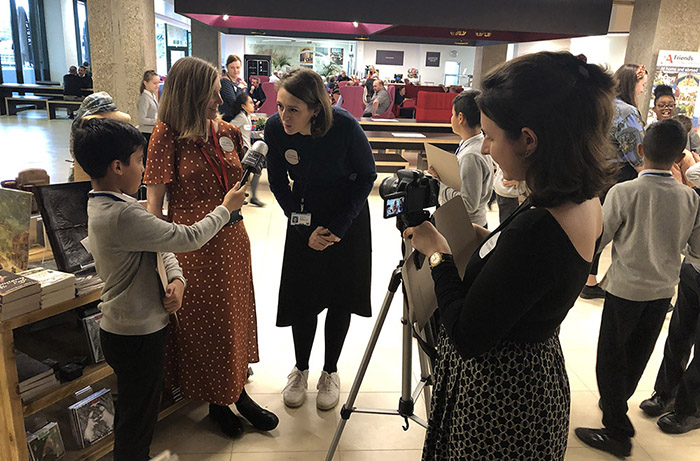 But we don't work solely with school students! The Education team delivers The National Archives' 'Time Travel Club' family programme; this is an exciting mix of storytelling, document enquiry and creative activities, catering to families with children as young as six months! We work with young people aged from 16 to 19 years on a wide variety of creative projects that draw inspiration from our archival records, and we deliver a welcoming and well-informed SEND (Special Educational Needs and Disabilities) programme. We also work with supplementary schools and support national initiatives for young people, enabling access to both our collection and to The National Archives as a workplace.
As a team we've chosen some of these projects from the past 12 months to share with you here in this blog.
Mental Health on Record
'Mental Health on Record' is the fourth instalment of a young person's project run over the summer by the Education team, kindly funded by the Friends of The National Archives. The project was run in partnership with Richmond Borough Mind and with support from Jon Bartlett. As with previous projects, it was structured around 'hidden' stories of people who you may not expect to find in the collection.
The Education team has long been interested in this area and, as awareness of mental health grows in the public consciousness, it felt like an important moment to explore how our contemporary views on mental health and treatment can be used to interpret historical records.
While the Education team curated the selection of documents, it was the young people who breathed life back into the stories of their individuals. The cases they followed ranged in terms of condition and experience. The film seeks to address contemporary issues too. One of the participants drew on the session from Mind and animated the '5 ways to wellbeing' as a way of opening up the conversation and showing that there is a continuing thread of progress and development since the archival stories that the group focused on.
As part of this, we held a discussion circle on mental health and language, giving the young people a chance to speak openly and candidly about their own ideas. We wanted the project not just to be about the outcome but to be an opportunity to think more widely about mental health.
'Mental Health on Record' premières on Tuesday 18 February and will be available online from the next day.
The Rainbow Club
Last April The National Archives welcomed more than 60 children, parents and teachers from The Rainbow Club. The Rainbow Club is a supplementary school, part of Action for Refugees in Lewisham (AFRIL) that works with children aged between 4 and 11 years, who come from refugee and asylum seeker backgrounds. They work to support these children with their English and Maths and promote a broader curiosity for learning.
The children took part in workshops, exploring themes of fun and food in the files! There was much excitement as the children saw a range of documents, including a 100-year-old lemon and a pack of playing cards seized from an 18th-century ship! It was fantastic to see these children consider that a 'treasure' didn't have to be gold and shiny but could be special for other reasons.
We also look forward to Refugee Week in June, when we will be running a special KS2 Education day. Students will explore stories about child refugees through examining original documents in our collection. For instance, we hold a range of records relating to Basque children displaced due to the Spanish Civil War in 1937. Students will also take part in creative activities in order to learn more about the diverse experiences of refugees.
Anstee Bridge
Anstee Bridge is an alternative learning and support programme for young people aged from 14 to 16 years who are facing emotional struggle. In an HLF-funded partnership last summer, we worked with these young people to explore records related to the creation of the NHS. They spent time at The National Archives, engaging with the archival documents and participating in creative activities inspired by their research. Their work was showcased in an event at the archives in July, on the eve of the 71st anniversary of the NHS. 'Beyond the Glitter' was an evening of celebration, featuring a drama performance 'SCAR' and an exhibition of the young people's work. You can learn more about this inspiring project and Anstee Bridge in their wonderful film, Our Health Your Hands.
Kids in Museums Takeover Day
Kids in Museums work with museums and heritage sites nationwide to help to make these spaces more welcoming to young people and their families. Takeover Day is an annual initiative, inviting children to 'take over' different jobs and experience the work of a heritage setting.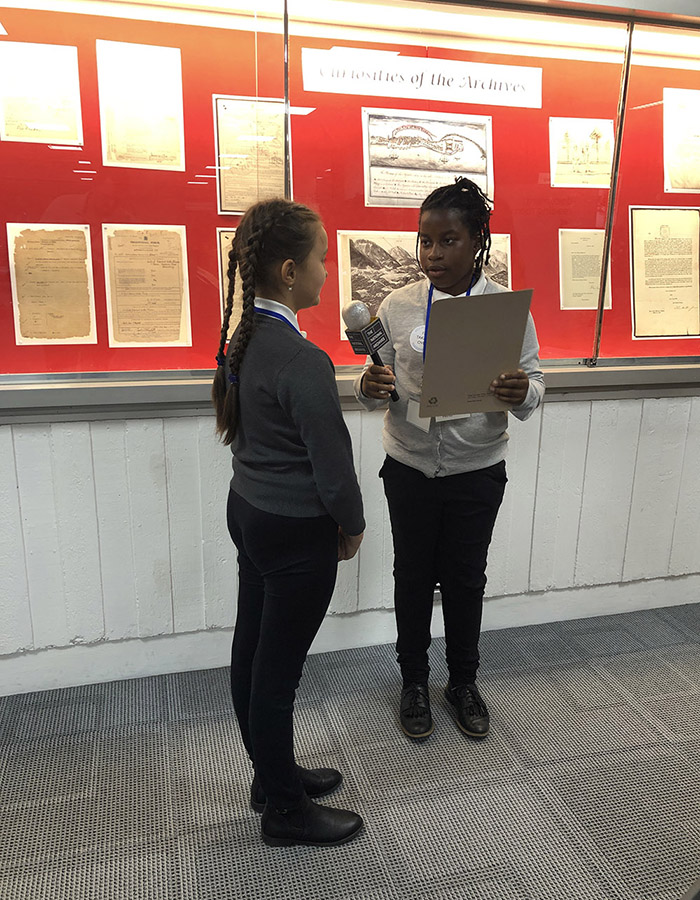 Building on the success of our first Takeover Day in 2018, we were excited to take part once again, and in 2019 we welcomed a group of 51 Year 5 pupils from Crane Park Primary School in Feltham. Pupils applied for and took on a wide range of roles across The National Archives, from designing eye-catching displays in our shop, to learning about the important business of conservation in Collection Care. Pupils welcomed readers in our reading rooms, grappled with original documents with our Research and Collections Expertise teams, helped shape our educational resources, and learned how to curate an exhibition and plan events with our Events and Exhibitions Team. A team of pupils worked with Marketing, taking over our social media channels and acting as intrepid 'roving reporters' with glittery mics in hand to interview their peers about their experiences.
Two of the pupils, Faith and Shnaya, were asked what they liked most about working at The National Archives:
Faith: I like that it's got a little pond with the ducks and a cafe and it's quite a big building.
Shnaya: I like that it stores documents from about 1,000 years ago.
These interviews contributed to Museum and Heritage Advisor magazine's own live web takeover on the day, which was fantastic.
Pupils approached each challenge with boundless enthusiasm, and it was wonderful to see how our activities really brought out their creativity, boosted their confidence and made them excited about archives.
Our afternoon session allowed the pupils to unleash their creativity and reflect on why archives matter. They transformed disused archive boxes, decorating them with images from our collection (and lots and lots of pom-poms!). Pupils then placed an image of something which was special to them – their very own 'treasure' to be preserved – in each box, thus creating a mini-archive like no other! These boxes will form the basis for an installation, The Small Archive, which will be unveiled on 30 January as part of a showcase evening celebrating the students' contributions and achievements.
Creative Careers
November was a very busy month! On Monday 18th we opened our doors to 70 Year 9 and 10s from Christ's School. Nothing unusual there, apart from it being a Monday! However the students were not attending a workshop on this occasion but had come to learn more about a range of job opportunities available at The National Archives.
As part of Discover! Creative Careers Week the young people had taster sessions with colleagues across departments including Document Services, Collection and Care, Archive Sector Development, Digital Services, Events and Exhibitions, and the Education team, both on site and online. There was also a Careers Fair open during the lunch break to facilitate one-to-one conversations. The aim of the event was to demonstrate the variety of roles and pathways available and ensure a more diverse intake of talent. The students really enjoyed seeing behind the scenes and the practical hands-on activities on offer. The feedback reflected the differing interests of the young people:
'My favourite part was making the Christmas cards.'

'I'm surprised that they go into so much detail to figure out how conditions affect materials telling them how they should be stored.'

'My favourite part was the IT talk as it's the industry I want to work in when I'm older.'
We felt very proud showcasing the wide range of roles that all work together to keep The National Archives thriving, and agree with the young person who said 'It was a good experience and was enjoyable for me'!
We hope that reading about some of this work has highlighted how important archives are for everyone. The last word on this blog goes to Ella, one of the young people involved in Mental Health on Record:
'We shouldn't forget the past…it raises awareness for important issues…'.