In June 1940, following a scrambled evacuation of troops at Dunkirk, the Second World War was brought home to Britain. As Hitler's Luftwaffe initiated its bombing campaign on the RAF in the Battle of Britain, destroying some of our major cities in the Blitz, the threat of invasion grew daily. A secondary defence force of men was set up at home called 'The Local Defence Volunteers'… later to become known as the Home Guard.
Most men who could fight were already in the forces; those who were left were either too young, too old, or in reserved occupations such as farming, coal mining or ship building (jobs vital to the war effort). After losing 250,000 tons of supplies at Dunkirk, the Home Guard were expected to fight an invasion of German troops with nothing more than a collection of old shotguns and pieces of gas pipe with bayonets welded on the end. It was a desperate time.
However, over a period of a few months, the volunteers evolved into a well-equipped and well-trained army of 1.7 million men. They were armed and uniformed, taking on board instruction from the 'Home Guard  Manual 1941', from which they learned how to construct booby traps, destroy tanks, ambush the enemy, survive in the open, use basic camouflage, read maps and send signals.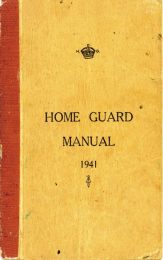 Meanwhile, civilians were urged to 'keep calm and carry on', playing their part in the war effort and taking responsibility for their own survival.  'The British Home Front Pocket Book 1940' captures the reality of civilian life during the Battle of Britain. It includes many pamphlets and leaflets issued with information and advice – as Britain braced herself for a protracted conflict to fight alone, literally on the front line – on a diverse range of subjects, from how to put on a gas mask to how to build a bomb shelter, and what to do in the event of an air raid.
While the Blitz was happening in England, for the people of Guernsey, Jersey and Sark, it was too late: the Germans were already there.  For five years, the Islanders were under occupation, watching in horror as their towns and villages were suddenly draped in Swastika flags, their cinemas began showing Nazi propaganda films and Wehrmacht soldiers goose-stepped down their high streets. In 'Hitler's British Isles' there are true-life recollections from the Islanders themselves, with fascinating accounts of life under German rule and some funny tales of individuals trying to get by in almost impossible circumstances. It is a book based on interviews with over a hundred islanders who lived through the occupation, while the rest of Britain escaped that reality.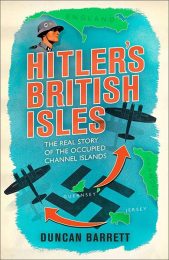 'Defending Island Britain in WWII' describes the real threat of coastal invasion in the United Kingdom along its vulnerable coastlines and inland areas, the preparations made against invasion, and plans for domestic defence. It identifies plans to deny the enemy of resources within specific areas, and describes where coastal defences were also erected and anti-aircraft measures enabled. Today, little remains of Britain's anti-invasion preparations; only reinforced concrete structures such as pillboxes and anti-tank cubes remain, which can still be found scattered around the country after more than 70 years.
Aside from deaths in accidents, the Home Guard lost a total of 1,206 members on duty to air and rocket attacks during the war. They continued to guard the coastal areas of the United Kingdom – other important places such as airfields, factories and explosives stores – until late 1944 when they were stood down. They finally disbanded on 31 December 1945, eight months after Germany's surrender.