This blog includes letters on temporary display at The National Archives as part of Stories Unboxed. During September, you can see them for yourself by visiting the first floor of our building in Kew during opening hours.
Appointed by the Lord Chancellor in January 1963 and reporting to Parliament in August 1966, the Denning Committee on Legal Records' task was to:
examine the court records existing and accruing in various courts and at the Public Record Office (The National Archives' predecessor)
recommend which classes of records should be permanently preserved and for what purposes
advise on retention periods for records not selected for permanent preservation
consider whether any of the records considered should be microfilmed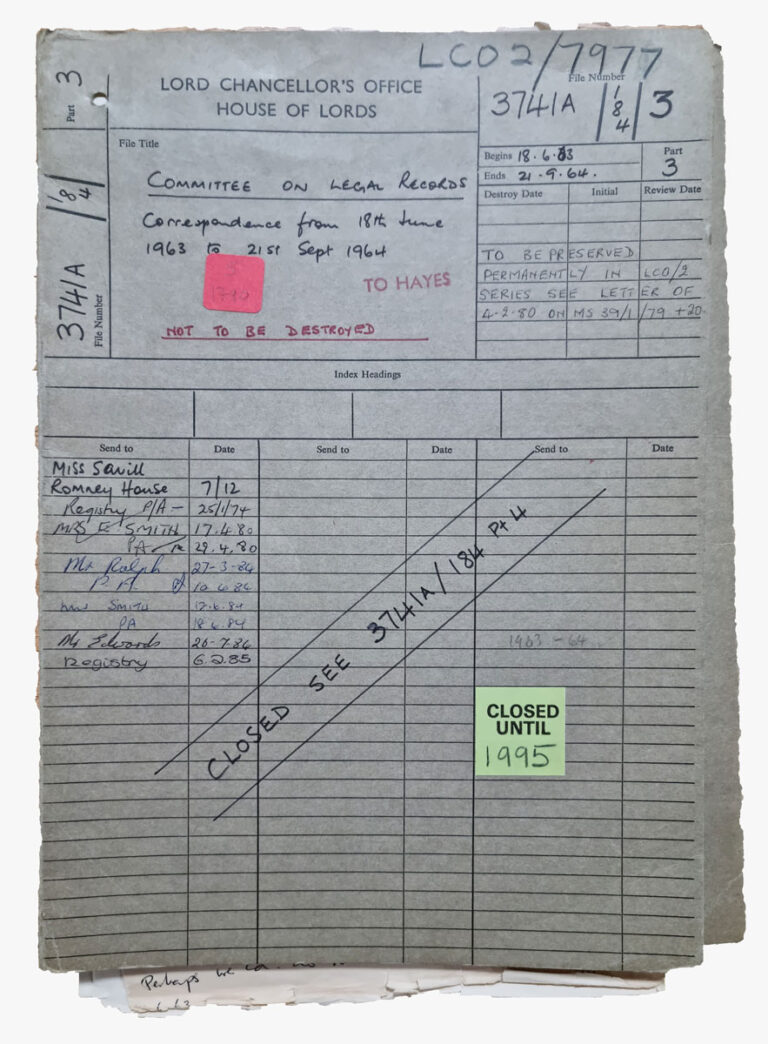 Following the extension of its terms of reference in 1964, the Committee's considerations embraced almost all criminal and civil court records for England and Wales. It faced a Herculean task and not even its most vehement detractors could deny the scale and difficulty of its endeavours. Its final report, which was published in 1966, 1 was both comprehensive and radical in its recommendations.
Limiting preservation
The report attracted relatively little attention from lawyers. As one legal historian had wryly remarked, 'I do not think that the readers of the Modern Law Review will rise in wrath: like the clergyman and sin, their attitude to history is that they are against it.' 2
In other quarters, however, it was greeted with consternation, not least because of the scale of destruction that it mandated. The Committee celebrated this, writing, 'if our proposals are carried out, the PRO alone will be relieved of 200 tons of records, occupying 15,000 feet of shelving'. 3 Of the 722 classes of records considered only 130 were selected for permanent preservation while samples of a further 83 were to be permanently preserved.
Understanding the approach
The Committee was a creature of its time. Many of its members had previously participated in initiatives to revise record destruction schedules as part of wartime economies. Many would also have collaborated in the wholesale destruction of accumulations of papers in offices and homes as part of efforts to clear attics and basements to reduce fire risks during the Blitz.
Moreover, being predominantly highly pragmatic court officers, lawyers, civil servants, and officers of the Public Record Office, 4 they were often sceptical of the value of modern legal records. The report reflected this, describing them as being often 'quite valueless' or 'uninformative and incomplete' and little used. 5
Worse still, modern legal records contributed greatly to pressures on storage space at the Public Record Office at a time when the pressure on public finances militated against the allocation to it of additional resources for record storage or reader facilities. 6 Between 1875 and 1935, it had accessioned 4 shelf miles of civil court records, and a further 6 shelf miles were occupied by post 1858 original wills. 7
This setting, with its acceptance of both the inevitability and the desirability of extensive destruction of records, shaped the entire creation and work of the Committee. Lord Denning, a judge who was rapidly acquiring a reputation for 'getting the job done', was a desirable chair, not only because of the office he held, but also because he was reported as feeling 'strongly that it is most necessary not to retain a lot of records which no one wants to see.' 8 Another key member of the Committee considered that the Committee's 'object was to advise how to reduce the quantity of useless records'. 9
Choosing what to keep – the Committee and its critics
In making decisions about record selection, the Committee followed in the footsteps of the Grigg Committee on Departmental Records. 10 It determined that legal records should not be permanently preserved solely because they contained information which was useful for genealogical or biographical purposes. 11 The Committee's most controversial recommendation, the destruction of almost all original wills for the period after 1858, was produced by the application of these principles. It was deeply unpopular, particularly at a time of burgeoning interest in genealogical research, but it was seen as unavoidable given constraints upon space and public finances. 12
The Committee's critics argued, both that it had failed to give due weight to the needs of genealogists, and that it had neglected the needs of researchers more generally. They asserted that it had focussed primarily on the needs of the courts and the legal profession, and on the use of the records for current legal purposes. They noted that the Committee's membership was dominated by the 'legal interest' and that, in gathering evidence, it had focussed on information given by courts and court officers. It had only consulted a wider, but still quite limited, constituency of users after it had formulated a preliminary draft of its report. Many of the Committee's fiercest opponents were convinced, both that this consultation and evidence gathering did not go far enough, and that the selection of those consulted was inadequate and unsatisfactory. 13
This feeling was evidenced in a letter from one such critic, Sir Robert Somerville, Chair of the British Records Association, to the Committee's secretary Thomas Legg.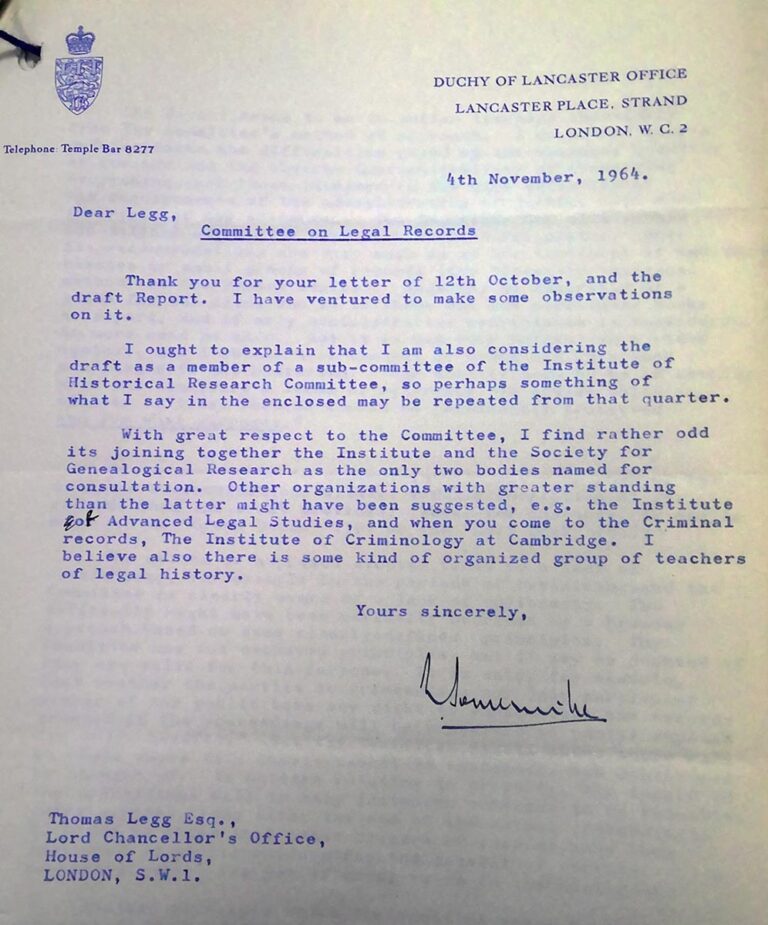 Critics, as seen in Somerville's letter, were equally trenchant in their criticism of the way in which the Committee had tackled questions of record selection, sampling, and retention periods. It had not adopted a uniform approach, and Somerville accused it of pursuing an 'ad hoc treatment' of individual series, and of showing a 'lack of consistency', which was 'not very helpful in a wider context' and 'would not give much confidence to the historian. 14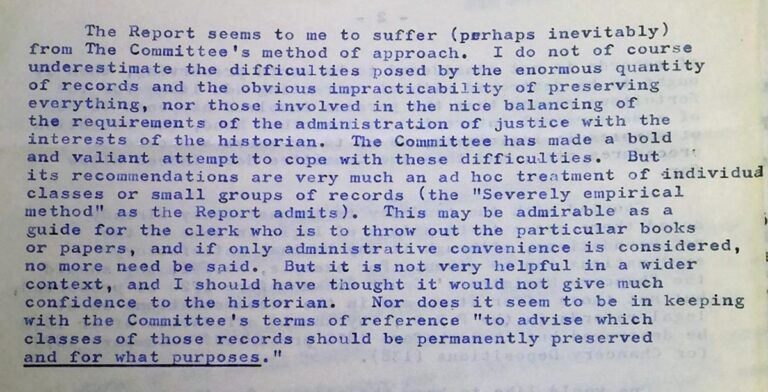 Perhaps most seriously of all, they accused it of permitting 'picking out the plums' by selecting certain record samples on the basis that the records in question related to, or were created by, persons of note. Such practice was, they asserted, 'generally thought to be reprehensible in dealing with archives.' 15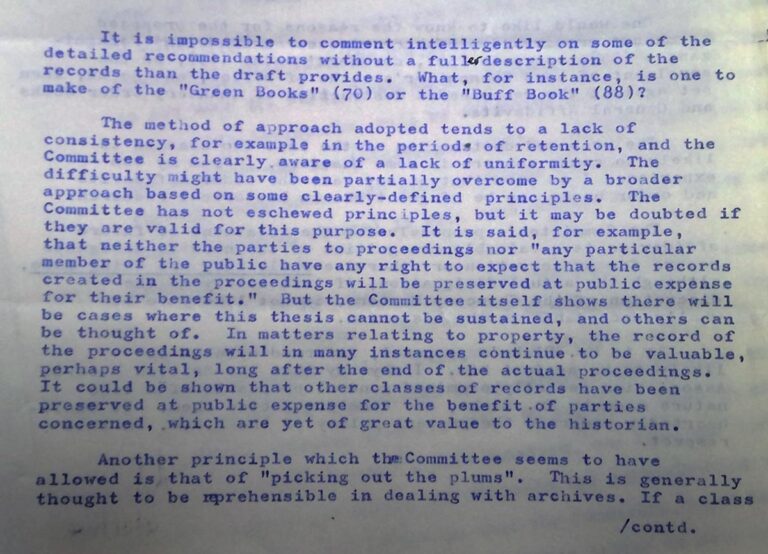 Another principle which the Committee seems to have allowed is that of 'picking out the plums'. This is generally thought to be reprehensible in dealing with archives.

Sir Robert Somerville
The afterlife of the Denning Report on Legal Records
Such was the scale of the Committee's recommendations, and so bitter were the recriminations against it, that its report was referred to the Advisory Council on Public Records, which felt compelled to undertake a wider consultation. This prompted one official from the Lord Chancellor's Office to comment rather waspishly to another that, 'it's a great pity the Denning Committee did not consult etc interested parties as the Advisory Council now has to go over much of the same ground.' 16 Ultimately, however, the report was largely vindicated, and its recommendations left substantially intact.
As the last detailed and systematic consideration of the selection and archival treatment of legal records in England and Wales, the legacy of the Denning Committee lives on. For historical researchers its significance will be immediately obvious. Record selection policies, together with decisions around cataloguing, access arrangements, and the creation of microform or digital surrogates, determine the resources upon which they draw, and ultimately the stories that they can tell, the narratives that they construct, and the conclusions that they draw in their work.
Perhaps less immediately obvious are the implications of the report for the functioning of the judicial system in England and Wales, and particularly for the principle of open justice as it underpins the Rule of Law. In a legal system which relies extensively (and increasingly) on written process, the ability to access and use court records is essential in allowing citizens to understand and interact with the judicial system.