For many people the sudden advent of summer weather means an opportunity to get out to the beach, go for a swim, set out for a run or play some tennis. For committed bibliophiles it means swapping the cup of tea for a G&T and the armchair by the fire for a sun-lounger, and getting our fill of exercise lugging the pile of reading matter out into the garden. Our preference makes for a happier life all told: if the barometer should take a dive (in Britain? As if! Couldn't happen!) our plans are not upset – we just put on an extra jersey, shrug and move back inside. Although, that said, there is a little tweaking to be done in the choice of reading matter at this time of year. Summer lends itself to lighter reading. I do have friends who carry 'The History of Epaulettes in the Austro-Hungarian Army, volume 2' on holiday but they are in the minority (a very, very select minority of one, possibly). Most people, myself included, think sunshine is an excuse for some fiction. Nothing silly – I tend to eschew the four-inch-thick airport bonkbuster with a cover sparkling in pink and gold – but some humour, a little romance or a frisson of danger are all welcome. If you, too, like this kind of thing then I have some recommendations for you: novels which will entertain and delight without insulting the intelligence.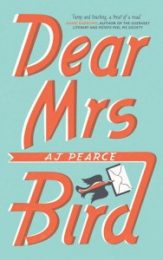 First up is the charming 'Dear Mrs Bird'. I initially bought this for my mother, who is a total sucker for anything set during the Second World War but who, having lived through it, has a tendency to get tetchy if they make glaring errors in the recipe for Woolton Pie or the positioning of the Clapham South bomb shelter. However, before handing it over I had, as is ever my wont, a brief flick-through which turned into a complete read-through (it's okay, I am a trained bookseller: we have perfected the art of reading a book part-open so as not to crack the spine; our tread is akin to fairy wings, you genuinely wouldn't know someone had read it before). A little reminiscent of Mrs Miniver, this is a really lovely story of pluck on the home front. Emmy Lake wants to be a Lady War Correspondent but, due to a moment's inattention in the interview (could happen to any of us), ends up as PA to a frightening Agony Aunt on 'The Woman's Friend' – a Mrs Henrietta Bird, who refuses to deal with letters that concern Unpleasantness or come from The Wrong Sort (there is a lot of thinking in capital letters).  The trouble is that life in wartime London does contain a lot of Unpleasantness and being plucky and carrying on is hard work. What Emmy does to make things better is both funny and touching, and a comment on the power of words to help and heal.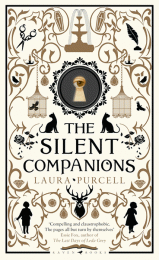 Is spooky more your thing? Then look no further than Laura Purcell's 'The Silent Companions'. This is gothic horror writ large. It has a beautiful cover, too, with cut-outs (I know, don't judge a book by, etc, etc, but a pretty jacket will make me pick up a book – although it needs to read well for me not to put it back down again pretty smartly). Do you remember the very scary Weeping Angels from 'Dr Who' ? This has echoes of that but with frock coats. There is a lonely widow condemned to an asylum, a hidden secret, a sinister cousin, a crumbling country house and the discovery of a 200-year-old diary… but most of all there are The Companions. There are plenty of twists and turns as the action leaps from the 19th to the 16th century and back.
If you enjoyed 'The Essex Serpent' (and who didn't ?) and are looking for more of the same, consider 'The Mermaid and Mrs Hancock'. Exploring fantasy and illusion in Georgian London, this is a richly-textured, very visual novel which would make a fabulous movie. Mr Hancock is a trader who discovers that his captain has sold his ship to buy a mermaid – a speculation too far, perhaps ? Angelica is a courtesan whose protector has unfortunately died, and who needs to reinvent herself trading on her wits and her beauty.  Imogen Hermes Gowar has woven in museums and her knowledge of the Georgian period; its patois matches the breadth and inventiveness of her imagination – using both she has crafted an intriguing and very beautiful novel which questions public credulity and our desire to believe. The setting may be in the past but human emotions never change.
For the committed genealogist, how about 'Who Do You Think You Are?' meets Hercule Poirot in the novels of Nathan Dylan Goodwin and his forensic genealogist sleuth, Morton Ferrier? In 'The Lost Ancestor' (although if you are wedded to the ethos of 'I must read them in the right order',  you will need to start with 'Hiding The Past') you will meet Morton, who here uses his genealogical skills to solve the mystery of the disappearance of his own great-aunt, a housemaid working in an Edwardian mansion. My family history customers assure me that Morton's technique is spot-on and his knowledge of how to tease out detail from burial registers or the Outward Passenger Lists on the Findmypast website is the biz.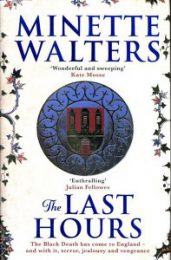 You might also try Minnette Walters' 'The Last Hours', set in the 14th century just as the Black Death enters Britain. Walters is better known for her psychological crime fiction and this is her first foray into the historical drama genre. To my mind, her thrillers are better, and there is a little bit of putting 20th century sensibility into medieval characters; however, there is no denying that she has done her research and her sense of place is strong – and of course she can write and her ability to explore the darker sides of motive and personality is unsurpassed. Do be prepared to commit, though, as this is clearly set up for a sequel.
Let's hope the sun keeps shining long enough for you to finish them all…