The most significant collection of First World War operational records of the Royal Navy held by The National Archives can be found in the record series ADM 137. This series comprises the documents from the Admiralty Record Office used by the editors in compiling the Official History of the Royal Navy in the First World War.
ADM 137 consists of 4,837 volumes and is broadly structured in three series – from the Admiralty Secretariat, from commands and stations, and from Naval Staff, which the editors of the aforementioned Official History arranged in HS, HS and HSB number order.
For many years the records in ADM 137 have not been keyword searchable on Discovery. This is how they were described previously: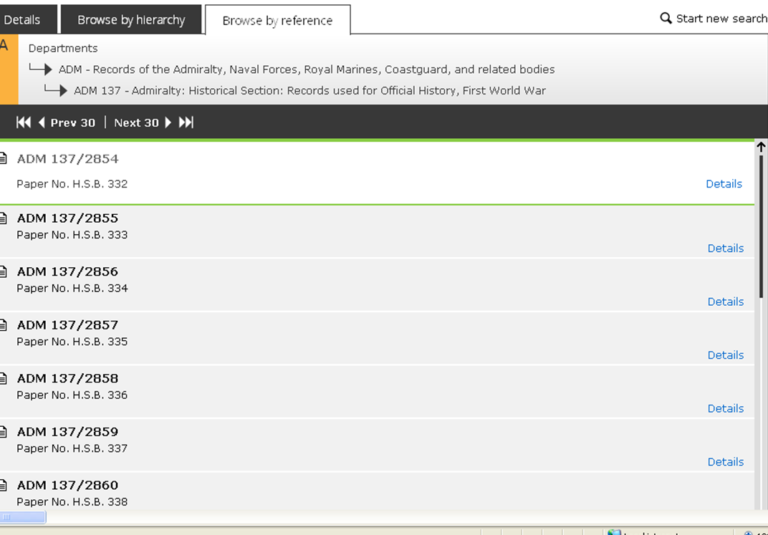 Finding any possible content in these ADM 137 volumes was a convoluted and time consuming process. It involved first using the Admiralty's own indexes and digests correspondence series in ADM 12, finding paper numbers on a topic or a person or ship's name, cross-referencing these numbers to a key in the ADM 137 paper series list to determine either a HS, HSA, or HSB number, and then cross-referencing that to a ADM 137 document reference!
To improve accessibility to ADM 137, I have had the privilege of leading an on-site volunteer team in a project to catalogue ADM 137 to make it more keyword/subject user-friendly in Discovery.
We've carried out this project in two phases. The first phase was to ensure that there are keyword descriptions for each of the 4,837 volumes within ADM 137, which has now been completed.
The following gives an indication of the range of material that has been brought to light in the first phase of this project.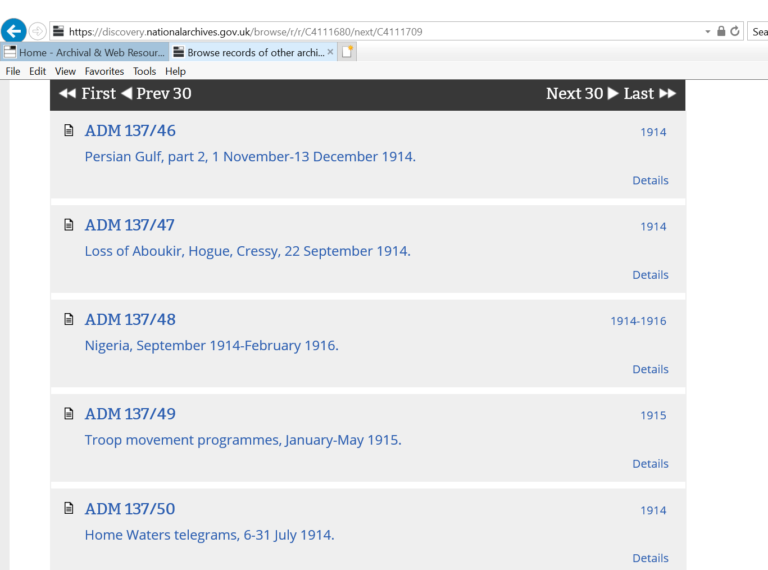 With just these five documents we already see the global reach of the Royal Navy during the First World War, and a flavour of its varied contribution to the war effort.
Volunteers have also been busy on the second ongoing phase of this ADM 137 project. That is to further enhance the descriptions of documents in this series, providing a more detailed breakdown of a volume's content, incorporating former Admiralty Office paper number references and the original historical section volume numbers as highlighted in the following: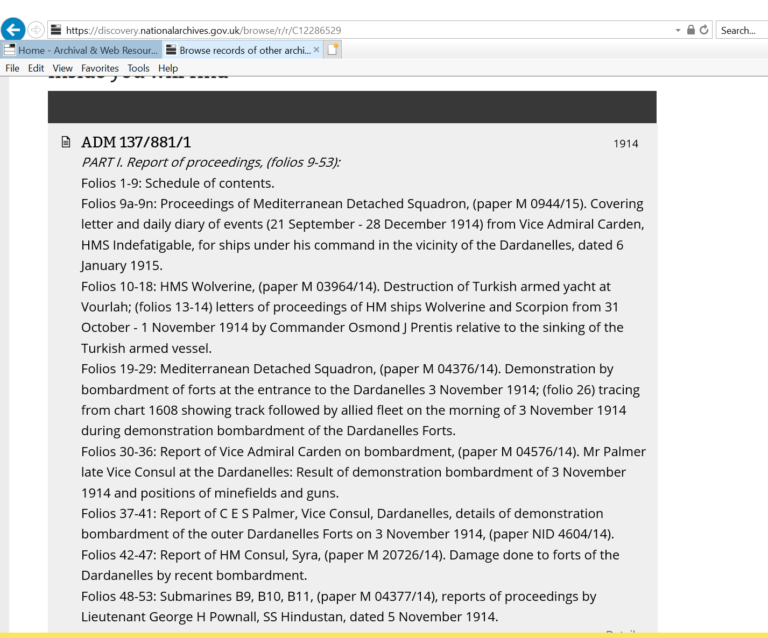 Two of the volunteers, Mac Mowat and Robert Metcalfe, who have been integral to this phase two work, share their insights in what they have found in the course of their efforts:
'A handwritten thank you note from Kitchener to A J Balfour; Winston Churchill's handwritten ideas for establishing a base for the British Navy off the coast of Europe ahead of war with Germany; Sir Charles Munro's memorandum to the Navy requesting a plan to evacuate the troops from Gallipoli; ships' reports from the Battle of Jutland.'
These are just a very small example of the fascinating documents found among the many thousands of records in ADM 137.
'Some further examples of the type of documents that can be found in ADM 137 include war diaries of the Royal Naval Division; papers of 'Room 40' (including copies of 'Wireless News') and the Naval Intelligence Division; records of the Allied Naval Council; reports of interrogation of captured German U-Boat crews; a copy of the translated log of the German U-Boat which sank the Lusitania; the Naval Orders to the ships tasked with the unsuccessful breaking through of The Dardanelles to capture Constantinople; individual ships' reports of the landings at Gallipoli; reports from British spies in Black Sea ports at a time when White Russian refugees were desperately trying to escape South from the Bolsheviks; one report even providing a detailed list of the members of the Committee of The Central Soviet – Trotsky et al.'
Nearer home, reports of naval ships' sorties in the North Sea and other Home Waters are available. Where possible, an attempt has been made to make visible names of individual ships, their captains and some crew members where they were involved in particular incidents, actions or battles. For example, if reports recommend individuals for special commendation, their names will be visible to the online Discovery researcher. Similarly, if men were reported injured or killed then their names have been detailed as fully as possible together with their service number where given.
As more of this enhanced ADM 137 listing is put on Discovery, our aim is to enable searchers to quickly find operational records of Royal Naval ships by name, so that they can be more easily linked with an individual's service record. This ties in very closely with The National Archives/National Maritime Museum's volunteer crowdsourcing project, Royal Navy First World War Lives at Sea.