The Collection Care Department at The National Archives holds an historic collection of moulds taken from our wax seals. Containing some 7,700 items, it is the largest collection of its type in the UK. But why do we have them? Who made them, and what are they for?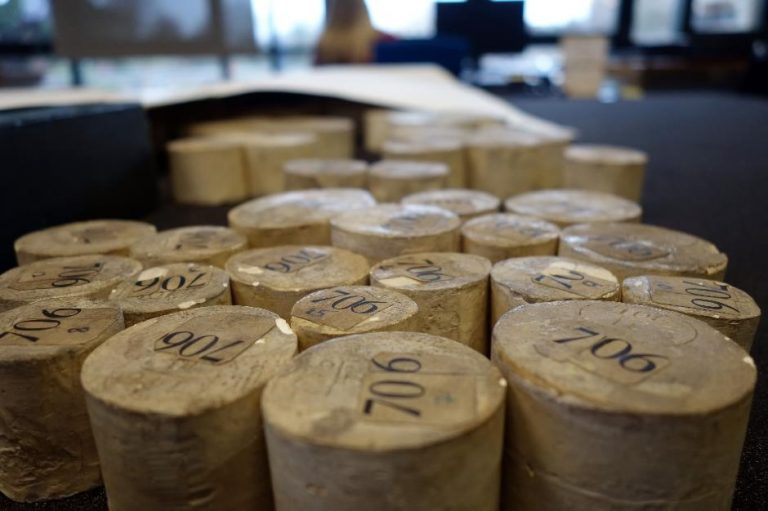 The practice of taking moulds from seals began in the 19th century, but reached its peak in the 1920s, when the vast majority of this collection was created. Sir Hilary Jenkinson – then Head of the Repairing Department, and later Deputy Keeper of Public Records – advocated the manufacture of moulds so that we could avoid having to regularly produce the originals, '…thus neutralizing the worst results of any possible damage by preserving permanent moulds.' 1
This was achieved by using moulds to cast wax replicas: these replicas could be studied, photographed and handled by many researchers with no risk to the original.
The moulding method was developed by specialist staff in the Repairing Department. Moulds were made from high-quality 'dental' plaster of Paris. When a pendant seal (a seal attached to a document by a cord, or similar) was moulded, the document was wrapped in waxed tissue paper. The seal would then be very gently cleaned using a soft watchmakers brush.
After a protective layer of waxed paper was applied to the reverse of the seal, it would be pressed into a disc of Plasticine which created a stable base from which to cast the mould. The seal surface would be lubricated with a mixture of olive oil and lard to ensure easy release from the plaster. Too much lubricant could affect the quality of the mould surface, creating air bubbles and/or flattening of the impression.
A strip of lead foil would be bent around the seal and pressed into the Plasticine to create a 'wall' to contain the liquid plaster. Plaster would then be laboriously painted onto the oiled seal surface. Thin layers were applied, then gradually built up – applied too quickly, the mass of plaster could generate heat, which would be detrimental to the wax seal.
Once the plaster was set, the foil would be removed and the fresh mould left to dry in a warm room. Once dried, the mould would be treated to harden it by steeping in a bath of boiled linseed oil and lead monoxide, or a solution of shellac and methylated spirit. It would be left for several days to dry fully. It was then ready for use in casting seal replicas.
The Plaster of Paris method was eventually superseded in the 1960s by silicone rubber, which produced a far crisper impression than had previously been possible.
Collection Care no longer use these moulds to make seal casts, but they demonstrate the breadth and variety of our wax seals collection. There are examples of a vast range of seal types, from Great Seals of the Realm to personal non-armorial seals, and everything in between. Many moulds contain information which has now vanished from the seals from which they were taken, either through loss or damage.
Since 2016, a team of volunteers have been cataloguing and digitising the seal moulds in order to make them accessible to all through Discovery as the series PRO 23.
Describing and digitising them is a way to make this unusual resource accessible, and – in keeping with Jenkinson's vision – allow The National Archives to take a more holistic approach to preservation of and access to our wax seals collection. 
Notes:
Jenkinson, H, 'Some Notes on the Preservation, Moulding and Casting of Seals', The Antiquaries Journal, vol. IV, no. 4, 1924, pp. 388-403 ↩