If you search The National Archives' catalogue for 'photograph' you get 365,199 results. Try putting that lot into an album. We have photographs from a wide variety of different sources – some you might expect, but others you wouldn't. For example, we have photographs from:
military, police and security service surveillance operations
evidence in criminal trials
countries and former colonies across the world
railway and aviation authorities
industry and agriculture
propaganda and advertising campaigns
government buildings, parks and land
But the largest number of photographs held here in Kew came to us from the Stationers' Hall in London where photographers (along with artists, authors, composers and playwrights) registered their work for copyright protection between 1862 and 1912. They were able to do this thanks to the Fine Arts Copyright Act of 1862 – before this they had not been able to protect their work. The process required them to fill in a form with their name and address and attach a copy of the photograph to the form. The very first registration, of a photograph of Alfred Tennyson the Poet Laureate, was made by William Jeffrey on 15 August 1862.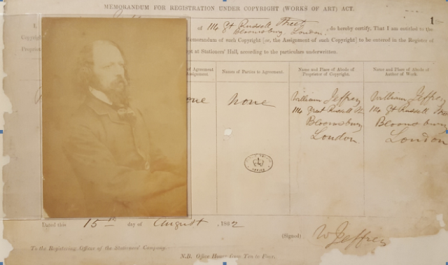 This has given us a huge collection of photographs that form an incredible visual record of Victorian and Edwardian life; all held in record series COPY 1. To find out more about what a record series is, see Andrew Janes' blog, A series of unfortunate events.
Not long ago, the only way to find out what we had in COPY 1 was to visit us here in Kew and look through the boxes of forms, with their attached photographs. But over the last ten years or so, dedicated staff and volunteers have worked their way through hundreds of boxes, taking the information shown on the forms and adding it in to our catalogue.
This means that you can now search the collection using names of places or photographers, subjects or dates. For example, you can search for Eadweard Muybridge or Julia Margaret Cameron; Burma or Birmingham; dog or donkey and see what turns up.
If you want to know more about how to search the catalogue, see our blog post Your catalogue's rubbish.
Sometimes, your searches will uncover photographs of drawings or paintings. This is because artists would often attach a photograph of the art work that they were registering. You can also find sketches of art works, sheets of music, theatre posters and advertising material attached to the registration forms. COPY 1 really is a totally fascinating mix of all sorts of creative works and you just never know what you will find when you open up a box.
To find out more about the COPY 1 records read our research guide on Intellectual property: copyright records. To read specifically about photographs, use our research guide Photographs.
These days, copyright is automatic. If you take a photograph, the rights to copy it belong to you. The GOV.UK copyright pages are very helpful if you want to find out more about present day copyright in the UK.