To coincide with Catalogue Week at The National Archives, I would like to share with you the details of a project we are working on. Together with three dedicated volunteers, we are improving the catalogue descriptions for the series T 336, Second World War Civil Defence Awards Files.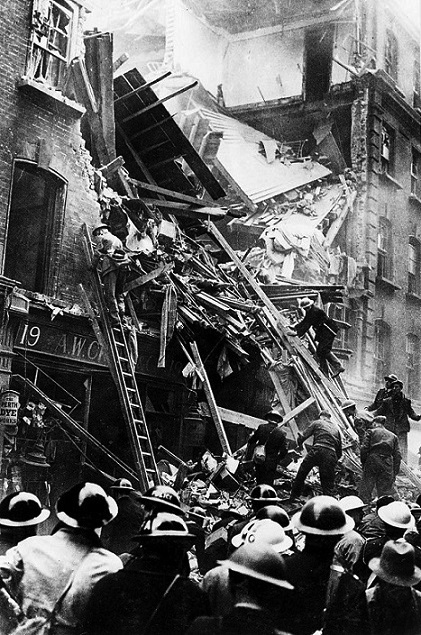 When it comes to loss of life, gallant action and devotion to duty in the Second World War, people immediately think of the armed forces, then probably the Merchant Navy, and finally to civilians at home. In the aftermath of the Battle of Britain, and at the outset of the Blitz, enormous devastation was caused by air raids. During the course of the war, 60,595 civilians died as a result of enemy action in the UK. Homes, workplaces and public buildings were destroyed.
A large number of volunteers were trained in civil defence duties. These included ARP (Air Raid Precautions) Wardens, rescue party members, auxiliary police, fire-fighters, medical service and ambulance drivers. Through gallantry and devotion to duty, these individuals, many of them women, helped to save lives during the Blitz.
In order to recognise their contribution promptly and worthily, two new awards, the George Cross and the George Medal, were instituted in September 1940 by George VI. A Treasury Committee on Civil Defence Honours was set up, chaired by Lord Chatfield, a retired Admiral of the Fleet. Ernle Chatfield had seen service in the First World War. He was Minister for Co-ordination of Defence between February 1939 and April 1940. The Committee sat between April 1940 and December 1946, by which time it was considering peacetime gallantry awards recommendations.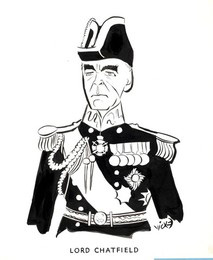 Submissions came to the Committee from the Interdepartmental Committee on Civil Defence gallantry awards. That committee consisted of Home Office and Ministry of Home Security representatives; it was responsible for considering all recommendations from local sources and subsequently submitting them with its own recommendations to Lord Chatfield's Committee at the Treasury. So the Treasury Committee was the final arbiter in deciding gallantry awards.
To consider the submissions the Committee required descriptions of the actions warranting recognition, backed up by witness testimony to validate the claims. The Committee would then send its recommendations to the Sovereign, George VI, for approval, and the awards were subsequently announced in the London, Edinburgh or Belfast Gazette.
The awards, going down in degrees of precedence, ranged from the George Cross, George Medal, British Empire Medal and commendations. A summary of the information in the files was published in supplements to the London Gazette, but the files in T 336 also contain unpublished descriptions of the actions leading to nominations for commendations, and also for actions where it was decided that no award could be granted.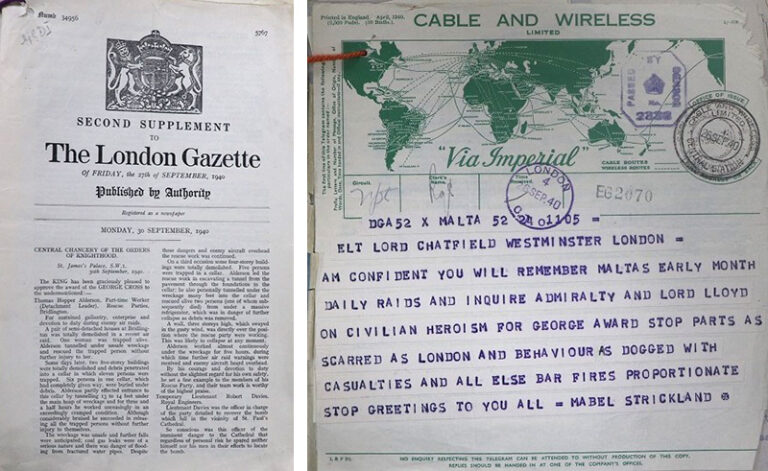 The papers can relate to actions dating from months earlier. On some files, particularly the later ones, there are papers unconnected in any way with civil defence, for example, on awards to civilians who assisted the Allied war effort in occupied countries and following their liberation. On 15 April 1942, the island of Malta was awarded the George Cross, to recognise the heroism and devotion of its people during the Great Siege, which lasted from June 1940 to November 1942. File T 336/2 includes a telegram from Mabel Strickland, editor of the Times of Malta and daughter of Sir Gerald Strickland, former Prime Minister of Malta, recommending the award as early as 26 September 1940.
Record T 336 consists of 166 files, which are organised chronologically. At the moment the catalogue descriptions just provide the dates that the awards were announced in the relevant gazette. The current description for T 336/3 simply has 'Wartime awards in Civil Defence: gazetted 4.10.1940'. These descriptions will be kept at file level, but we are adding items to each file for the individuals who were recommended for an award, listed by Treasury Committee case number, and then with the name, age and occupation of the nominee, the award that they were granted, and a summary of the action leading to the award.
A typical standard catalogue description will look like this:
| | |
| --- | --- |
| Catalogue record | T 336/30/3 |
| Treasury case number | 1208 |
| Name | Arthur Stanley Sandford Barlow |
| Age | 30 |
| Occupation | Leader, ARP Rescue Party, Malden and Coombe |
| Award granted | British Empire Medal |
| Brief Summary of Ground for Recommendation | Rescue work at Malden Way and Manor Drive, New Malden (Surrey), on 9 September and 12 October 1940 |
Including the place, county and date will widen the interest beyond those searching for an ancestor or for particular job roles and activities, and will allow local historians to discover further details about particular bombing incidents. The results can then be used in conjunction with Bomb Census survey records 1940 – 1945 and the Bomb Sight project to establish a picture of the damage sustained during bombing raids. Using these sources, together with Home Security Daily Intelligence Reports and Home Security War Room reports will also allow researchers to find further background to the information contained in the Treasury Commission's gallantry award files.
There are many occasions when the Treasury Committee decided that, although the action of an individual was praiseworthy, it did not merit an award. This can sometimes seem rather harsh when you read about their stories and acts of heroism within the files.
I would like to share one such incident with you, which comes from T 336/2. Mr A T W Reid, ARP Controller, County Hall, Chelmsford, submitted this testimony:
'Commendable conduct, Mrs Agnes Hilda May Bird. At about 16.15 hours on Saturday 15 August 1940, the occupants of an enemy bomber bailed out, one of whom landed in a field at Peldon, six miles south of Colchester. Mrs Bird, wife of an engine driver, went calmly towards him and asked him to put up his hands, which he did. She then went up to him and noticed he was bleeding from the mouth and nose. She asked him if he was hurt, and he straightened himself up to make her understand he was all right. She then made signs to him and asked if he wanted a drink, and subsequently fetched him a bowl of water to wash in, and a glass of water to drink.'

'The enemy parachutist was armed with a revolver, and when asked about it by other civilians who came on to the scene, he refused to hand it over saying "No, Militaire". Mrs Bird remained with him for about ¼ hour, until the military arrived and took him in charge.'
Although Mrs Bird acted calmly and courageously, under what must have been very stressful circumstances, the Committee decided that she had not put her life at risk, even though the airman had a gun. They therefore concluded that an award was not merited.
This project will help to bring acts of valour carried out by civilians in the Second World War to a wider audience, helping us to engage with students and academics and family historians. These are human-interest stories that are buried in the archives and that can be brought to light through a simple cataloguing project. I would like to thank my dedicated volunteers – Sheila, Catherine and Liz – for their sterling work on this project. Although I cannot recommend them for a gallantry award, I am delighted to share with you the examples of their good work in this blog.