18 November 2023 is 20 years since the repeal of Section 28 in England and Wales1. This legislation sought to suppress the 'promotion of homosexuality' and 'pretended family relationships' by local authorities. The Act was in place for over a decade, in which time it had a huge impact on lesbian, gay and bisexual individuals in England, Wales and Scotland.
To mark this we have published two new articles looking at the factors that drove Section 28 and its passing into law, and life under the legislation and its eventual repeal. In this blog I will talk you through the research process behind this work to help you understand more about the nature of our records, what they might contain, how to best search them and how they can help reveal unexpected queer histories.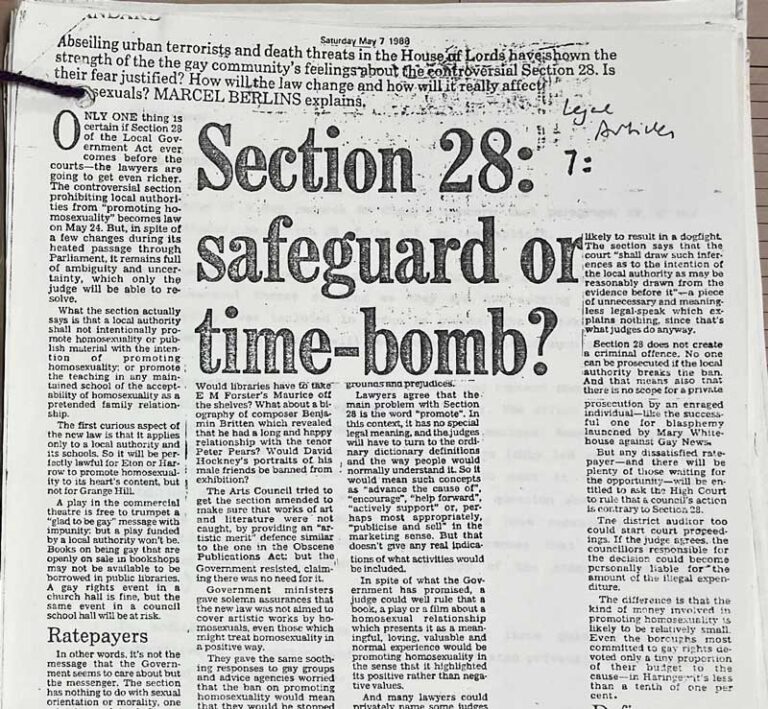 Searching our catalogue
A keyword search of our catalogue, Discovery, is a good first option when researching. You can get a sense of what results are returned, and from which government departments. You will also find out which results aren't returned that you might expect to be.
However, in most instances it will not show all the relevant material, only records where your research subject makes it into the record catalogue description. In this instance a keyword search returned very little relating to Section 28. An extra complication is that Section 28 was also known as Clause 28 and Clause 27 in its early bill stages, and as 2A in Scotland. Section 28 actually added Section 2A to the Local Government Act 1986. In Scotland it was known as Section 2A.
It is always worth thinking of alternative words and phrases that you might need to use as search terms.
This search also returned relevant records in unexpected places, including a file in Foreign and Commonwealth Office records. As I was researching a domestic issue, I initially found this surprising, but campaigns against Clause 28 activated global expressions of solidarity. In this instance ambassadors received protests by British students studying in America and expressing their outrage.
Why and where?
To try and address where further records may be held, a good approach is to ask: why would government be interested in this subject? And which bits of government might be interested?
As a piece of legislation, some avenues were immediately obvious to follow the introduction and repeals process. It was logical to look at:
Some of the files are catalogued under wider Local Government Bills that contained clauses to introduce or repeal Section 28 or 2A. The Prime Minister's Office records contain a range of LGBTQ+ relevant topics under the vague heading 'Homosexual rights' (which actually also included transgender related legislation and campaigns).
Beyond the legislative research avenues there were also other parts of government who engaged on this topic.
There were certain pieces of literature that had fed the initial fears that prompted Section 28 legislation. One was the well-known children's picture book Jenny Lives with Eric and Martin. Our records also highlight a less well known publication that created a media backlash – the Playbook for Kids About Sex by Joani Blank and Marcia Quackenbush – which had been flagged to the Department of Public Prosecutions. Its potential prosecution left a trace in the archive, including letters written in by individuals arguing why the book was beneficial or harmful. Prime Minister's Office papers also include highlighted pages from 1982's The Milkman is on his Way by David Rees which were sent to Margaret Thatcher because of their explicit content.
Similarly, complaints about youth group funding of lesbian and gay groups made it into our Education department records. These records helped me set the context and tell the story of why Section 28 came into law.
The fears that prompted Section 28 also stemmed from local authority freedoms and the Greater London Councils' (GLC) equalities agenda. Our records cover the central government perspective; the London Metropolitan Archives holds collections relating the to the GLC.
Perspectives
It can be hard to tell balanced views of history when a collection predominantly represents the voice of government. However there are ways that the voice of individuals and activists groups make their way into government records – writing in, protesting, lobbying. I was surprised by the extent of campaigning voices that made their way into government records on this subject.
It shows how passionate and vocal activists where in this era. Section 28 and the fight to equalise the age of consent had really mobilised queer campaigners in a way that had not been previously seen in Britain.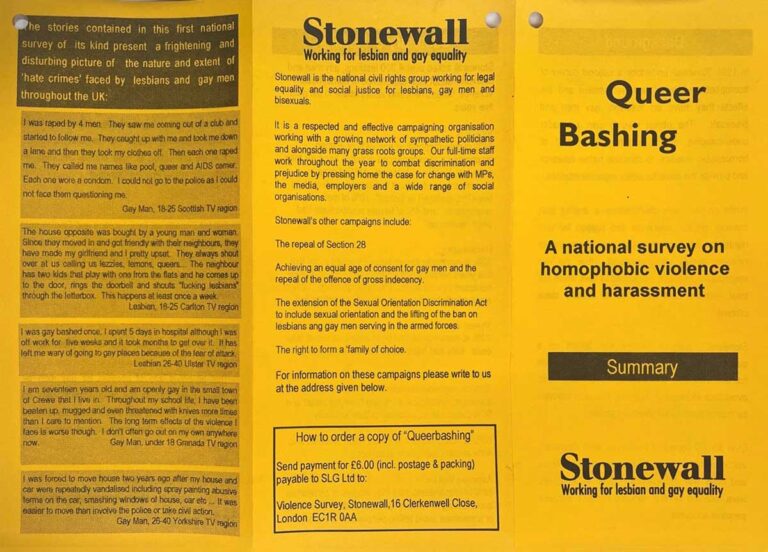 I didn't have the space to do justice to the whole movement that came from Section 28 campaigns, Stonewall to Outrage!, ActUp and Lesbian Avengers, but I did foreground the activist letters and literature in our own collections.
There is brilliant content and archive collections elsewhere that focus in on the campaigning galvanised by Section 28. For example:
I also briefly looked at a much wider variety of records picking up on activist concerns at the time. Though they only get a brief mention, they are vital to understanding that Section 28 was just one aspect of a multifaceted struggle; LGBTQ+ violence (commonly known as queer bashing at the time), over policing of the queer community, police entrapment, ability to openly serve in the military and the equalising of the age of consent.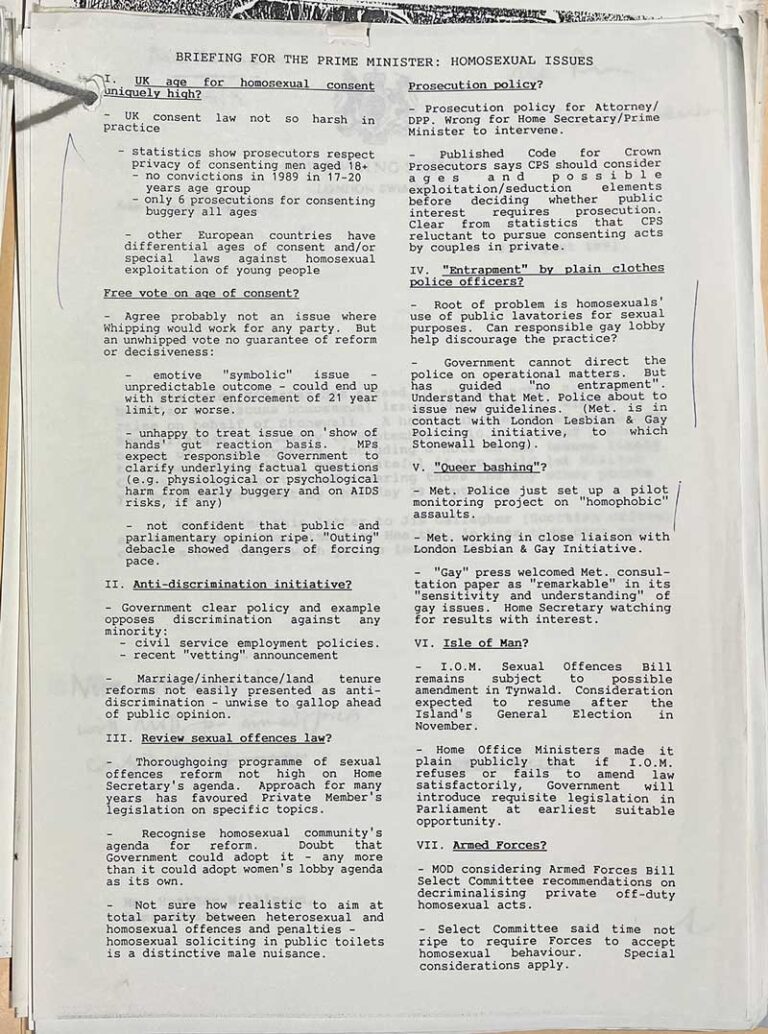 To motivate me in this work I created a playlist, with the help of colleagues. I went to school in the era of Section 28. Knowing the impact this legislation had on friends made it tough to write at times. Listening to protest through music and creative reflections on being queer in the 80s and 90s inspired me to keep writing. It was also a way of capturing a different facet of activism in the era of Section 28, which was important and powerfully visible at the time.
Listen to the Section 28 playlist on Spotify
Impacted sections of government
The legislation specifically mentioned limiting local authorities 'promotion of homosexuality' in schools, although the lack of clarity led to a much wider impact through fear and self-censorship. Activists were particularly concerned about the impact on:
AIDS and health care
Youth groups
Education
These themes could be traced in records relating to relevant government departments: the Department of Health and the Department of Education. The self-censorship also meant looking for absences in government departments' work as well as surviving material.
There were lots of angles to represent, I tried to carefully map out the key arguments and evidence.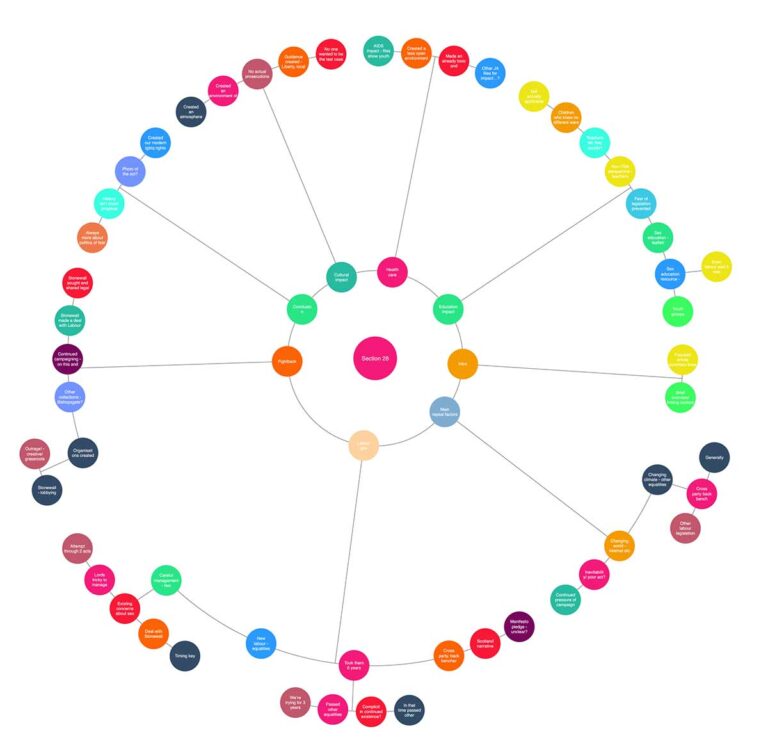 Library resources
Our library is a brilliant resource for books linked to our archival collections. The bookshop Gays the Word, a pioneering place that kept going throughout the Section 28 era, offered great guidance on some of the books that might be helpful and our library team supported this work with various books. Paul Baker and Catherine Lee have both written great recent studies, reflecting on the passing and legacy of Section 28.
You can find a range of books, some of which focus on lived experiences from the time, in our online Library catalogue.
Future work
This is very recent history for us. Our most recent government record releases are from 2003, the year the Section was repealed in England and Wales. There may yet be more records to be transferred to The National Archives on this subject from government departments. As with any research it is iterative; the more I delve, the more there is to explore. I'm no expert on Section 28, but this is what you can start to find by interrogating government collections. I encourage you to explore for yourself and share with us what you find.
Hopefully this inspires more research into our queer history records from partial decriminalisation onwards.
---
For help researching LGBTQ+ history, our Sexuality and Gender Identity History Research Guide is a good starting point.
---
Section 28 added Section 2A to the Local Government Act 1986, the Local Government Act 2003 repealed Section 2A for England and Wales. The legislation had already been repealed in Scotland under the Ethical Standards in Public Life Act 2000. ↩︎