This is the third blog in our Research Exchange series, featuring interviews with researchers across The National Archives in which they discuss their new discoveries and their work's potential for impact. The purpose of the series is to highlight and demystify the research we do and open up new ideas and discussion.
In this blog, our Collaborative Doctoral Partnership student Carrie Long, who is completing her PhD with supervision from Durham University, National Maritime Museum and The National Archives, talks about her experience completing the AHRC/TV Foundation's TV PhD scheme. You can follow her on Twitter at @long_carrie.
[Liz Fulton] Could you explain what the TV PhD scheme is all about?
[Carrie Long] The TV PhD scheme provides an unparalleled introduction into the practical working of television. It's a niche and specialist industry, and while we all love watching TV not many of us know how it all works and how to be a part of it.
I have always been intrigued by television and, although I had some early work experience at a film studio, I thought that embarking on a PhD meant that this career path was closed: bingeing on period dramas as a viewer was as close as I would get! It was a wonderful surprise to know this was not the case. The TV PhD scheme showed me that doing a PhD made me a valuable researching asset. It provided insights into what opportunities were available and, most importantly, how I could be involved.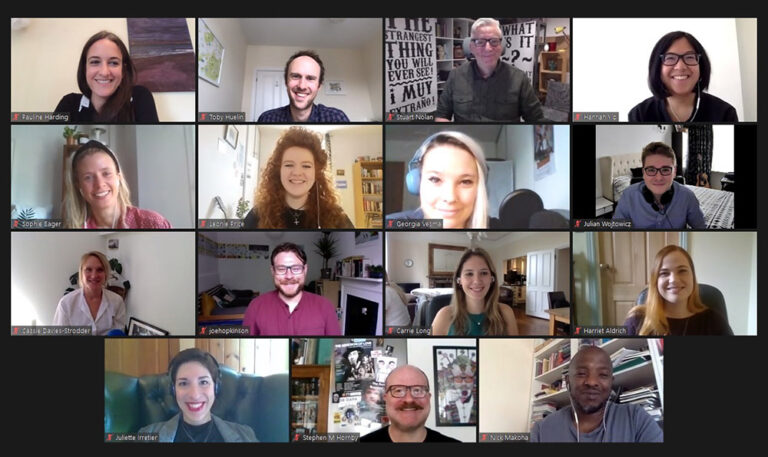 [LF] What was the highlight of the scheme for you?
[CL] The highlight was having the opportunity to pitch my own research for a TV show. The scheme provided a hands-on development workshop with Nutopia, the production company responsible for Netflix's 'Last Czars' and Disney+'s 'One Strange Rock'.
We hit the ground running as part a of two-day intensive development workshop. The mysterious jargon was broken down and, after hearing how the experts did it, we were given the task of writing a two-page summary for an idea for a TV show, some of which would be selected to pitch live at the Edinburgh Television Festival.
[LF] How do you think the scheme helps you think about your research at The National Archives in a new or different way?
[CL] Pitching my research for TV pushed me to really consider whose stories I wanted to tell and raise the profile of, but also to reflect on my experience of archival research. My PhD research focuses on 18th to 19th century petitions, which are incredibly rich sources, providing access to the lives of ordinary people across Britain, particularly women. Although the petitions appear physically to be forgotten bundles of fragile and often overlooked letters, their content cries out to be recorded and filmed as its emotional power leaps from the page.
Hidden among humble petitions for clemency sent to the Home Secretary, the surprising discovery of a love letter sent from a transported criminal in Australia to his wife in England became the focus of my pitch. The opportunity to share this epically tragic tale of lovers separated by oceans for decades, but reuniting against the odds, was truly a historian's dream!
The feedback I received from my colleagues as well as the producers at Nutopia encouraged me to think about my research on a larger scale. I began to question how this story and the evidence of the couple's agency fits with popular narratives, and how it could change perceptions of criminal history and poverty in Victorian Britain.
[LF] How do you think this scheme approaches the important topic of communication about research?
[CL] My experience on the scheme has provided me with valuable research questions which I think have positively shaped my research and public engagement. Questions like 'Why now?', 'Why is it compelling?', 'Why me?' and 'Who do I want to reach?' have been useful probes to help me see how my research is relevant in many different ways and can provide perspective on a variety of topics.
As well as attending the scheme, I was given access to the wider Edinburgh Television Festival where I was privileged to hear insights from TV channel controllers and a keynote McTaggart lecture given by historian David Olusoga. These talks offered immediate access to the industry's perceptions of the current challenges and importance of research and communication, and how broadcasters were driving change.
[LF] How has this scheme been beneficial to you and to the research you do? What are your next steps?
[CL] The scheme has demonstrated practically how academia and television can work together. It has been eye-opening to see the many other interesting career routes my research skills can take me, from acting as a knowledge specialist, production researcher, to developer. The TV PhD scheme also offers a mentoring scheme and I look forward to building on my knowledge and connections in the future.
[LF] Did you learn anything surprising completing the scheme?
[CL] My time on the TV PhD scheme took place during the COVID-19 pandemic and it was the first year it had ever been held on Zoom. While the circumstances were difficult and it was disappointing not to be networking in person, I was surprised at how responsive and adaptable the industry was in difficult conditions. TV has become even more important in making us feel connected when we are having to spend more time apart and, if anything, the significance of making TV to inform and entertain audiences seemed more important than ever. I was grateful to have an insight into how this process worked.
[LF] Do you have any tips for others who may be interested in the TV PhD?
[CL] If you are passionate about telling stories, putting your research skills to creative use, and reaching wider audiences, then I encourage you to apply. My top tip is to show your passion for your subject and your urgency for why more people should know about it. You will be surprised how it makes you think about the bigger picture of your own research.
You can learn more about the TV PhD scheme here.