In January 2021, I became one of eight successful candidates accepted onto the Bridging the Digital Gap traineeship programme. Managed by The National Archives and supported by the National Lottery Heritage Fund, these 15-month placements brought people with digital skills into the archives sector, in an effort to meet the increasingly technical challenges it faces. For my traineeship, I was seconded to The British Library of Political and Economic Science, better known as the LSE Library.
Due to the COVID-19 pandemic, I worked from home for the first five months of my traineeship. While it is a challenge to get to know your colleagues exclusively through Zoom, MS Teams and email, having prior experience of working from home allowed me to settle into these unusual circumstances quite comfortably.
When I began working at LSE, my team was in the middle of a long-term initiative to transfer digital collections from LSE's shared drives to Arkivum Perpetua, our digital preservation system. Unlike a standard hard drive, where files may be corrupted, lost, or accidentally deleted, Perpetua ensures safe, long-term storage of digital files and provides online access to them via the LSE Digital Library. The materials are either born-digital items (i.e. created digitally) or digital 'surrogates' of physical items that have been digitised.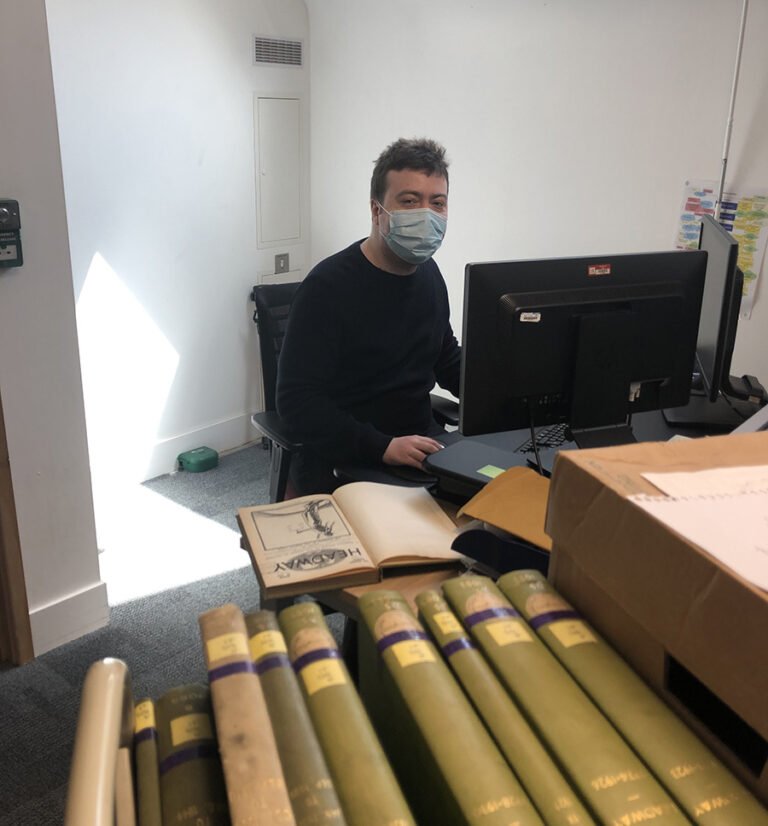 In the early days of my traineeship, I created small 'test collections' to practise preparing material for 'ingesting' into Perpetua. Then I progressed to preparing and transfering several digital collections, including the Peace and Internationalism Collection, The Women's Library Poster and Badge Collection, LSE Community Histories and LSE Publications.
Getting a digital collection from LSE's shared drives into Perpetua proved to be a highly technical process. First, the selected collection needs to be catalogued in a CSV table. CSVs, or comma-separated value files, store tabular data as lines of text, which makes them highly readable and useful for processing metadata. Then, LSE's bespoke Digital Toolkit comes into play. The toolkit is a series of 'scripts,' which contain lines of code. They use the metadata in the CSV tables to move the digital items from the shared drive and structure them correctly in a zip folder, which goes into Perpetua, completing the process.
What really kept me engaged during these projects was the material I was working with. It dawned on me that the materials were fragments of moments in time that would otherwise be lost or forgotten without our work. This realisation gave me the passion and motivation I had been looking for, reminding me why I wanted to be an archivist in the first place. Furthermore, I found myself highly interested in the material I worked on, such as the journals in the Peace and Internationalism Collection, which were full of geopolitical history from the Interwar period (1919–1939). Reading through these journals provided deeply fascinating insights into how people felt about international politics and affairs at the time, as well as their hopes and fears for the future.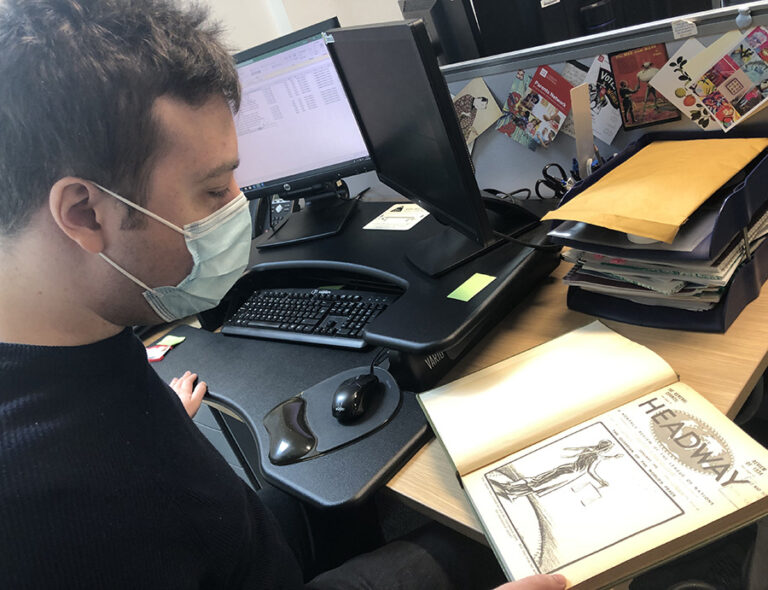 To support wider projects, I worked on extracting, processing and editing metadata entries in our cataloguing system. For example, for the AIM25 project 'Mapping Jewish London', I edited and enriched catalogue records for a number of Jewish individuals whose papers LSE holds. The London-wide project is part of Yerusha, a collaboration among European, US and Israeli heritage institutions to create an online portal to European Jewish archives.
In addition, I branched into digital engagement. For instance, I developed a communications campaign to promote the LSE Publications Collection on the Digital Library upon its release, utilising social media and internal email newsletters for this purpose.
My work was not always with digital archives, however. I catalogued and described a series of administrative papers that had been recently deposited by a former non-governmental organisation, the Oxford Research Group. This was a great opportunity to work with an analogue collection and apply the theoretical archival knowledge I had learnt.
As my traineeship draws to a close, I look back on what has been an enriching learning experience with the LSE Library. The staff's support throughout this traineeship has been invaluable. I have had many great experiences here and worked on a multitude of projects and tasks, too many to mention in this blog. I have had the opportunity not only to learn all about archival practices, but also to work in the profession. Looking forward, this traineeship has provided me with the sense of direction and base of skills I need to pursue a career that I enjoy.