Some of The National Archives' most striking visual records are found in the most unexpected places. While we have specific collections consisting entirely of designs, photographs and artwork, there is always the possibility of finding something beautiful hidden among files of correspondence and other papers.
18th-century playing cards
One wonderful collection for these kinds of surprises is the Prize Papers collection, which are records of the High Court of Admiralty. Among these, we hold a selection of gorgeous playing cards from the 18th century. These were found among papers of the French merchant ship L' Aimable Julie, and were presumably used by sailors aboard ship to entertain themselves. Cards like these are found throughout the Prize Papers collection.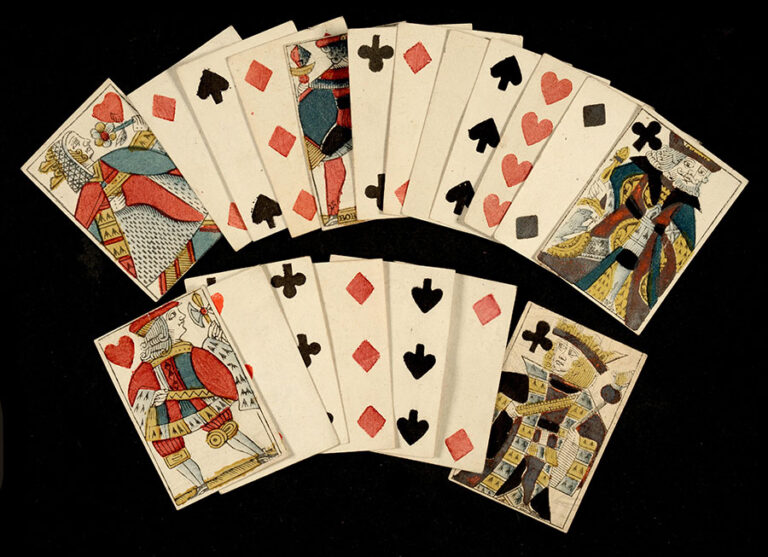 These cards display the French suits – hearts, clubs, diamonds and spades – with a design very similar to our modern playing cards. The colours, particularly in the face cards, are beautifully striking!
Inspired by these playing cards, we have created a gorgeous new set of greeting cards which are perfect for any occasion and now available in our shop – see the range here!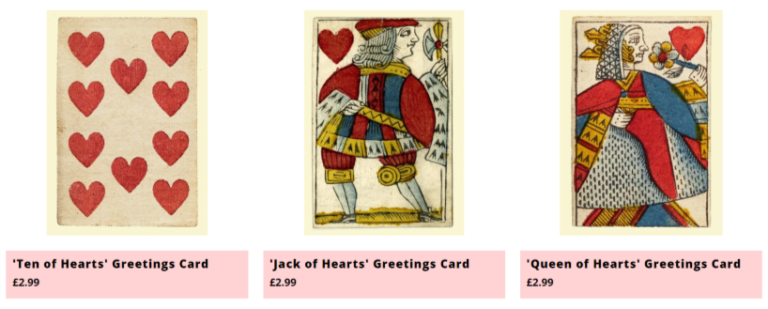 What were they used for?
Another intriguing thing about these playing cards is what you find on their backs. They each display scribbled notes which indicate that they were used as vouchers in place of cash on board ship, as IOUs or promissory notes, as calling cards or simply as post-it notes to write notes or jot down calculations!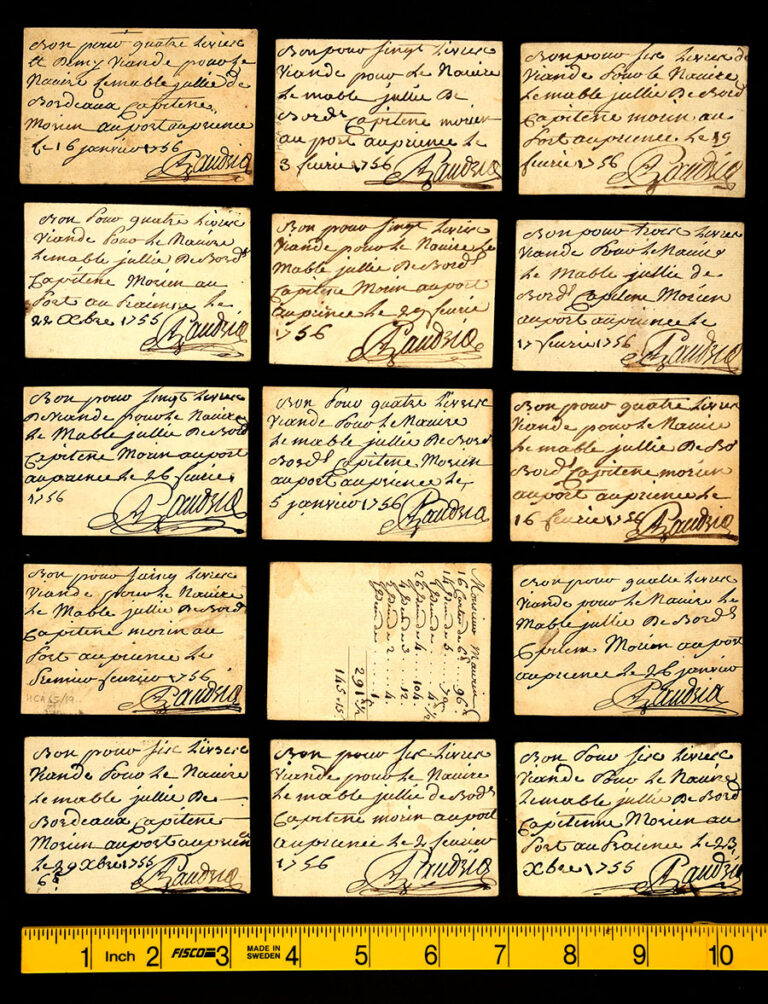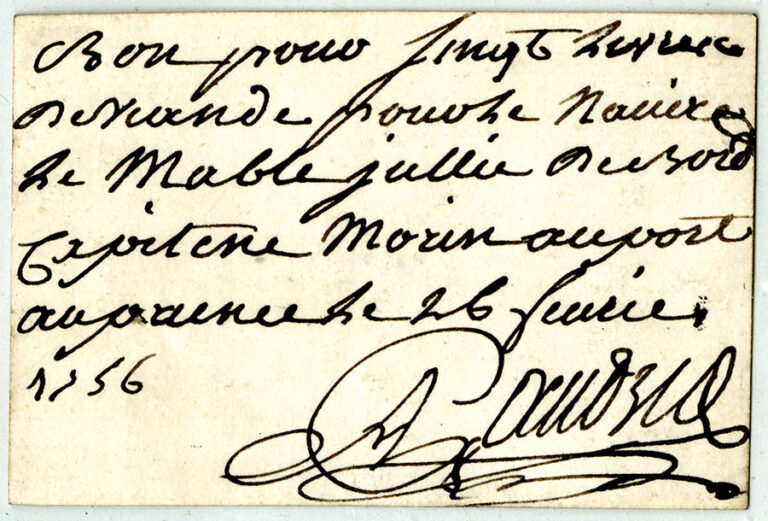 The back of one of the cards reads:
'Bon pour vingt livres De viande pour le Navire le Mable jullie De Bord Capitene Morin au port au prince le 26 fevrier 1756. A. Gaudriq'
Which translates as:
'Good for twenty pounds of meat for the ship L' Aimable Julie of Bord[eaux] Captain Morin at Port-au-Prince the 26 February 1756. A. Gaudriq'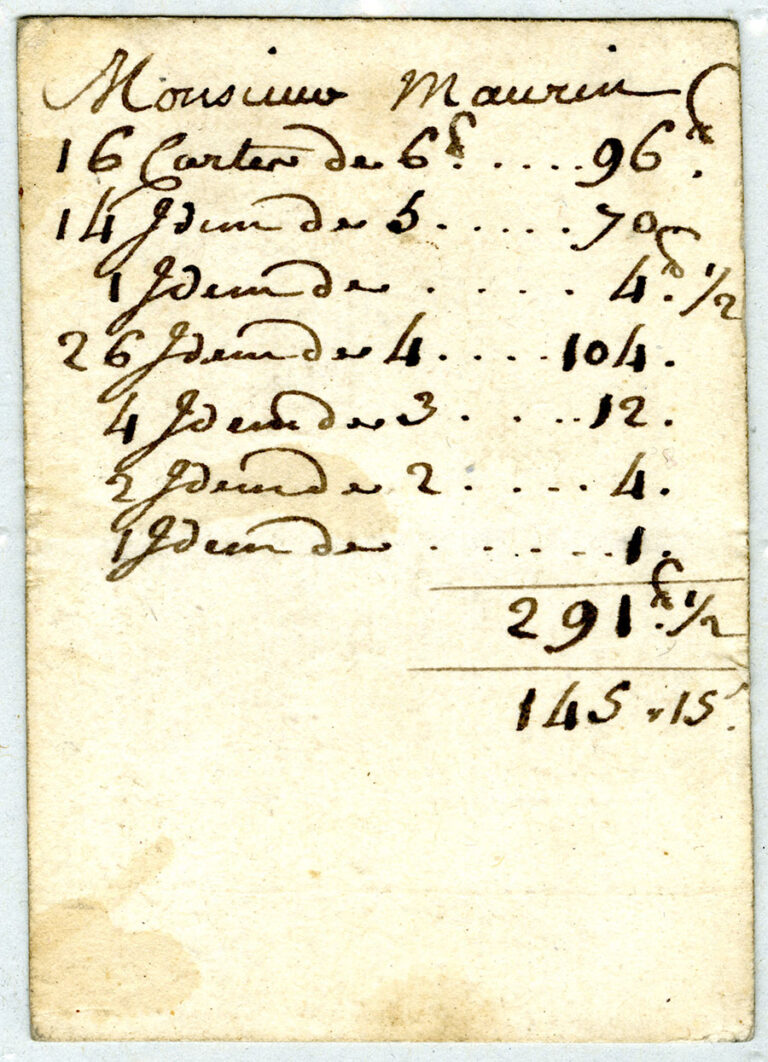 Another includes a calculation which translates as:
| | |
| --- | --- |
| Monsieur Maurin | |
| 16 Cards at 6 livres | 96 livres |
| 14 ditto at 5 | 70 |
| 1 ditto at | 4 1/2 livres |
| 26 ditto at 4 | 104 |
| 4 ditto at 3 | 12 |
| 2 ditto at 2 | 4 |
| 1 ditto at | 1 |
| [total] | 291 livres 1/2 |
| [half total] | 145 livres 15 sols |
In this example, it is still a mystery what 'cards' were being referred to and priced, as they are too expensive to be playing cards.
There is another similar set of playing cards in HCA 32/96/2. They were found among the papers of a captured French merchant ship called Les Aimables Marthes. In 1744, the ship was carrying sugar, coffee and indigo from Saint Domingue to Bordeaux when it was attacked by the privates Terrible of Liverpool and Queen of Hungary of London. On the reverse of the playing cards from this ship are notes delivered by slaves to the captain for delivery of goods to the purchaser.
The Prize Papers project
These playing cards were unearthed during the process of cataloguing the Prize Papers, which consist of a huge collection of documents and small objects from the period between 1652 and 1815. During this period European powers would engage in capturing, or prize-taking, enemy ships and any papers or small objects found on captured ships would be held as evidence. And so the Prize Papers collection came into being.
The Prize Papers project is a collaboration between the University of Oldenburg, Germany, and The National Archives of the UK, partly funded by the Göttingen Academy of Sciences and Humanities in Germany, and seeks to catalogue and digitise the entire collection. To read more about the Prize Papers project, please see the project website at www.prizepapers.de and our other blogs which tell the story of the cataloguing and digitisation process.
Manufacturing techniques
Playing cards of this era would have likely been produced through 'block printing', similar to stencils. An extract from the first edition of Encyclopaedia Britannica, volume 2, published in 1771 reads:
'Cards, among gamesters, little pieces of fine thin pasteboard of an oblong figure, of several sizes, but most commonly in England three inches and an half long, and two and an half broad, on which are painted several points and figures.
The moulds and blocks for making cards, are exactly like those that were used for the first books: they lay a sheet of wet or moist paper on the block, which is first lightly done over with a sort of ink made with lamp-black diluted in water, and mixed with some starch to give it a body. They afterwards rub it off with a round list. The court-cards are coloured by means of several pattern, styled stane-files. These consist of papers cut through with a pen-knife, and in these apertures they apply severally the various colours, as red, black, &c. These patterns are painted with oil-colours, that the brushes may not wear them out; and when the pattern is laid on the paste-board, they slightly pass over it a brush full of colour, which, leaving it within the openings, forms the face or figure of the card.'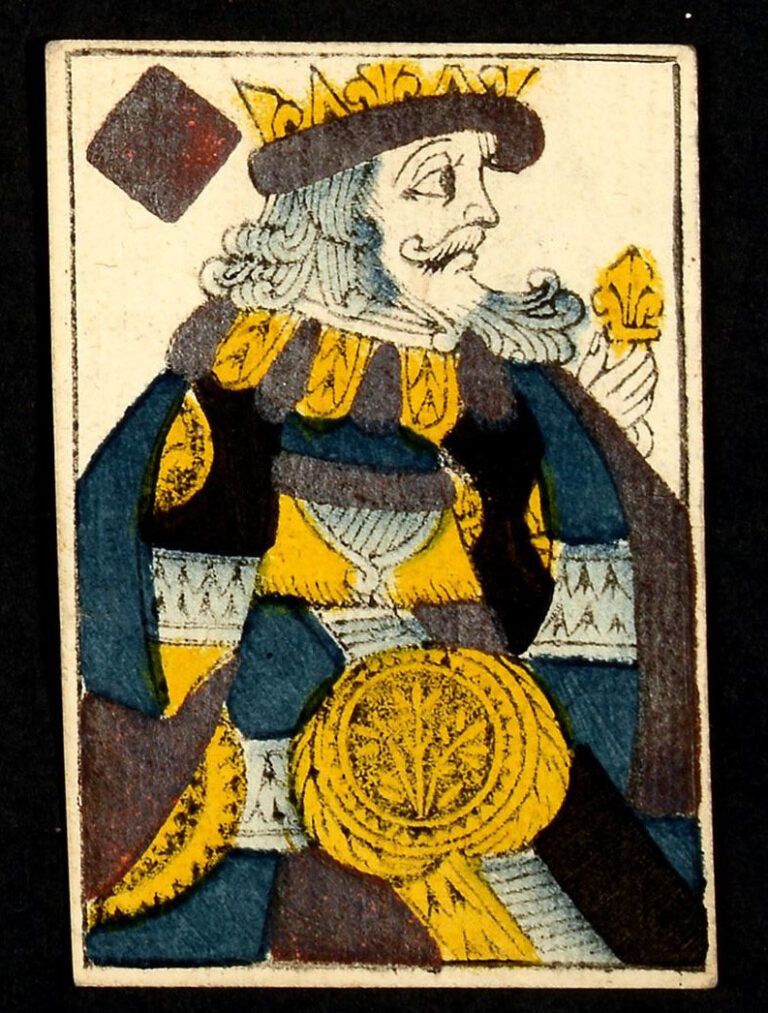 The darkening of the red colouring noticeable on some of the playing cards is thought to be due to the use of red lead as a pigment, although the exact cause is so far unknown. Environmental factors, such as humidity, light, pollution or microbial contamination as well as the manufacturing of the pigment, are all determining factors in the pigment alteration process.
To find out more about the materiality of the Prize Papers, please visit the project's materiality homepage.
The greeting cards are available in The National Archives shop and you can browse the selection here. My thanks go to our Prize Papers Record Specialist Randolph Cock and Senior Conservation Manager Barbara Borghese for offering their expertise on these beautiful playing cards.