'There are many women's armies,

But none do work so grand

As they plough and sow and reap

And mow – our Women on the Land.'

From the Women's Land Army Handbook containing the Land Army Song. Catalogue ref: MAF 59/2
The Women's Land Army (WLA) was established to support the war effort from the home front. These 'land girls', as they became known, were critical to increasing food production. At its peak, the Women's Land Army had more than 80,000 women working on the land, in all variety of ways – from poultry farming to rodent catching. They came from a wide range of backgrounds: from towns, cities and villages all across the country.
Although the Women's Land Army is often associated with the Second World War, it was first formed in 1917 by the Board of Agriculture, and then disbanded until June 1939. The government initially asked for volunteers, but later moved to conscripting women. The Land Army was to be disbanded for the final time in 1950.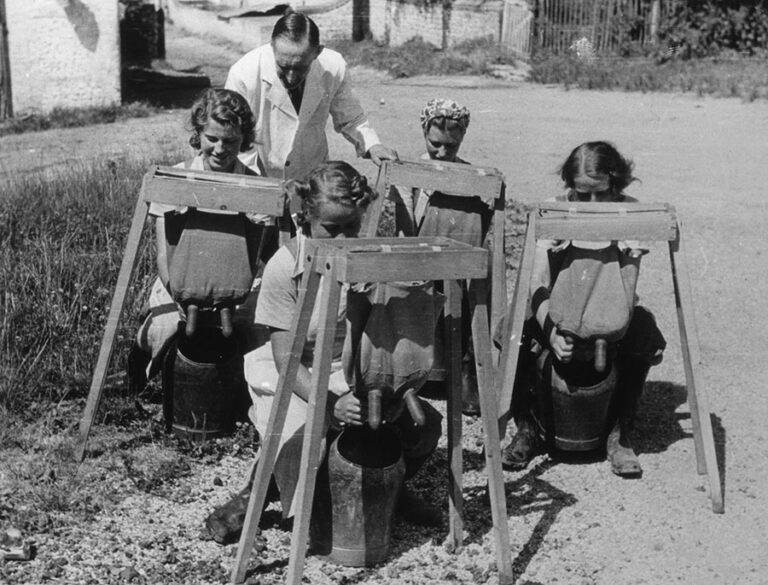 Despite the huge numbers of women involved, original service records of the Women's Land Army have not survived. What has survived are microfiche copies of alphabetical index cards from 1939 to 1945. Ancestry has just provided digital access to these records for the first time, making them searchable by name and much easier to access. These records contain basic information about the women's service – this information is particularly valuable given the lack of other surviving personnel information. These index cards can help you find information about an individual, but they also give an insight into the rich social history of the Land Army, and women's lives in wartime more generally.
The index cards only contain information about those individuals who participated in the Land Army in the Second World War. The online images and indexes exclude individuals born less than 100 years ago. To learn more about the Women's Land Army in general, read this blog on the The Women's Land Army in eight documents.
In this blog post, I explore what these records can tell us about women in the Land Army, and focus on a few of the women we can find in these records.
What can these index cards tell us?
The index cards in the collection have the potential to include all, or some, of the following information:
Name
Maiden name
Address
County of employment
Place of employment
Birth date
Age at enrolment
Date of enrolment
Occupation
Date of employment
Date of release
WLA membership number
Although the information on the cards is very brief – certainly more so than on a conventional service record – each of these small insights can start to build a picture of someone's life and wartime service.
Most women serving in the Land Army were believed to be young, single and childless, and this was certainly true of most. But a search of these records shows approximately 2,500 women who were listed as 'housewives' and a couple who were listed as having children. Some women have their married name and maiden name listed on a card. If a Land Army member married at the end of their service, then their married name would often also be added to the card. If you are looking for an individual, it is worth trying both their married and maiden name to ensure a thorough search of the records.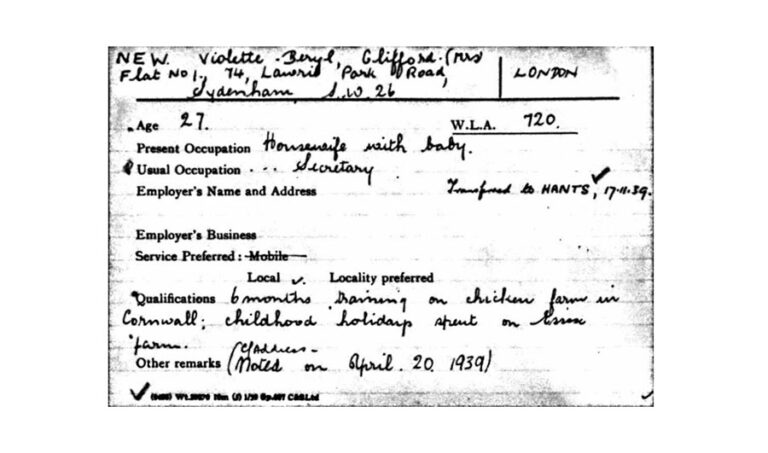 Occasionally there are additional comments, particularly relating to these women's previous experience. On the card of Violette Beryl Clifford it was noted she had worked on a chicken farm and had childhood holidays on an Essex smallholding; interestingly it is also noted that her present occupation was listed as 'housewife with baby'. While Amy Rosina Hope's card noted her 4.5 acres of land and associated experience working on it, Amy's occupation was recorded as looking after 'pedigree chickens'.
Sometimes these Land Girls expressed a preference for the type of work they would do, desiring to work particularly with the land, animals or machinery. For other women this type of work would have been entirely new to them. Despite the positive, jolly image of the Land Army we often see portrayed, the work itself was hard and often very physical.
Small annotations on the records can help you learn about an individual's wider life. For example, there might be a comment to suggest someone was discharged for medical or compassionate reasons. At times it might say dismissed for not following regulations. On the card of Mrs Beryl Holmes it was noted that she left the service as she was 'setting up home for husband'. Many women left the service when they got married or became pregnant.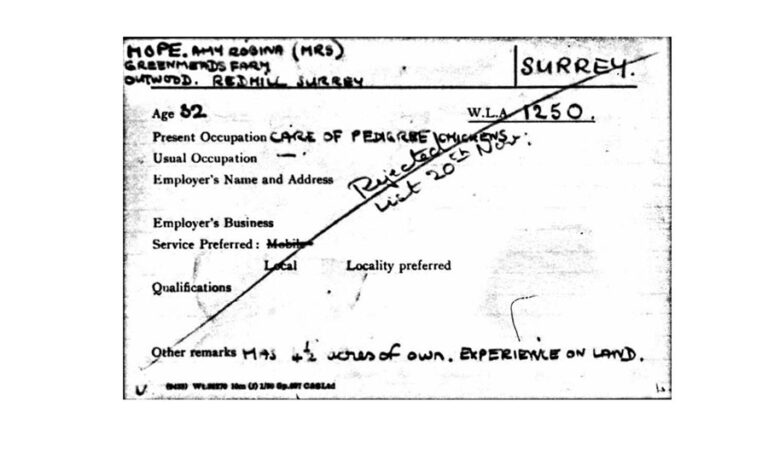 Vera Nancy Horn
Now we focus on two women, with very different experiences in the Women's Land Army.
Vera Nancy Horn was, on the surface, an average Land Girl just trying to contribute towards the war effort. Vera served with the West Suffolk branch of the Land Army, having previously lived in Hemel Hempstead, as her index card shows. Vera had served in the Land Army for several years when, at the age of 28, she became involved in something unexpected – when a USAAF Fortress Bomber aircraft crashed in a meadow at Rougham, Suffolk on 24 December 1944.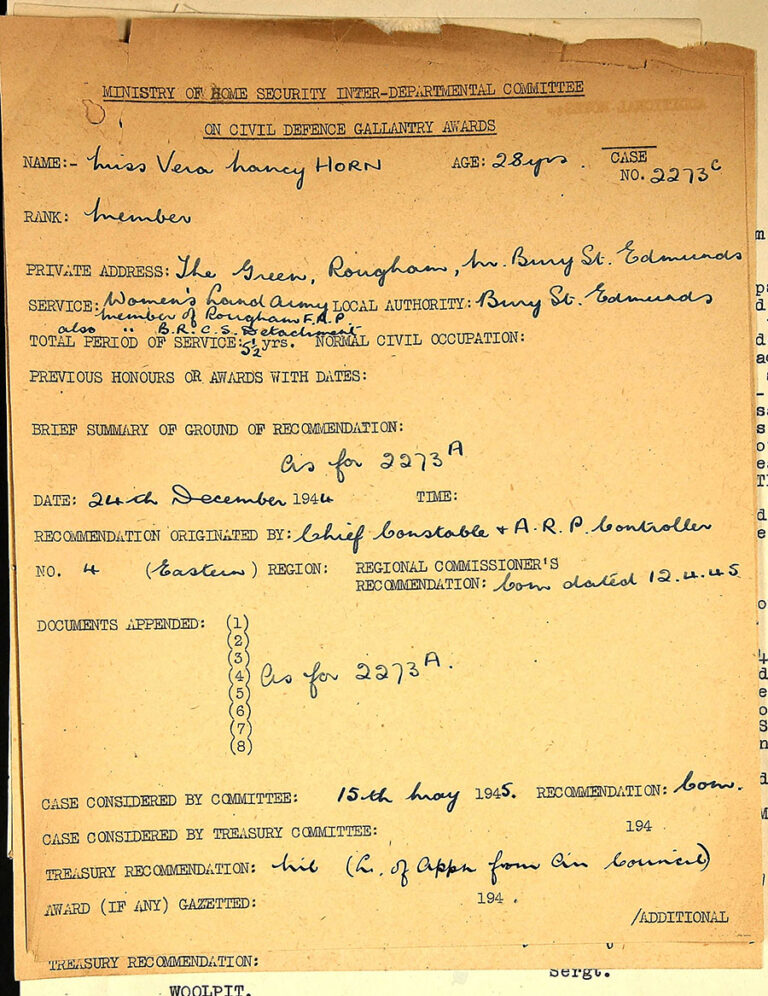 Vera described the incident in a statement:
'I heard a crackling sound when it hit the treetops, and as it looked like coming our way we ran for cover behind a tumbril. Soon as it crashed it was quiet for a second, then it burst into flames.'

Catalogue ref: HO 250/103
Vera and farmer Sidney George Bennett were first on the scene. They dragged three bodies from the wreckage, despite 'exploding flares and ammunition'.
She then telephoned for the Fire Brigade and ambulance. For this Vera was recommended for a gallantry award.
Amelia King
In the index cards we also find Amelia King, who had a very different experience in the Land Army. Before the Second World War, Amelia had worked as a box-maker. She signed up to help her country but found herself at the centre of controversy. Amelia was born in Limehouse, London and her father, Henry King, was born in Georgetown, British Guiana. The first Land Army branch she signed up for turned her away because of the colour of her skin. The Essex branch of the Land Army claimed Amelia would be difficult to place in local farms due to her ethnic background.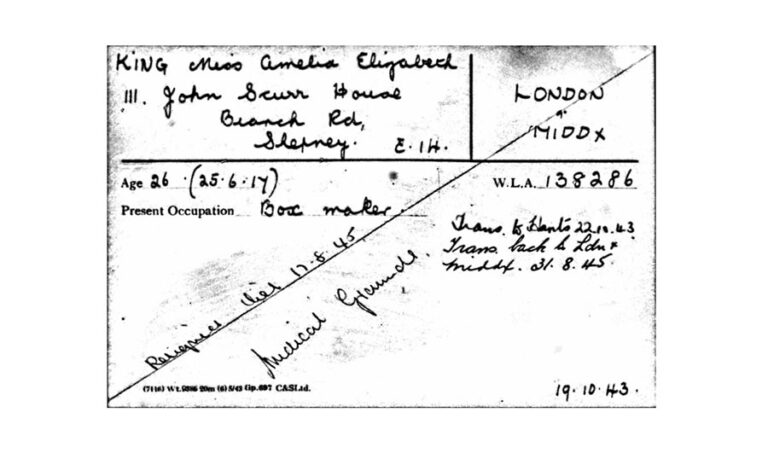 This caused an outcry in the press, with headlines such as 'The story of Amelia King – Who Wanted to Do a Job for England'. While the UK had never had a formal colour bar, cases such as this were not infrequent and discrimination was prevalent. This case, and that of cricketer Learie Constantine, attracted attention in Parliament (see footnote 1). Meetings were held in solidarity, and flyers circulated in support of Amelia and others who were facing similar discrimination. It is interesting to note, particularly given all the attention this case received, that the files relating to the Essex branch of the Land Army seem to have neglected to record this incident in their minutes. The press publicity caused farmers to reach out and say they would be happy to have Amelia helping on their farms.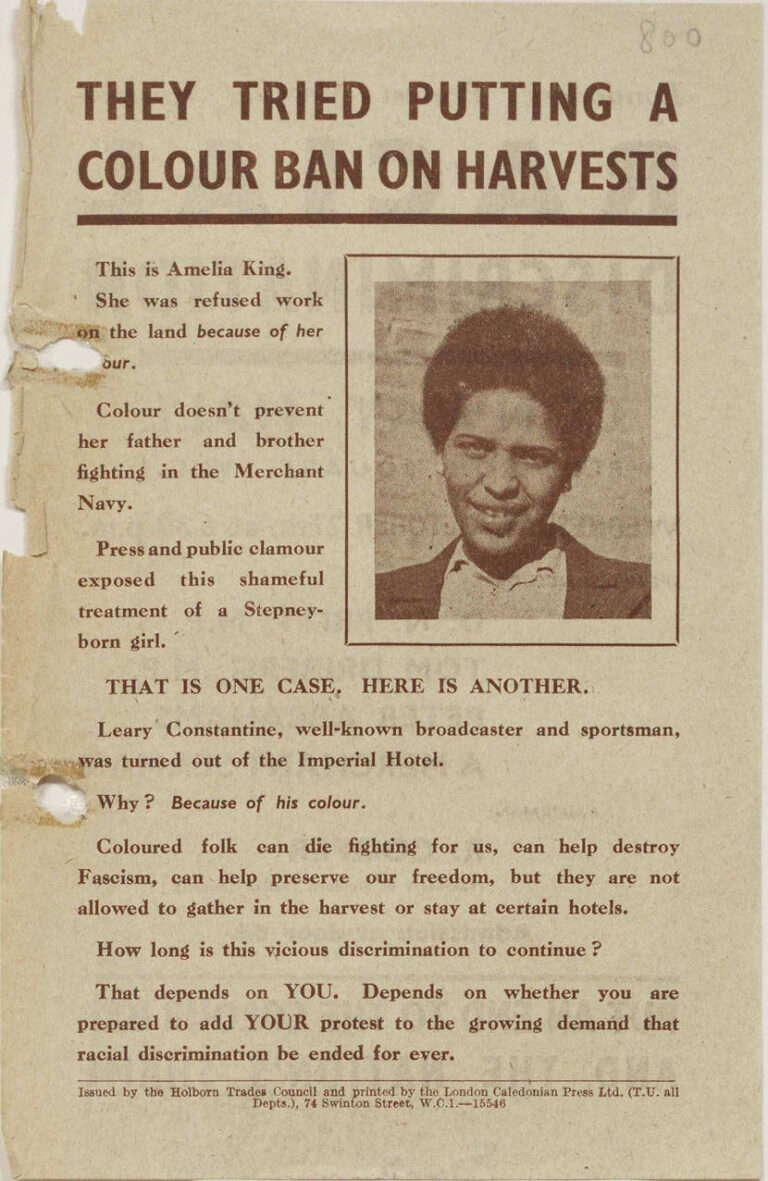 Amelia ended up joining the Hampshire branch from 1943, working at Frith Farm in Fareham until 1944. Her index card suggests she then moved to the London and Middlesex branch, before eventually being dismissed on medical grounds.
---
This blog has explored just a little of the potential of these records. With these records now being more accessible, we should be able to learn much more about the everyday women who served in the Women's Land Army.
We'd love to hear what you find.
Footnotes
Hansard 'Women's Land Army (Colour Discrimination)' HC Deb 23 September 1943 vol 392 cc390-1
Further resources