When I first heard about The Olympic Record, a site dedicated to making a selection of The National Archives' records on the Olympics available to download, I thought it sounded like a brilliant idea. With London about to be the only city to ever host the Games for a third time, it seemed like a great way to celebrate and showcase the records at The National Archives and to connect this summer with the past. In fact, so good an idea did I think it was that when The Olympic Record team started to look around for a records specialist who would be prepared to discuss the records held here for any press interviews, I felt compelled to say yes!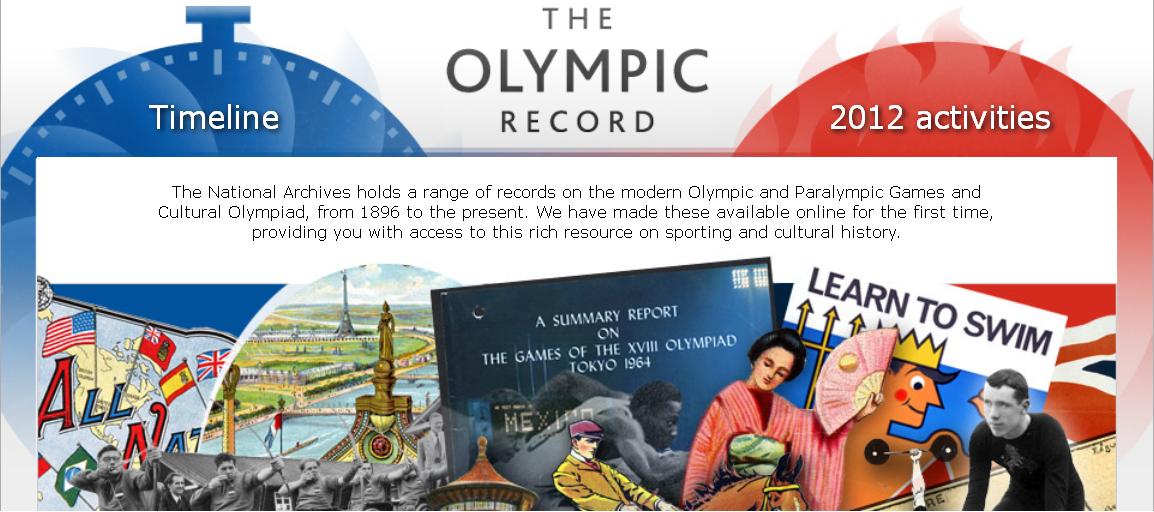 It was my historical period – it sounded great…until I remembered (about 10 mins afterwards) that I know absolutely nothing about sport! I am that person who somehow didn't really notice there was a Wimbledon final, looks truly baffled to be stuck in rugby traffic in Twickenham and would probably pick a blank television screen over one showing football. In fact, my one and only recent sortie into trying to 'get into sport' involved joining The National Archives' netball team – then getting pushed over by the goal keeper and handing back my bib with a sad, resigned sigh.
So when I took on the challenge of really getting immersed in what we hold on the Olympics at The National Archives, it required a certain degree of steeling myself and a bracing pep-talk – what could I find to talk about in a subject area that just isn't really my cup of tea? But of course what I hadn't reckoned upon was the sheer volume and diversity of our collection and, within a morning, I was hooked. It goes without saying that knowing about sport is a really good reason to have at look at this collection of records, I would hate to suggest that it isn't, but don't be held back if that isn't something which you are really passionate about – it really is only one amongst many other good reasons. For me, what really shone through in the records I looked at was not just the incredible development of the Games themselves, but the way that they reach out to us, and tell the much wider story of our past.
The collection starts with a despatch from the first Olympics in 1896 in Athens. It's just a single page of handwritten, virtually indecipherable scrawl – it doesn't look like very much at all, but the story it tells is just so atmospheric. We discover that the Greeks have revived the ancient Olympic stadium, which would last have seen wild beasts and gladiators battling it out! There is a decent turn out from the Greeks, the British minister based there reports, but he hopes that in the future the Olympics might be attended by a few more foreigners. The despatch itself, once penned, probably would have taken several weeks, by carriage and boat, to wind its way back to London. To think that just over 100 years later we would be in a situation where not just a few foreigners might show an interest, but that the whole world would be tuning in, receiving the games live and instantaneously – what on earth would he have made of that?
But what really caught my imagination out of all the records I looked at were those that reveal the history of the 1948 Games in London – they give the most incredible picture of London pulling together to bring everything into place on a shoe-string. We've got records listing the equipment Britain had to borrow from other countries, including bamboo vaulting poles from Japan, javelins from Finland, diving boards from the USA, wrestling mats from Argentina and Sweden and gymnastic equipment from Switzerland. We've got the arrangements for Richmond Park and various schools dotted about Middlesex to be turned into camps for each competing country for the duration; and discussions about British athletes still being on rations literally weeks before the competition, whilst foreign competitors had personal baggage allowances of 25lbs of food each, as well as certain countries sending through food parcels – Argentina sent 100 tons of meat with its team (which the Koreans were quite keen to try to get a share of!). The whole event has the most amazing post war feeling, with countries really pulling together. The more amateur nature the Games were initially imbibed with shines through to give the feel of a huge international boarding school coming together complete with PE kits and tuck boxes! There is a fascination with the different diets the athletes from abroad are eating, which far surpasses an interest in sports science and takes us back to a time when the world seemed much bigger and culturally distinct. Scientists at the Ministry of Food report that:
"we attempted to collect samples and information from members of the Australian and the Irish Olympic teams but unfortunately co-operation was not quite good enough to enable us to obtain data of sufficient accuracy to be of much use. I hope, however, that you will be able to use the work on the Mexicans as a contribution to your general report on the nutrition of Olympic athletes."
A committee was set up to study some of the physiological and nutritional issues in the training and performance of Olympic athletes, and in those notes we hear that 'it might be useful for us to take a quick look at the more important of the camps other than Uxbridge, perhaps with a view to studying a few of the more interesting types of athletes. Because of their peculiar dietary habits many of these, for example, the Koreans, the Chinese and the Mexicans, have been sent to smaller camps by themselves'.
For me, this picture of London is just such an incredible snapshot, and so far removed from the London we understand today. Not only do many of us fortunately have a choice of traditional British food which would have been impossible for the scrimping, ration-led Londoners of 1948, but we have access to food from so many different cultures. Rather like the British Minister in Athens, what would these 1940s scientists have made of London in 2012, where you can, without too much difficulty, eat your way around the world? I would like to imagine they would have had a culinary field-day!