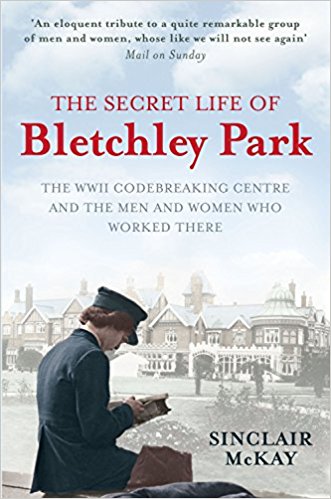 Winston Churchill said in June 1940, 'We shall fight on the beaches'… and so we did, but we also fought in the huts at Bletchley Park, one of Winston's best-kept secrets. It was a den of Foreign Office recruits: men and women from all walks of life from chess players to mathematicians to debutantes. This is where the interception of messages and the breaking of the German Enigma codes took place and, with Alan Turing's Colossus, it was a race against time.
If you haven't already been to Bletchley Park, you should go! The huts are alive with the voices of busy people – these are recordings, of course, but there is certainly an air of importance, in between the ghostly sounds of typewriters. 'The Secret Life of Bletchley Park'  describes the thousands of men and women working in the huts, and the mathematical brilliance of Alan Turing and the advances made in technology and the birth of modern computing. It also gives accounts of the strong bonds and romantic liaisons made between the men and women working in adjacent huts at Bletchley, knowing nothing about each other's work.  From memories of skating on the frozen pond to a young Roy Hattersley trying his hand at codebreaking, the book takes you back to an extraordinary life fighting a secret war behind closed doors.
Some of the men and women of the 'Y' (for Wireless) division were sent overseas to set up listening stations from Gibraltar to Cairo, intercepting the German military's encrypted messages to decode back at Bletchley.  'The Secret Listeners' describes these wartime experiences: sometimes exotic, often life-changing adventures in an international arena, travelling by flying boat or by Indian railways and, in some cases, finding lifelong romance along the way.  It is an intriguing and exciting read, with characters and stories that could be made for a James Bond movie… After all, Ian Fleming's background was as a Naval Intelligence Officer.
It was Bletchley Park that provided intelligence ensuring Allied victories in the Battle of the Atlantic, the war in North Africa and – most crucially – the D-Day invasion of Europe. In May 1941, a message intercepted and decoded from German HQ in Berlin revealed the location of Hitler's pride and joy, the battleship Bismarck. It was one of Britain's finest hours, when the Royal Navy went in pursuit and sank her in retaliation for the loss of HMS Hood. 'Bletchley Park: The Code Breakers of Station X' reveals the names of the men who led the code-breakers, such as Dilly Knox and Alan Turing, and includes the thousands of ordinary people essential to the operation, many of whom were young women.  The book also contains previously unpublished photographs, showing men and women at work and relaxing in the grounds at Bletchley.  Most importantly, it explains how their work influenced the battle against Nazi Germany and its Italian and Japanese allies.
On a lighter note, have you ever wondered whether you have what it takes to be a code-breaker, spy or double agent? Do you know Morse code, speak several languages, are you scared of spiders…? (That's a trick question, move on.) Could you out-smart an enigma machine or play a good game of chess and win? If you want a challenge, then grab a copy of 'Bletchley Park Brainteasers'. This book gives you a chance to demonstrate your ingenuity with a variety of ingenious mind twisters, hidden codes and cryptic crosswords… Get a 100% pass rate and you could be on your way to the Foreign Office before you can say 'shaken not stirred'.
Here at The National Archives, we may have files that provide insights into the life of that mystery relative you thought could have been a spy. A great book to help you with your research is 'Tracing Your Secret Service Ancestors'. It is a helpful guide and shows you how and where your relative's records can be found. It briefs you on the hidden history of Britain's secret services and those who served in them, and will give you an idea of the world of the secret intelligence organisations Britain has run from the French revolution to the present day.
For younger readers, aged 10 to 12, why not pick up a copy of our own publication 'The National Archives: World War II Unclassified' on spies and double agents of the Second World War?  It is easy to read and packed with incredible photographs, artefacts and original documents from the archives.