Over the last May Bank Holiday there was banging and crashing in The National Archives as we worked refresh the layout of the shop. If you have not visited yet, please do come and have a look round. We have taken out the front window and closing doors to open up the floor area and create a little more space for the myriad of history books and gifts we stock.
It's less crowded and easier to move around; we have also have swung the counter round so we face outward when manning the till (this means we can see you coming now and take appropriate measures).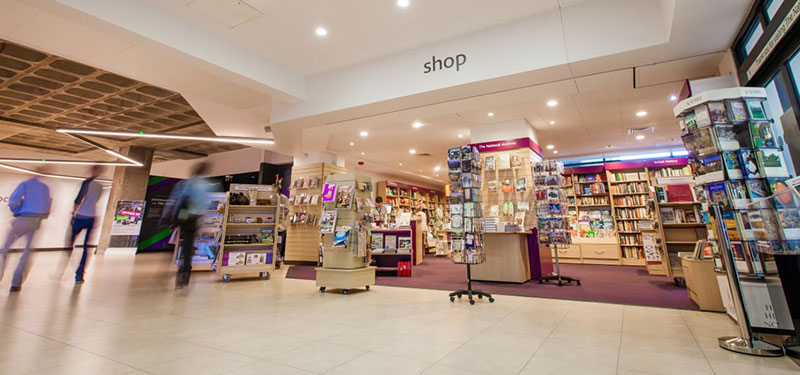 Feedback has been very positive, particularly about being able to see things more easily and not feel as though you were forever in danger of crashing into a card spinner. (Those spinners were like the Weeping Angels: you turned your back on them and they sneaked up behind you). Most of the book stock is roughly where it has always been – but if you do feel disoriented, please do ask the shop staff: we are always happy to help. The cards have moved and are now all grouped around the central pillar. We have over 150 different designs and try to get unusual cards which you don't find everywhere. We particularly like ones on beautiful papers, featuring British artists or with an historical bent.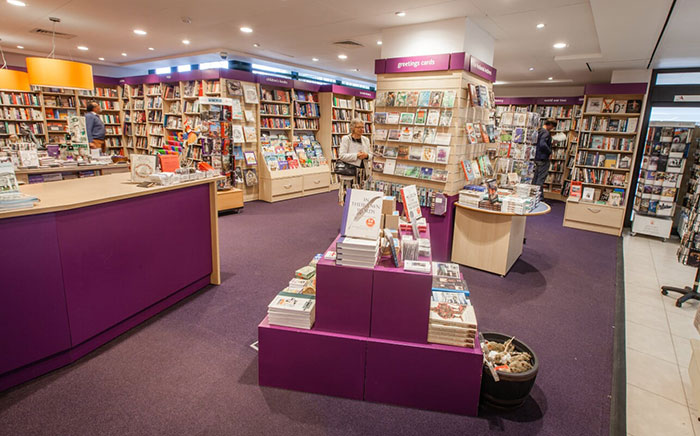 The front of the central pillar (and the table in front of it) are devoted to the very latest books on British, military or family history. The second pillar (where the window used to be) is a changeable feast. If there is an event on site, we may theme this area to the topic; otherwise we feature yet more new books, including some of our favourite historical fiction titles. Around the side is another themed display: we have just replaced Father's Day cards and gifts with Women's Suffrage, to tie in with the exhibition in the revamped Keeper's Gallery.  There are also a couple of comfortable chairs here if you wish to browse (that is browse through pages, please, not drop coffee and crumbs on the stock!).
We have some shelf 'gondolas' (no, not like Venetian gondolas – we wish – they're really just shelf units on wheels) which will feature different themes in books and gifts. At the moment they display a medieval-themed selection (check out that siege tower kit: everyone needs their own siege tower) and one on document-making and calligraphy. Right in front of the counter are our National Archives momentos: mugs, magnets, books and – a recent addition – a beautiful set of ten postcards featuring birds of The National Archives. Our beloved swans are there, along with their cute, fluffy little cygnets, a very happy duck enjoying the fountain and, of course, the famous National Archives heron: master of all he surveys, standing sentinel at the gate. You can also meet Henry Cole's rat , a surprisingly endearing reminder of how The National Archives came to exist.
On the counter itself, and just beside it, are all those things you forgot or didn't realise you needed till you got here. Hands up, everyone who has arrived at The National Archives without a pencil, or who forgot that their pencil had a rubber on the end (3,990 of you forgot the right sort of pencil last year). Did you not know that taking a pencil with a rubber on it into the reading rooms is a capital offence? We also have batteries, notebooks, magnifiers in a variety of sizes, plug adapters, umbrellas and rain ponchos. This is Britain, after all – it sometimes rains, even in summer [What do you mean, 'sometimes'? Ed]. There are puncture repair kits and even bike lights, just in case your research was so absorbing that darkness fell while you were poring over that document.
Within the shop we have shelves and shelves full of books. The family history section, we proudly believe, has the best selection of family history guides and research aids you will find anywhere. There are books on tracing your own history or that of your house, and guides to understanding census or court records (if you're burning to delve into that ancestral feud or locate the mysterious and elusive cousin no one ever talks about). There are books which tell of others' quests to explore their own family history ('Dadland', 'The Life of Stuff', 'Marjorie's War') which are enlightening, amusing and touching by turn. You can also buy archival-quality storage materials to house your precious certificates and family photographs, non-rusting paperclips and acid-free ink pens.
Our military history section is our largest and most popular. We have books on most conflicts involving Britain from Crécy to Afghanistan, and covering most aspects including tactics, uniforms, logistics, medals and personal testimonies.  The section on the First World War includes the Official Histories and is supplemented by reproduction trench maps, CD-ROMs and DVDs. If you are a keen military historian I am confident you will enjoy browsing these shelves.
There is a wide range of books on the varied and fascinating periods of British history, medieval to modern, including some lovely children's books (a personal favourite is 'The Amazing Tale of Ali Pasha', Michael Foreman's charming tale about a tortoise at Gallipoli). Investigate your own area of specialism or perhaps delve into a new period for a change of scene. We have an interesting section exploring British Landscape and Identity with fascinating books on every aspect of Britain from the seaside to woodland; foxes to booze and all those quirky things which conspire to make the British British. This is where you will find atlases of train lines long gone, Booths Poverty Maps or beautiful illustrated map books like Maps their Untold Stories and Mapping Shakespeare. We even have a limited edition scarf – a truly unique design based on Thomas Yeakell and William Gardner's 1778 map of Sussex.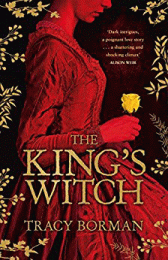 Finally, on a lighter note, we do have a small, carefully-chosen selection of historical fiction. Steering clear of the sagas, we favour novels by historians or by novelists who have done their research and can conjure up the past with a degree of verisimilitude. Tracy Borman's first novel 'The King's Witch' is a case in point, using Frances Goring – a real woman of whom very little is known – and the author's understanding of the persecution of purported witches under James I (which she researched in her earlier, non-fiction book Witches). Tracy has combined period accuracy with emotional intensity in a gripping novel.
If you can't come in then do look at our online shop: most of our books are here and we ship all over the world.