At The National Archives we are busy planning our programme of activities to commemorate the centenary of the First World War in 2014.
With our unique and extensive collection of First World War records, from the official unit war diaries to medal cards and records of the men and women who served, we hold an invaluable resource for genealogists, historians, scholars and anyone interested in researching the history of this conflict or the people involved.
In this blog series, we will follow a group of volunteers from our staff as they embark on a voyage of discovery to trace their First World War ancestors using records held by The National Archives. At regular intervals over the next two years, each will write a blog to explain what records they have consulted, what they found about their ancestor and how they intend to continue their research in this and other archives. They will also share hints and tips to help others conduct their own research.
We hope you will come with us on the journey to discover our ancestors. With the approaching centenary, at no time has it been more fitting to discover the people behind those old photographs and medals.
As the person overseeing this series, I thought it only fair to be the first to post. Read on to see what I found out about my Tommy…
I joined The National Archives in July this year and am a keen (but very amateur) family historian. I am by no means a military historian so excuse me if I get any Army terminology wrong in what I reveal about my ancestor.
For many years I was frustrated as trying to find any ancestors involved in the First World War led me down a dead end. That all changed recently when, following the sad death of the last relative of my grandparents' generation, I was handed a carrier bag that had been destined for the tip!
Inside was a treasure trove of photographs, birth certificates, death cards and all manner of trinkets dating back as far as the mid-1800s. I was able to put faces to names on census records but even more exciting for me were the photographs of a host of men in uniform.
Here is just one of them: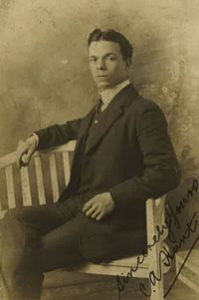 Dashing, isn't he? Or perhaps I'm biased… And helpfully, he signed his name on this photograph so I knew who he was. What a clever, forward-thinking chap!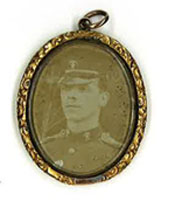 The uniform in this second photograph also helped me to identify him as a Private in the 12th (Prince of Wales's Royal) Lancers.
So, armed with this new information, I hit The National Archives' records.
Census records
Years ago, I had searched the census records of 1891 and 1901 and followed Charles and the rest of the Hunt family living in Bethnal Green. But in 1911, Charles disappeared from the Hunt census record. At 23 years of age, it was possible he had left home but with such a common name I decided to park my research on him, waiting for a further clue. With the discovery of these photographs I had the clues I needed and took a punt that he may have been in the regular army. It paid off and I found him on the 1911 census, not in London but in South Africa, stationed with the 12th Lancers in the Transvaal. At last I could take up my search for Charles again.
First World War 1914
Using the guide of how to research the First World War, I next tracked Charles down in records of The National Archives at the outbreak of the First World War when the 12th Lancers deployed as part of the BEF to France.
The unit war diaries have to be one of the most amazing record series at The National Archives (they are certainly one of the most requested in our reading rooms). Kept by officers, they give firsthand, daily accounts of action with each diary entry varying in length from a few sentences to whole pages. The diary for the 12th Lancers (WO 95/1140) showed they arrived in France on 18 August 1914 and, only ten days later, fought a battle against a regiment of German Dragoons. Extracts from the unit war diaries show that the 12th Lancers charged on the lance and that their victory at Moy was an historic battle still remembered by the regiment today on Moy/Mons Day. The action of 28 August 1914 is captured in a fantastic annex to the unit war diary detailing events of the battle.
Now that I had found his regiment and read about their actions in France in August 1914, I went in search of Charles in the British Army medal index cards 1914-1920 and found two medal cards for his 1914 Star and Victory medals.
But my excitement at finding these cards was short-lived. On the card for the 1914 Star is written 'DOW 29/8/14'. Just 11 days after arriving in France and at just 26 years of age, Charles had died of his wounds.
Using the Commonwealth War Graves Commission website I found Charles' grave in Bavay, a small cemetery that for most of the war was behind German lines. Charles is one of only 12 Commonwealth servicemen buried in this local graveyard and he is buried beside another man from his regiment, Private WW Totman.
I was surprised that although Charles' First World War experience lasted only 11 days, I was able to find so much information in The National Archives to help me understand where he was and what he did. I would urge anyone with even scant information to try and search for their ancestor and the medal cards are a good place to start.
So where to now?    
Firstly a tip – don't always rely on official records to hold the accurate details of a person you are searching for. Charles is incorrectly referred to as 'C H Hunt' on his 1914 Star medal card and also in a book by Major HVS Charrington MC, which details the 12th Lancers in France between 1914 and 1918. Major Charrington also records Charles as having been killed in action on 23 August 1914 rather then 29 August. These inconsistencies can be frustrating but it is always a good idea to find a constant. For Charles this has always been his regimental number – 127. If I'm ever unsure whether a record I have found relates to him, then I use this number as confirmation.
Now that I know when Charles died, I am eager to find out whether he saw action in that famous battle on 28 August 1914 or suffered his wounds on a previous day. I also want to find out about his military career between 1911 and 1914. For this I will look for his service record and contact the Regimental Museum of the 12th Lancers and The National Army Museum to see whether they can provide information on Charles' service as a regular soldier.
I am particularly fascinated to find out how a boy from a working class family in the East End of London became a cavalryman, fighting beside men born in the saddle, learning their skills from playing polo and hunting. I am also intrigued to find out why his rank is sometimes shown as Lance Corporal and other times Private. Charles features in the group photograph at the beginning of this blog. He is far left on the second row from the back and has a single stripe on his sleeve, which I understand denotes a Lance Corporal but on his medal cards he is recorded as a Private.
I feel that I owe it Charles to find out as much of his history as I can because to me, he is no longer just a name missing from the census.Somebody in my family loved him enough to carry his photograph in a locket.
I am incredibly proud to call Charles my great-great-uncle and on 29 August 2014, I will be with my family in a small cemetery in northern France to lay flowers on Charles' grave. It may be nearly 100 years since his death, but he is not forgotten.
August 2014: An update to this blog and my research into Charles can be found here:  /blog/tommys-war-eastender-lancers-part-2/
(Please  note, all of the photographs in this blog are my own and do not form part of The National Archives' collection. The scan of WO 95/1140 is taken with my own camera as a visitor to The National Archives' reading rooms might take, and does not reflect the quality of an official digital image ordered from The National Archives.)