Katrina Lidbetter volunteers at The National Archives cataloguing records relating to British and Allied Prisoners of War during the Second World War. In this blog she explains the fascinating story of Men of Harlech, the Secret Commandos, and their role in the Raid on Dieppe in August 1942.
As well as commemorating the 81st anniversary of that raid, this blog features the series of records WO 344, now available for the first time to search and download through Ancestry. This series consists of approximately 140,000 Liberation Questionnaires completed by mainly British and Commonwealth Prisoners of War (PoWs) of all ranks and services.
– Roger Kershaw, Head of Strategic Operations and Volunteers, The National Archives
---
In September 1939, in a panic about the risk of 'enemy aliens' in wartime, Britain started to consider for internment (detainment) German and East European Jews and other opponents of Nazism, many of whom were refugees.
In July 1940, when the fears of German invasion were high, many were deported, under terrible conditions, to internment camps in Canada and in Australia. 2,600 people were deported to Australia on the vessel HMT Dunera. The journey would last 58 days. The group comprised a mixture of Jewish refugees, Nazi sympathisers and some 200 Italians. The Jewish refugees and Nazi sympathisers were classified simply as Germans, and this caused resentment and conflict on the journey. The ship had a maximum capacity of 1,500 – including crew – and the resultant conditions have been described as 'inhumane'. When the scandal of the Dunera came to light, many were released and offered an immediate return to the UK if they volunteered for the Army's Pioneer Corps.
The Corps was also receiving volunteers from Jewish and other anti-Nazi internees who had recently been released within the UK. So great was their burning desire for justice that these former internees set aside the scars of internment, and accepted the lowest of military employment in the hope of getting to the front line, to fight the Nazis.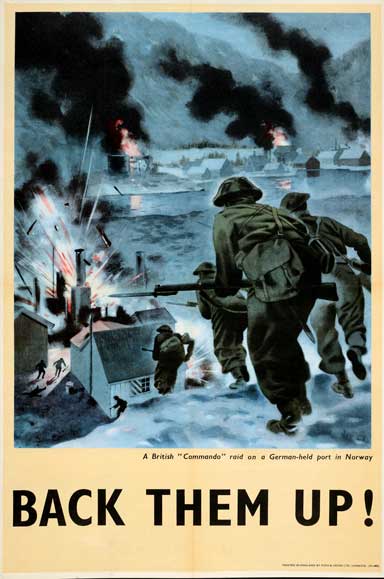 By 1942, the Allies had realised the advantage of having talented native speakers from German-occupied territories in their commando units. No 10 (Inter-Allied) Commando was the result. Each troop was formed of different nationalities – Belgian, Norwegian, French – and one troop, No 3 or X Troop, was 'British.' It was in fact formed of German-speaking, mostly Jewish refugees, many recruited from the Pioneer Corps. Their role was to fight behind enemy lines, in frontline commando operations, and to capture and interrogate Germans and collect intelligence from them.
X Troop was recruited and led by Captain Bryan Hilton-Jones, who was born in Harlech, Wales on 24 July 1918. He trained his new commandos in Wales, in Aberdyfi and in Harlech Castle. He was supported by his deputy, Lieutenant George Lane (in fact a Hungarian, born Lanyi Gyoergy on 18 January 1915, and married to an Englishwoman, Miriam Rothschild, from a prominent Jewish family). X Troopers were ordered to take ordinary British names to disguise their Jewish origin, to protect any family members still alive in German-held territory, and to keep the role of X Troop secret. They had accommodation addresses for 'next of kin.' They were also assigned normal Army regiments, with new service numbers, to hide their background.
The Dieppe Raid
Mystery surrounds the first action involving a few X Troopers in August 1942. Some historians argue that the ill-fated Dieppe raid was a cover to enable trained German-speaking commandos to try to steal secret documents and/or a new Enigma machine. Sadly, the overall raid went badly wrong, with heavy casualties.
Two of X Troop were captured: Private Charles John Rice (Karl Kutschaka), born on 4 or 5 February, 1914, assigned to the Royal Sussex Regiment, and Private (later Sergeant) Joseph Smith (Josef Kugler) born 13 January 1918, assigned to the Buffs (Royal East Kent Regiment). Both were anti-Nazis from German-speaking areas of Czechoslovakia. They had joined the Pioneer Corps, then the Special Operations Executive (SOE), before being picked for this raid. Both ended up as Prisoners of War (PoWs) in Stalag VIIIB Lamsdorf under their assumed names and regiments. The Germans never found their true identities. You can view their prisoner record cards in The National Archives' catalogue, here and here respectively.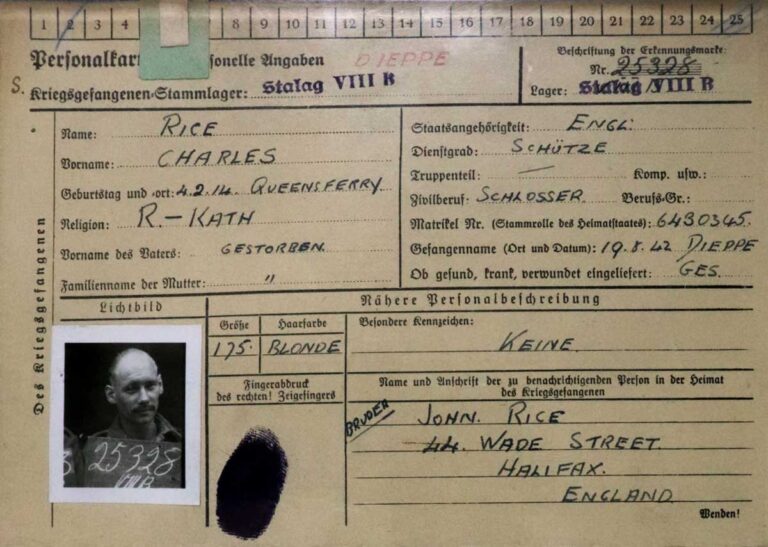 Both spent the rest of the war in PoW and work camps and survived the terrible German forced march westward in early 1945 (later called the Death March). Rice's PoW liberation questionnaire can be found in WO 344/267/1 – he ended up in Nurnberg.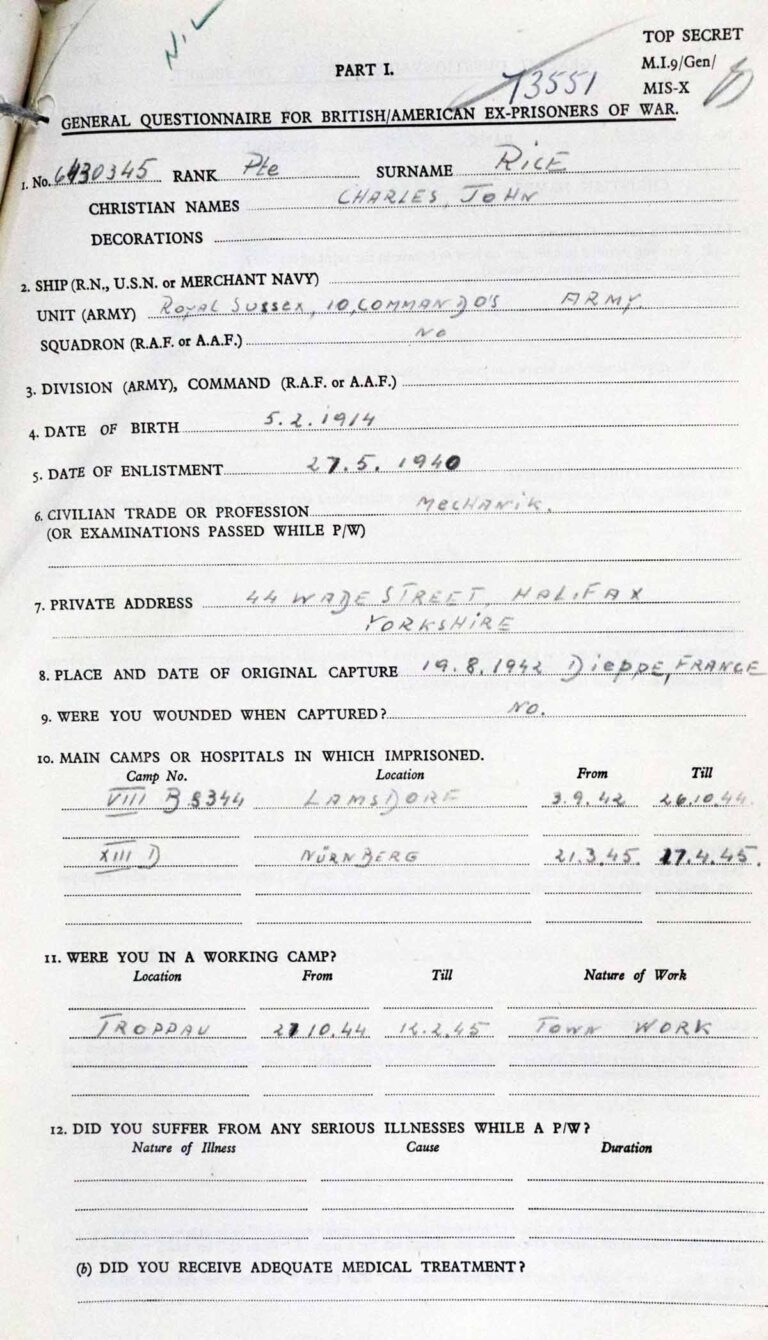 In his debriefing (WO 344/294/2), Joseph Smith used the same UK contact address as Rice. He also revealed that he had used another alias, Lance Corporal Kenneth Kickup, in order to join and escape from work parties in quarries or the railway. He had got out several times, once getting as far as the Swiss frontier, but never made it back to the UK until the end of the war.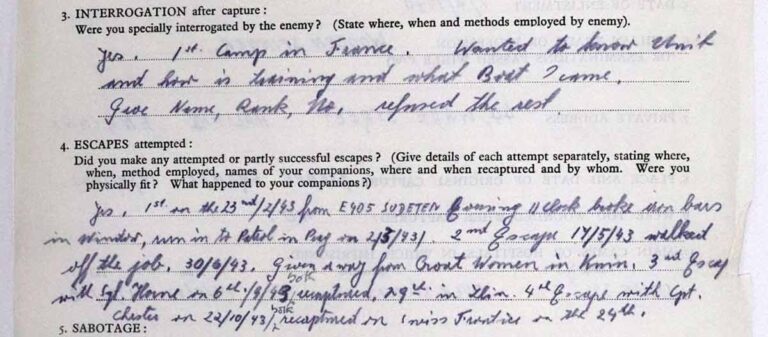 Further raids and D-Day
The Dieppe raid, despite its failures, had demonstrated the courage and effectiveness of X Troop, and they went on to serve with distinction in North Africa, Italy, France and Germany.
On one mission at the end of December 1943, Russian-born Vladimir Kottka, born 5 July 1911, operating under the alias Corporal Jack Jones of the Hampshire Regiment, was captured during raids on France and the Channel Islands.
On another, from 15–17 May 1944, Lieutenant George Lane was taking part in a dangerous recce of the French coast in advance of the D-Day Landings. He was with Captain Roy Wooldridge of the Royal Engineers, who had already been recommended for the Military Cross for his service in Egypt and Libya. Lane and Wooldridge were captured by the Germans and feared being tortured and shot. They claimed they'd been hit by a German boat in the Channel. Amazingly they were interrogated by Field Marshal Rommel, and they ended up as PoWs in Offizierlager IX A/H in Spangenberg. Lane was subsequently awarded the Military Cross.
As the Allies launched the D-Day landings on Normandy in June 1944, X Troopers were to play a key role. As with all their operations, many gave their lives, many were injured and very few were captured. However, one of those taken prisoner in Normandy was Lance Corporal, later Sergeant, Walter Gerard Thompson (Walter Gabriel Zadik), born 23/08/1919, assigned to the Hampshire Regiment. He was held in Stalag XIIA in Limburg.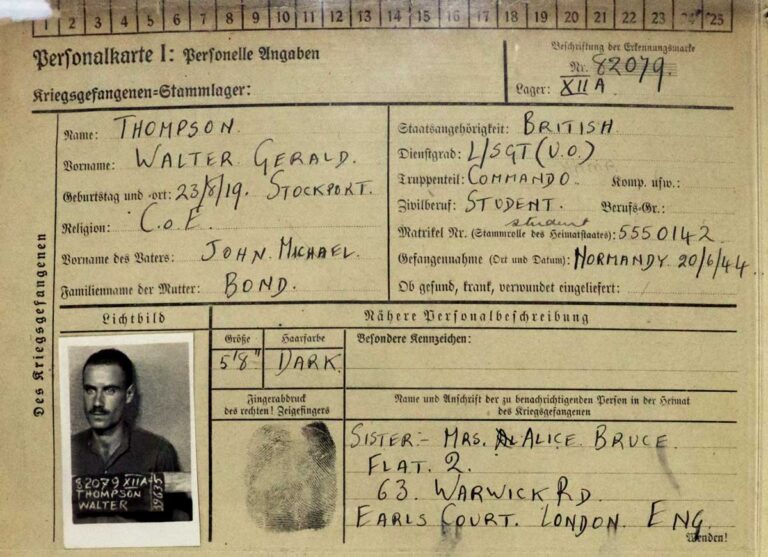 Also captured, although briefly, was Captain Hilton-Jones himself. By then he was second-in-command of No 10 (Inter-Allied) Commando, and a Major. He was badly injured during the fighting in Normandy and reported as missing, believed dead.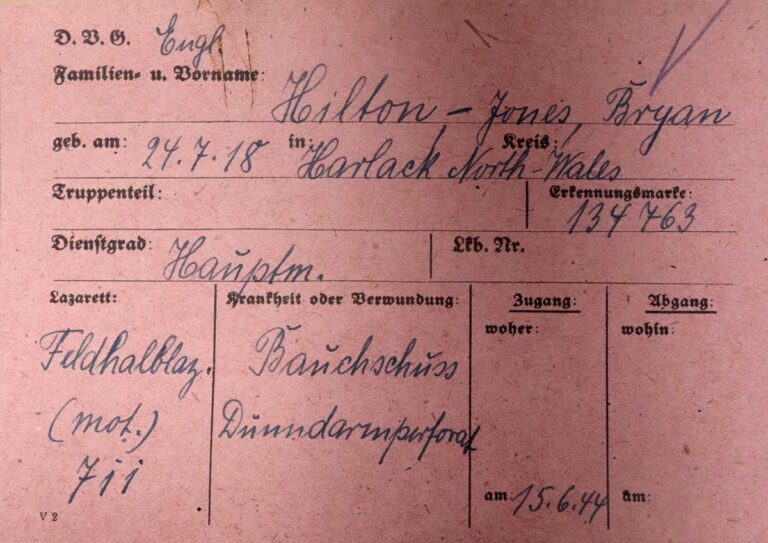 He was succeeded as leader of X Troop by Lieutenant James Griffith (Kurt Glaser), who was killed in April 1945, just before the end of the war, crossing the River Aller in Germany. Meanwhile Hilton-Jones's life was saved in a German military hospital which was later recaptured by the Allies, and Hilton-Jones was found and sent back to England to continue his recovery. He was awarded the Military Cross. Unable to return to the front line, he devoted his time to his men: helping them apply for British naturalisation.
Highly trained, talented and brave, X Troopers served with distinction across World War Two. Nearly half of them were killed or wounded. Many were awarded honours, although probably fewer than they deserved, as they were often deployed in ones and twos to other units and their true names and identities were known only to a few. Their courage deserves to be remembered.
Liberation questionnaires: now online
Ancestry has just provided digital access to the PoW liberation questionnaires in WO 344 for the first time, making them searchable by name and much easier to access. As well as giving personal details like name, rank, number, unit and home address, these records can include:
the date and place of capture
main camps and hospitals in which imprisoned and work camps
serious illnesses suffered while a prisoner and medical treatment received
interrogation after capture
escape attempts
sabotage
suspicion of collaboration by other Allied prisoners
details of bad treatment by the enemy to themselves or others.
In addition, individuals were given the opportunity to bring to official notice any other matters, such as courageous acts by fellow prisoners or details of civilians who assisted them during escape and evasion activities.
The questionnaires relate to PoWs captured by both Germany and Japan. The online images and indexes exclude individuals born less than 100 years ago. To learn more about PoW records in general, please see our research guide, British and Commonwealth prisoners of the Second World War and the Korean War.
Further reading
Leah Garret, X Troop, The Secret Jewish Commandos of World War II, Chatto and Windus, 2021
Helen Fry, German Schoolboy, British Commando, The History Press, 2010
Peter Masters Striking Back: A Jewish Commando's War Against the Nazis, Presidio Press, 1997
Ian Dear, Ten Commando 1942-45, Leo Cooper Ltd, 1987
Hilary St George Saunders, The Green Beret: The Commandos at War, Landsborough, 1949