As the blog has been pointing out, we have a wonderful assortment of treasures here at The National Archives. I thought I'd offer the chance to look at one through the eyes of those of us who work to preserve the collection.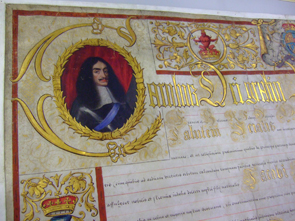 A beautifully illuminated parchment diploma, SP 9/63 is one of 25 items receiving conservation treatment as part of the 'Illuminated Safe Room Items' project currently underway in the Collections Care Department.   The project aims to stabilise and re-house these vulnerable and valuable records.
The project has just gotten underway and one of the first steps in a conservation project can be a technical examination. This can help a conservator better understand which materials the item is made of and therefore what type of treatment is appropriate to use. For example, we spent some time examining the gold threads woven into the textile on which a fragment of the Great Seal of Scotland remains suspended. By looking carefully under magnification we could see that the 'gold' was only a thin layer wound around a fibre core. Looking under the microscope confirmed it.
We could also see that most of the 'gold' was tarnished. Gold doesn't tarnish, so that told us that we might be dealing with an alloy or a very thin layer of gold over a cheaper metal.  All this information lets us know that removing the tarnish on the metal threads should not be attempted as we could possibly remove any gold that remains.
As the project progresses, stabilising the parchment will require conservators to remove surface dirt very carefully and to evaluate if the pigments, iron gall ink and gold leaf are well adhered to the parchment. If the illumination is lifting or flaking away from the parchment support, then the conservator would adhere the lifting or flaking areas back to the parchment. This is called 'consolidation'. Consolidation can be a very painstaking and time consuming process, but it ultimately allows for the best retention of original materials and information from a work of art.
The last stage of the project will involve re-housing the parchment. Re-housing requires creating new enclosures and boxes for the documents, some of which are very large, to ensure that they are stored in a way that minimises the risk to the document and makes accessing them easier.