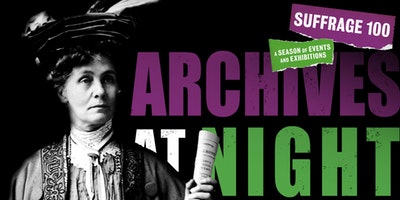 Event: Friday 18 May 2018, 18:30
Visit our Suffrage 100 web portal for more information on events, records and resources.
---
In 1918 some women received the vote and could become MPs, in 1928 women got to vote on the same terms as men and, 30 years later, on 30 April 1958, an act of Parliament gave them the right to sit in the House of Lords.
The Life Peerages Act, as its name suggests, was about more than just allowing women to become peers. A new type of peer was created, who only held the position for their lifetime. This changed the make-up of the house; previously the Lords had been dominated by men who had inherited their titles (although there are some exceptions to this, including judges, known as Law Lords, and Bishops, known as Lords Spiritual). The 1958 Act had a large impact on Parliament as we see it today.
The Act's passage
Compared to some acts of Parliament, the Life Peerages Bill travelled through its various stages to become law relatively smoothly. It was introduced to the House of Lords in November 1957 by the government at the time. 1Notably, during the various readings of the Bill, those who had previously campaigned for women to gain the vote in the early 20th century were now calling for female peers.
The most striking section of Hansard – the official record of what is said in Parliament (which can be viewed online) – for me was a speech by Lord Pethick-Lawrence in support of reform to the house. On Wednesday 30 October 1957 Pethick-Lawrence announced:
I regard it, in this period, as quite ridiculous that we should be an entirely male Assembly.
His reason was that the Lords were, in effect, defying a previous Act they had supported which allowed female MPs – the 1918 Parliament (Qualification of Women) Act.
The Attlee Administration 1945 -1951: Lord Pethwick-Lawrence, the Secretary of State for India and Burma, arriving at No 10 Downing Street for a meeting. Source: Imperial War Museum
The section stood out to me because Frederick Pethick-Lawrence was one of the leaders of the Women's Social and Political Union (WSPU) which had campaigned for Votes for Women. Alongside his wife, Emmeline, he financed the union's activities, acted as a lawyer for militant suffragettes, and was imprisoned for conspiring to incite violence. In 1912 the Pethick-Lawrences parted ways with the WSPU due, in part, to concerns about the union's increasingly militant tactics. Despite this they remained committed to ensuring that women gained the parliamentary franchise. Later in his career, Frederick became an MP and served as a Cabinet minister. From his support of the Life Peerages Bill at the motion stage in October 1957 we can see that, even after many years, he continued to champion women taking part in political life.
After the Act
Once the Bill had passed through both Houses of Parliament, and members had been able to debate the reforms, it was given Royal Assent on 30 April 1958. Even after the Bill had become law, there were still details to iron out – such as whether courtesy titles for the spouses of hereditary peers should also be applied to life peers (the answer was yes to ensure that life peers were not seen as inferior). 2
The next concern was choosing who to appoint as the first life peers. The government, as well as those in opposition, drew up a list of individuals who would be able to contribute significantly to Parliament with their expert knowledge and life experience.
On 24 July 1958, a list of those chosen to become the first life peers was published in the London Gazette.
Of the new peers listed, the first Baroness to receive her letters patent was Baroness Wootton of Abinger on 8 August 1958. She was an academic who had sat on several Royal Commissions and acted as a lay magistrate. The first female peer to take her seat was Baroness Swanborough. 3
Despite the success of the Life Peerage Act of 1958 in giving women access to the House of Lords, it was not until 1963 that women, as well as men, could become hereditary peers.
If you are interested in the various campaigns for women to take part in political life, our new exhibition, 'Suffragettes vs the State', and our special late event, 'Archives at Night: law breakers, law makers', delve into the topic in more detail.
You can find information about both, as well as the rest of our season of events and exhibitions, on our Suffrage 100 page.