In October 1884, troops opened fire on a procession of Indians in Trinidad that led to the killing of 12 people and injury to 117. In our collection we have a report by Sir H W Norman referring to the 'coolie' disturbances in Trinidad (CO 884/4/22). This is an official report, commissioned by the Colonial Office which, alongside its findings, provides an account of what happened.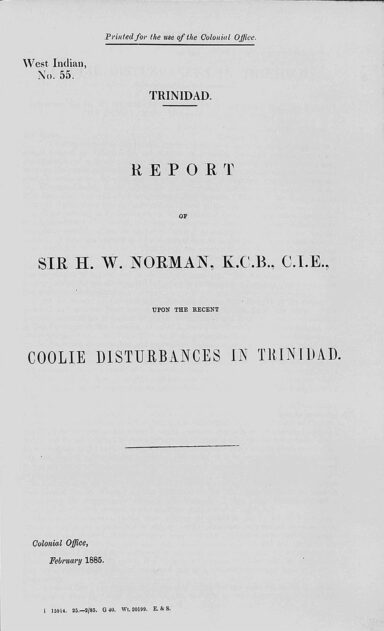 Norman was very clear in his view: there was a build-up of tension, people had been given sufficient warning, the warning had not been heeded, and the authorities were left with no other option but to open fire. An account such as this in an official archive according to Michel-Rolph Trouillot 1, contains both presences and absences, and part of the work is to widen and deepen our understanding of what happened in the past.
According to the historian Madhavi Kale 2, Norman's account lets slip his own prejudices when he claims in his report that a more experienced officer from India (such as him) would have known how to deal with the Indians better. Norman's view that the tell-tale signs were evident of a deviant and largely non-religious festival allowed him to judge what was authentically Indian.
What Kale and others are keen to highlight is that the Hosay celebration was more than the actions of a group of labourers, rather it was an expression of the development of a unique festival as Indians started to settle in colonies like Trinidad and that it drew together different groups, both Indian and African-Creoles. It was also the result of deteriorating labour relations and changing economic circumstances which fuelled the discontent.
What becomes clear as you read more about the events of 1884 is that it sits alongside many other episodes in colonial and imperial histories where debate still takes place as to the wrongs and rights of what happened.
As part of our commitment to be an inclusive archive, we have set ourselves some challenging goals as explained in our Archives for Everyone strategy. Key to this vision is to build trust, tear down barriers and be bold. We recognise that many histories are complex and there is still much more research to do. We also recognise that this work can be emotionally labour intensive and requires support and space for people to hear one another and to have time to process what has been revealed.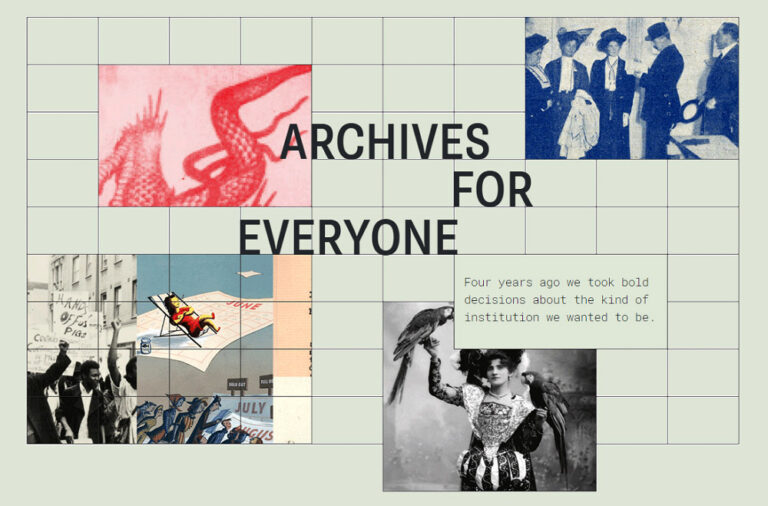 To this end we have been working with therapists to look at how we can interrogate both the facts and feelings that can arise when working on topics relating to racism, colonialism and empire most recently showcased via an event hosted online by the British Museum (see video below).
On 24 July we will be hosting a one-day online workshop on Indian Indenture with the Black, African and Asian Therapy Network (BAATN) to explore themes of departure, journey and settlement, combining therapeutic practice and archival research (booking details below).
The one-day workshop was born out of a presentation that BAATN and The National Archives led on in October 2020 that briefly introduced the audience to different interpretations of Indian indenture history from four historians. Four case studies based on archival documents were then introduced, followed by a presentation on the inside experience of those who made the journey and how indenture history lives and expresses itself in current times.
The event ended with a Q&A and time for feedback. A key part of the feedback was a request for people to be given more time to hear from one another and to reflect on the experience of indenture.
The workshop in July has been designed on the back of feedback we received and will include a short presentation on a topic related to Indian indenture inspired by one of our archival records. There will be an opportunity to listen to a personal reflection, followed by a series of prompts led by a therapist, and then participants will have a chance to work in small breakout groups. The day will close with the offer of an open space, where people can hear some experiences from those with an Indian indentured heritage and take part in discussion and consider how this project and way of working can develop in the future.
I would like to acknowledge Michael Mahoney in the Outreach Team who has helped with various aspects of the research into Indian indenture history, written two blogs (A 'new system of slavery'? The British West Indies and the origins of Indian indenture and 'The Great Experiment': Explaining the advent of indenture to the West Indies) and presented at the online event in October 2020.
Journeying: Indian Indenture, a one-day workshop on Saturday 24 July 2021 (10:00 to 15:00) led by Iqbal Singh, Vidya Maharaj and Eugene Ellis. To book your place please sign up here.