Barbara Hepworth and the Venice Biennale (1950)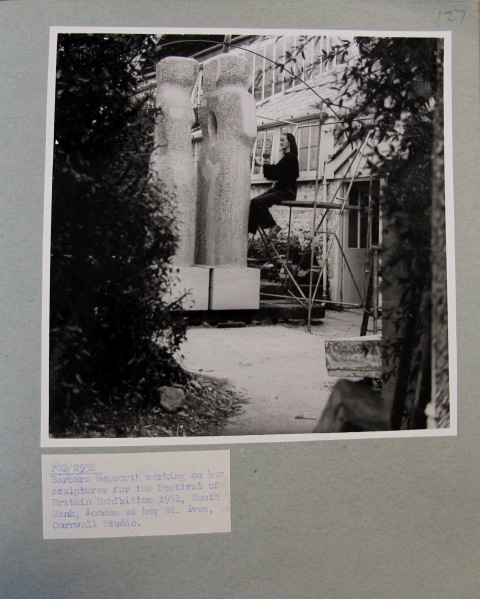 The photograph presented here is a visual record of her carving 'Contrapuntal Forms', commissioned by the Arts Council and which would be displayed at London's Southbank during the Festival of Britain (1951). It appears to depict her in the process of shaping the Irish blue limestone, providing an insight into her working practice 1
Where a photograph may be a visual record documenting life outside our minds, letters may provide internal and external narratives (especially a collection over a period of time) though this is dependent on the original purpose of its creation and ultimately its survival.
The letters I am concentrating on are those from the British Council file BW 2/420. In this particular example, although letters were created for an official purpose, there are instances of informality and asides to the main subject which provide several insights.
The file BW 2/420 contains a letter which reveals that Hepworth first heard that she was going to take part in the Venice Biennale through a number of sources, namely friends.
A letter from her, dated 27 November 1949 (1), reveals that she was surprised and that the news was not officially communicated to her. Correspondence by the Fine Arts Department of the British Council confirms this and that apologies were sent. The letter also confirms that two rooms were to be devoted to Hepworth's works and would be shown alongside works by Constable and Matthew Smith.
Hepworth's letter dated 3 December 1949 (2) reveals her delight and provides an insight into her involvement, namely that, from the start, she had been providing suggestions of potential exhibits.
You may find unexpected traces of information not necessarily related to the main subject of the letter; an aside or something which may indicate aspects of the correspondent's character or an event as well as the tangible material itself used to transmit information with individual quirks you may find with contemporary letters. This is what I find fascinating about letters as a document source.
The National Archives holds only some of the administrative exhibition files of the British Council. The type of records found among the administrative records (which were originally created as part of arranging exhibitions to promote British arts abroad) can vary greatly depending on the type of file.
The letter dated 1 March 1950 (3) shows her attention to detail regarding instructions for handlers moving her works to Venice. She is sympathetic to the material she used to create her sculptures. On explaining why some sculptures should be handled in a particular way, she goes the extra mile.  Amongst her assured handwriting, there is an illustration on how to handle her sculpture 'Biolith' in the correct way, with a sling and not through the hole, otherwise the 'stone will not bear it'.
The letter dated 18 January 1950 (4) indicates that Hepworth had a strong work ethic. It confirms that she had three carvings to complete by the following Monday, although it does not specify what or whom these were for. We know, however, that she also had a forthcoming exhibition of new sculptures and drawings at the Lefevre Gallery in February 1950.
Although her letters only provide traces of information, those written by Hepworth found in the exhibition file nevertheless give an insight into her role as sculptor as well as her individual characteristics.
The file BW 40/45, complements the  file BW 2/420 with a draft catalogue and collection of photographs of her exhibits (with captions) at the Venice Biennale, possibly created for insurance purposes. Together, a montage is built up of, on the one hand, the administrative processes of the Arts Department of the British Council and the 'behind the scenes' context of setting up exhibitions such as the Venice Biennale and, on the other, the working relationships between employees and artists. There is great potential to build up a portfolio of narratives and stories.
You can search for document references to the majority of the exhibition files by artist name within the department code BW using the advanced search option in Discovery, our catalogue.
British Council records are located in a number of archives. Go to the British Council archive website for a summary list of UK repositories that holds British Council records.
You may also be interested in a podcast of talks on Barbara Hepworth and selected archives with speakers from The Tate, Tate Archives and The National Archives.
Notes:
1.Many factors should be considered when using photographs as a document source. Factors such as: the original purpose of the photograph, the photographer's intentions, whether or not the photograph was 'staged' and in what ways this might have skewed the overall source material. ↩