Eighty years ago today, on Monday 10 June 1940, Benito Mussolini declared war on Britain and France, as Italy gave its allegiance to Nazi Germany. Overnight, all 20,000 Italians resident in the United Kingdom saw themselves classified as enemy aliens and, of those, men who had lived in Britain for less than 20 years, and who were between the ages of 16 and 70, were considered for internment. Many of those resident in London and the south east were interned immediately, as invasion fears heightened, and as British troops retreated home from Dunkirk and the fall of France was imminent.
The fear of fifth columnists working for the enemies led Churchill to coin the phrase 'Collar the Lot!' This was a very different approach taken from that just nine months earlier, when internment tribunal boards carefully considered the fate of more than 73,000 resident Germans and Austrians living in the UK, and based on the information before them.
By 28 September, the Aliens Department of the Home Office had set up internment tribunals throughout the country, headed by government officials and local representatives, to examine every UK-registered enemy alien over the age of 16. The objective was to divide the aliens into three categories:
Category A, to be interned;
Category B, to be exempt from internment but subject to the restrictions decreed by the Special Order;
and Category C, to be exempt from both internment and restrictions.
Some 120 tribunals were established, assigned to different regions of the UK. Many were established in London, where large numbers of Germans and Austrians resided. There were 11 set up in north-west London alone. The police were responsible for providing the details of enemy aliens to the tribunals as they kept registers of aliens, a requirement of the 1914 Aliens Registration Act (4 & 5 Geo. V c.12).
The vast majority (some 66,000) of enemy aliens were classed as Category C. Most, but by no means all, of the 55,000 Jewish refugees who had come to the UK to escape Nazi persecution in the early and mid-1930s, found themselves in Category C. Some 6,700 were classified as Category B and 569 as Category A. Those classified in Category A were interned in camps being set up across the UK – the largest settlement of which was on the Isle of Man, though others were set up in and around Glasgow, Liverpool, Manchester, Bury, Huyton, Sutton Coldfield, London, Kempton Park, Lingfield, Seaton and Paignton.
In the absence of tribunal boards, more than 4,000 Italian subjects, mainly men, were arrested on or just after 10 June 1940, including 31-year-old Carmine Forte. Born in Casalattico, in the Italian region of Lazio, and by trade a caterer, in 1940 Forte was a director of Strand Milk Bars Ltd, based in London. As with so many of his countrymen, Forte was interned on the Isle of Man. He remained there until his release in November 1940, when he became an adviser to the Ministry of Food.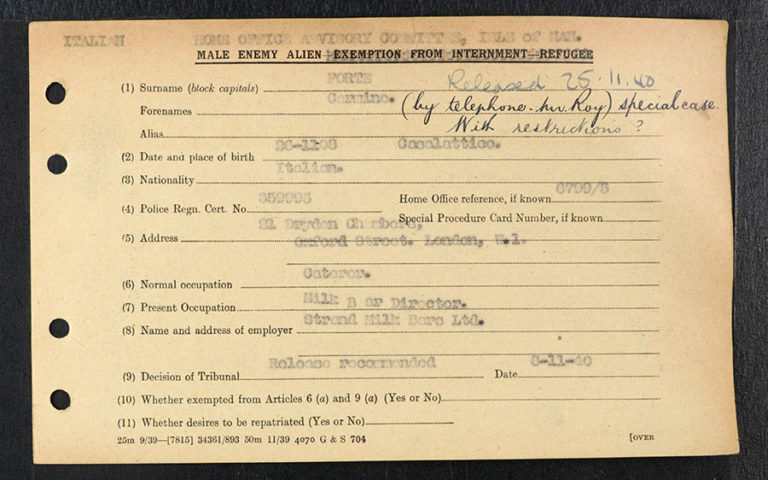 Forte had been in the process of applying to become British but his application was delayed because of the outbreak of war and, as such, he wasn't naturalised as a British citizen until after the war ended in September 1946.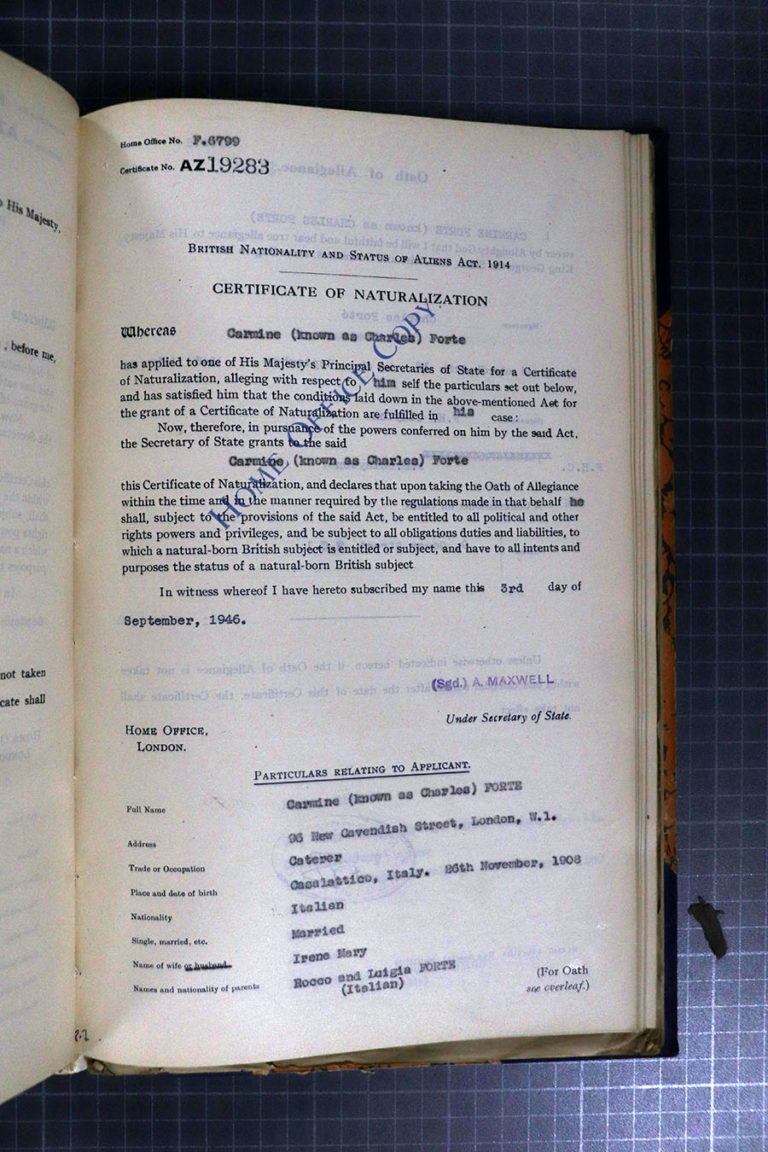 Also known as Charles, Forte went on to become one of Britain's most successful hoteliers, creating the Trust Houses Group Ltd and Forte Holdings, which would at one time include the Happy Eater and Little Chef roadhouse restaurants, as well as the hotel chains Crest, Forte Grand, Travelodge and Posthouse. Forte was knighted in 1970 and created a life peer in 1982. He died in London in 2007 at the age of 98.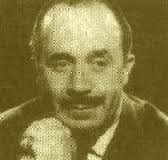 In 1940, 26-year-old Frank Berni was no longer an Italian national, having successfully taken out British citizenship six years earlier in 1934. However, following Italy's declaration of war, regardless of their nationality those of Italian descent who were known to be members of the Italian Fascist Party were also ordered to be interned. As such, Berni, born in Bardi in the Italian province of Parma, but who had moved to Ebbw Vale in Wales with his parents at the age of 16 in 1919, was arrested on 10 June 1940 under the Emergency Powers (Defence) Act for being a person of 'hostile associations'. He was detained in Liverpool prison and later spent some time at the internment camp in nearby Huyton, and in HM Prison Bristol. At the time of his arrest he was a successful businessman, owning cafes in Exeter, Plymouth and Bristol.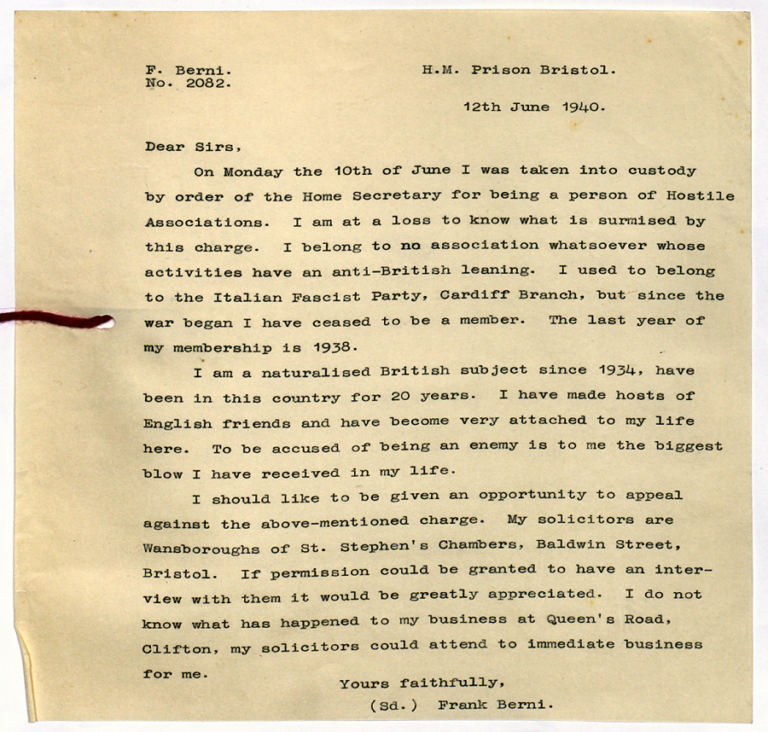 On 10 December 1940, Berni appeared before the Advisory Committee (Italian) to consider appeals against orders of internment. The document HO 405/2103 provides a detailed and fascinating account of that appeal. Berni explained that he had become a member of the Italian Fascist Party in 1923 because some of his friends had done so, and because it enabled him to attend annual dances at the Park Hotel and the Royal Hotel in Cardiff. He also claimed he had never attended meetings of the Fascio and did not know where their headquarters were in Cardiff, adding that he had never worn the Fascist badge in this country but he did so when he returned to Italy in the 1920s and 1930s.
In a visit to Italy in 1933, he was appalled at the brutal methods employed by the Fascists, and on his return applied successfully for naturalisation. He was granted a British passport in 1935. He also denied ever being a member of the Committee of the Cardiff Fascio, and added that he had endeavoured at the beginning of the war to join the Special Constabulary, and later to join the Air Raid Precautions (ARP) service in Cardiff. He also had no objection to fighting against all the king's enemies, including Italians.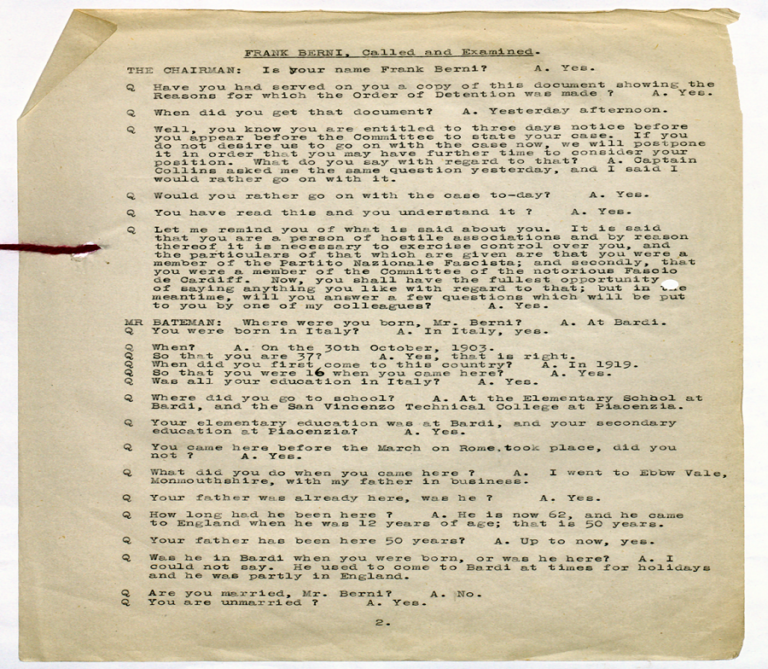 The file includes letters in support of his appeal from his auditor and also from the Ebbw Vale Justice of the Peace.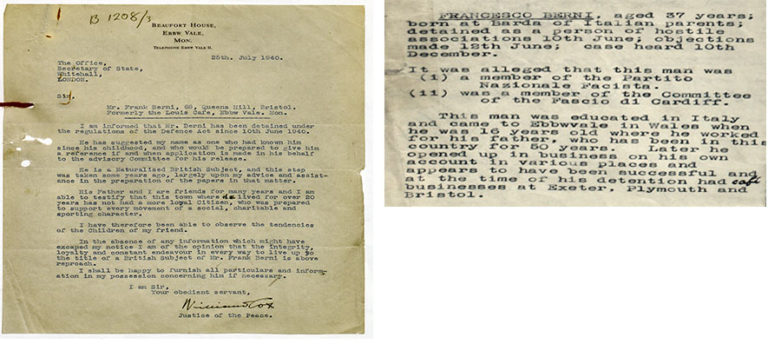 His case was heard on 10 December 1940, six months after his arrest. The Committee considered that Berni was rooted to this country, that any sympathy he had for Italy had for some time been moribund, and that his connection with the Fascist Party was little more than superficial. The Committee recommended his release from detention. Berni went on with his brother Aldo to establish the first Berni Inn steakhouse in 1955, remaining in England until his death in 2000 at the age of 96.
For many Italian citizens resident in Britain, their experiences were worse than those faced by Forte and Berni. With concerns over space to accommodate the growing number of internees, coupled with the suspicion that many of them were enemy agents, potentially helping to plan the invasion of Britain, a decision was taken to deport them overseas and many were transported to the Dominions of Australia and Canada, including 2,500 internees who embarked on a journey to Australia on 10 July 1940 on the vessel HMT Dunera.
The group comprised a mixture of Jewish refugees, Nazi sympathisers and some 200 Italians. The Jewish refugees and Nazi sympathisers were classified simply as Germans, and this caused resentment and conflict on the journey. The ship had a maximum capacity of 1,500 – including crew – and the resultant conditions have been described as 'inhumane'. The deportees were also subjected to ill-treatment and theft by the 309 poorly trained British guards on board.
The 57-day voyage was also made under the risk of enemy attack. On arrival in Sydney, the first Australian on board was medical army officer Alan Frost. He was appalled and his subsequent report led to the court martial of the army officer-in-charge, Lieutenant-Colonel William Scott.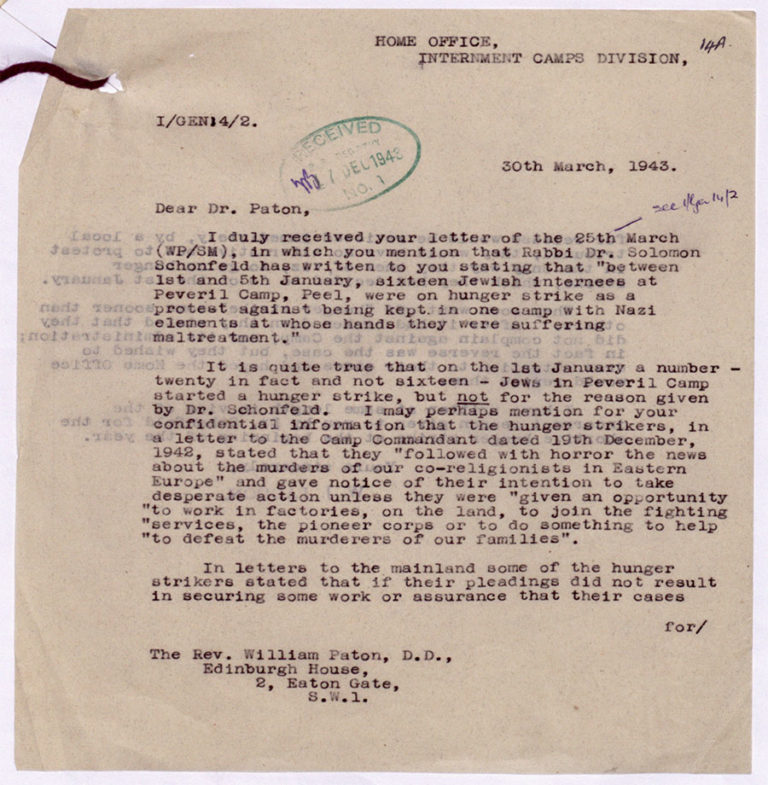 Tragically, on 2 July 1940, another ship deporting internees overseas, the SS Arandora Star, was torpedoed and sunk in the Atlantic en route to Canada. On board were 734 Italians, 438 Germans (including both Nazi sympathisers and Jewish refugees), and 374 British seamen and soldiers. Over half lost their lives, including 470 Italians.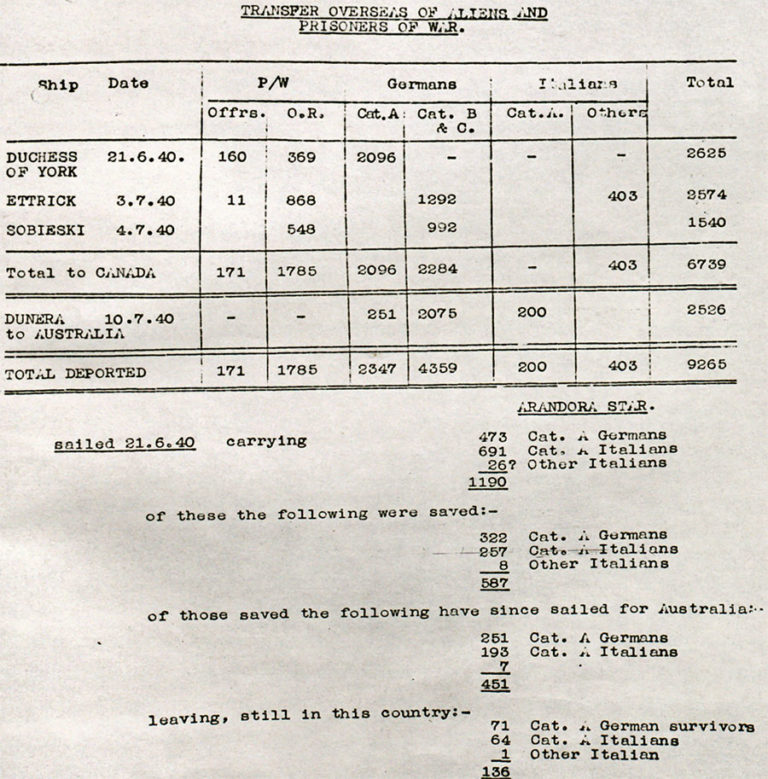 It was this event that swayed public sympathy towards the enemy aliens. The release of 1,687 enemy aliens was authorised in August 1940 and by October about 5,000 Germans, Austrians and Italians had been released following the publication of the Under-Secretary of the Home Office, Osbert Peake's White Paper, Civilian Internees of Enemy Nationality. The Paper identified categories of persons who could be eligible for release.
By December, 8,000 internees had been released, leaving some 19,000 still interned in camps in Britain, Canada and Australia. Of the released, some 1,273 were men who applied to join the Pioneer Corps. They would be joined by internees in Canada and Australia but here the process of release would take longer. By March 1941, 12,500 internees had been released, rising to over 17,500 in August, and by 1942 fewer than 5,000 remained interned, mainly on the Isle of Man.
---
On the Record: 20th Century Migration (podcast) 
There are over 900 years of immigration records available for research here at The National Archives. In a three-part podcast series we explore stories of migration in the 20th century.
In this series you'll hear about major Acts that highlight shifts in policy around migration and citizenship over the past 100 years. We feature the profound and lasting impact of migration for citizens and non-citizens alike throughout Britain, its Empire, and the Commonwealth.
Subscribe:  iTunes | Spotify | RadioPublic | Google Podcasts