From love letters of kings and queens to political calls for liberation… from declarations of war to reflections on the death of an unknown soldier… ordinary people in extraordinary circumstances have written letters – sometimes in their final hours of life. A letter can reveal so much about an author, a story, and a situation, capturing that moment in time forever.
During the First World War, nearly 20,000 bags of mail crossed the English Channel every day: letters, cards and parcels for the men serving at the front. However, all too often letters were returned marked 'Killed in Action'.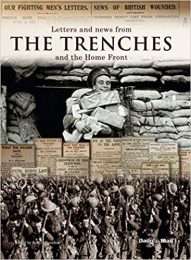 This was a time when only a few people ever left the place where they were born, but the war separated millions of men from their families and homes. Boys aged as young as 15 (having lied about their age) enlisted for an adventure – they were full of exuberance and confidence, never believing that they might be killed. Many young soldiers had received only basic schooling when they left home, so considerable numbers would have been illiterate: picture postcards were an alternative form of communication to the handwritten letter. To put you in the picture of the there and then, 'Letters and News From The Trenches' offers a unique insight into the Great War, with rare extracts from letters and editorial, published in the Daily Mail and illustrated with original war time photographs.
In London's Paddington Station (on Platform One), there is a life-size bronze statue of an unknown soldier reading a letter. No one knows what it says, but we can imagine.  On the 100th anniversary of the declaration of war in 2014, everyone was invited to write a personal message to that soldier who served and was killed in World War One and many did respond. The book, 'Letter to an unknown Soldier', looks at a selection of those letters, from politicians and well known writers, to school children and serving members of the forces. This is a poignant book for this time of year, as we remember those that have fallen, but it also forms a new war memorial of words which pulls at the heart strings through every page… You may just need a box of tissues for this one…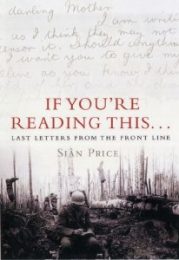 Every soldier has a name, a life, and people they love; whatever the outcome of war, relatives will either rejoice at their return or mourn their loss.  'If You're Reading This' is a collection of historical war letters, beginning with the Napoleonic Wars and concluding with conflicts in Iraq and Afghanistan. The book reveals farewell letters from soldiers of all ranks and nationalities; it also tells each individual soldier's own story on the battlefield. It explores the impact of those letters on the families who received them, and their reactions to the overwhelming messages of love to those left behind.
Here at The National Archives, we hold one of the most extensive collections of historic documents in the world, spanning over 1,000 years. We have some of the most fascinating letters, telling the stories of significant events and social change in our history. This remarkable collection is accessible to everyone. We have published some of these historical letters together: 'In Their Own Words: Volume 1'.  Writers include Queen Elizabeth I and Catherine Howard (Henry VIII's allegedly adulterous fifth wife); Winston Churchill and President Roosevelt; the spies Burgess and Maclean, as well as the spy who was the 'real Charlotte Gray', among many others. The subjects of these extraordinary letters range from the Monteagle document, warning of the Gunpowder plot to blow up the houses of Parliament, to letters on Christine Keeler's Russian/British love triangle and the Profumo affair.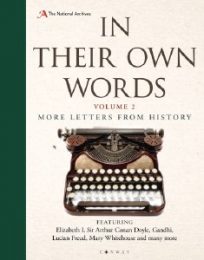 In the newly-published second volume of  'In Their Own Words', there are more historical letters, postcards, notes and telegraphs from the great and the good, the notorious, and the downright wicked. We have included letters from Sir Arthur Conan Doyle, Mikhail Gorbachev, Lucien Freud, Barbara Hepworth, Nelson Mandela, Caitlin Thomas, Mary Whitehouse, Gandhi, and George Washington, to name but a few. Subjects covered include suffragette disturbances, (The Bath Hotel case), obscene publications (Lady Chatterley's Lover), relations between international leaders and child emigration, including the Kindertransport.