I've turned over my blog spot this week to my colleague Cathy Williams, who brings news of an exciting launch.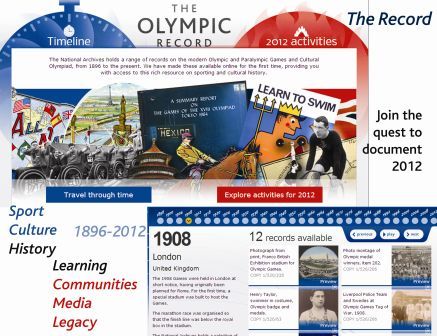 Cathy writes: As much as I want you to read my first ever blogpost – and believe me, it's been a painful process so I really would like you to – I would much rather you were off exploring our new site for The Olympic Record. It celebrates the history of the UK's involvement with the Games and is launched today as part of The National Archives' The Record, a four-year initiative to ensure a memory of the Olympics, the Paralympics and the Cultural Olympiad.
So it's definitely not all about the past: we've been working with partners from local and central government; from across the cultural heritage sectors, media and commerce; from Further and Higher Education; and from community groups and organisations to encourage them to take responsibility for building a legacy which fully represents the broadest impact of the Games on the UK.
But back to the site and, because there's so much to see, here's a guided tour of The National Archives' records you can access online, the activities already going on to celebrate the Games and how you can be involved.
Though it's not your usual guided tour: you're going to have to do most of the work yourself by answering a few questions which should help you navigate through what's there. And because it would be far too tempting to scroll to the end for the answers, I might just save them for my second blogpost in August when we're warming down from the Olympics and warming up for the Paralympics.
The questions are organised according to the different sections of the site, just to be sure you've seen some of the best bits but believe me, there's far more to discover!
Ready?
Timeline: Travel through time 
The first 'modern' Summer Games were held in Athens in 1896 but what were they called?
Why were the Stockholm Games something of a milestone?
When the Summer Games were held in Moscow, which team was conspicuous by its absence and why?
The 1988 Olympic Games were hosted by Seoul in South Korea but which other city was among the potential bidders?
2012 activities: Explore activities for 2012 
How can you Get involved in The Record and what advice and guidance can you expect from The National Archives?
How is an East End production company supporting UK Sport?
Where's your nearest Big Dance event and how can you take part?
How's is the UK's being at the heart of the Paralympic Movement being celebrated?
Which cultural heritage organisations are working together to archive websites recording as many different London 2012 voices as possible?
How are the Games being used to encourage lifelong learning?
What are local authorities across the UK doing to engage their communities in sports and cultural activities?
What opportunities are there for citizen journalists to contribute to the Olympic and Paralympic media frenzy?
What has the Olympic Park Legacy Company now become and what does it aim to achieve?
So how did you do? OK, so there are no prizes, no medals but I hope it's given you at least a taste of what we've made available online for the first time; and inspired you to join in, tell us what you're doing and be on The Record!
Oh, and if you've been really struggling, you could always try listening to our podcast for inspiration …
Cathy Williams
Head of Collections Knowledge
The National Archives