Do you have a question about our records? Are you searching for something but can't find it on our website? Are you stuck with your research and need quick and easy advice on the next steps to take, but you're unable to visit the archives? If so, our live chat service may be the answer.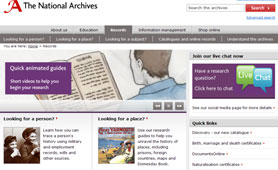 We are piloting a new live chat service this week (15-17 February) for our users to chat online to our records specialists and research advisers. The service will be available for two hours a day from our Records website. It works like instant messenger where each 'chat' is one to one and private, as opposed to a web chat where a conversation is published online for all users to join in with.
We thought this type of service would be particularly well suited to the kind of enquiries we receive, both in the reading rooms and by phone or email. You see online support on many websites now: from banks and major retailers, to museums and other archives. It's a great way of getting the information you need at the touch of a button, but with a personalised element; so you're talking to a real records expert, not a computer.
This is a pilot service so do join us online and tell us what you think. At the end of each chat session there will be the opportunity to rate the service and provide any comments you have.
If successful, we're hoping to roll live chat out as a permanent method of contacting us over the coming months, so your feedback on whether it works and how we're doing is really important to us.