To celebrate National Volunteers' Week, today we focus our attention on the subject of Merchant Navy records.
With a team of 12 volunteers, we have recently added catalogue descriptions for the series BT 390 – records of merchant seamen's service on Royal Navy ships in the Second World War. It consists of 236 boxes of pouches (envelopes), relating to merchant seamen who served on Royal Navy auxiliary vessels and those who saw service on Royal Navy tugs. Each box contains anything between 60 and 180 pouches.
The pouches contain the agreement forms signed by merchant seamen for service with the Admiralty. T124X agreement forms record the sea service of merchant seamen who served on Royal Navy auxiliary vessels, and the T124T agreement forms record the sea service of those who served on tugs.
Before this project each box was catalogued by alphabetical range, so that within BT 390/24, which has 106 pouches, only the first name and last name were catalogued (CREEVY J A to CROWHURST R H J).
Now, following catalogue enhancement, each merchant seamen's pouch has been itemised. We have catalogued sufficient information available from the front of the pouch for a searcher to be able to identify the correct merchant seaman, adding in the full name, service number, place or birth and date of birth.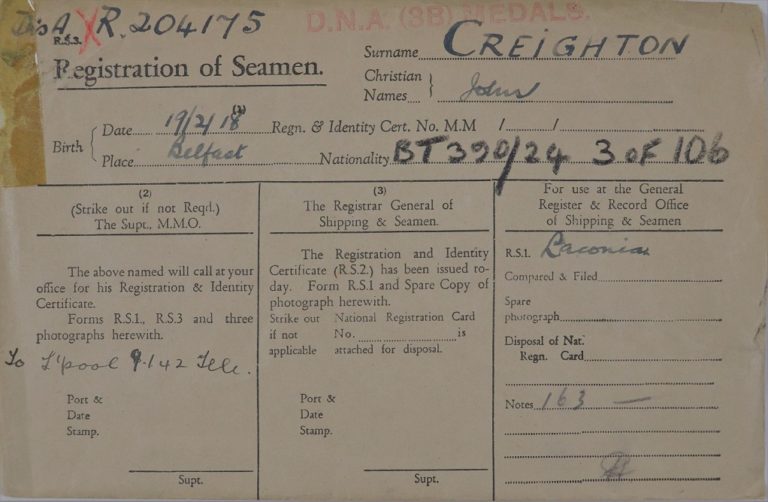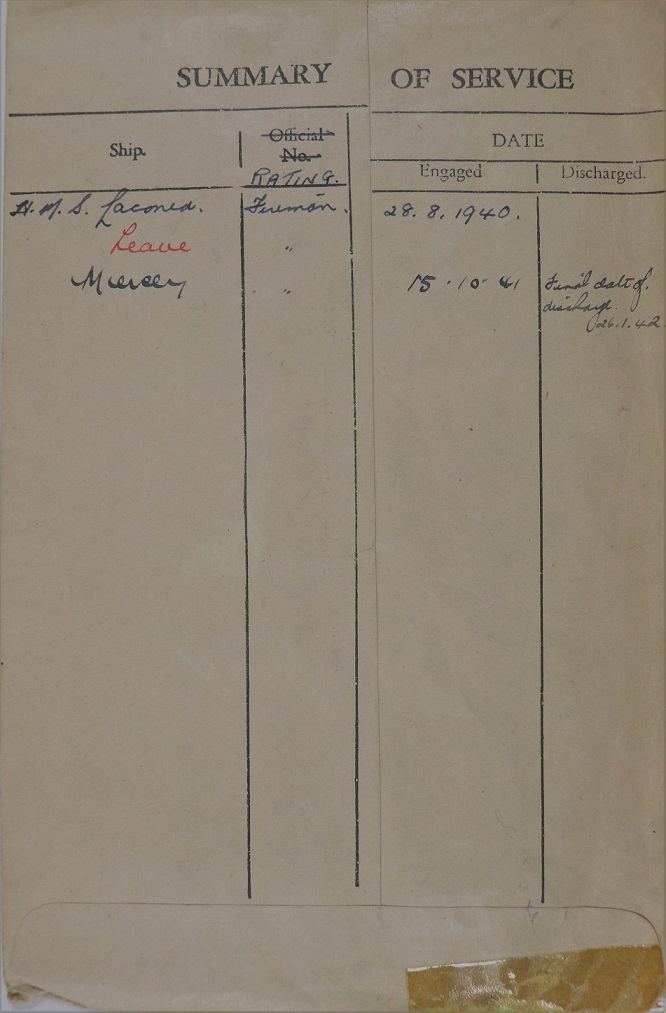 Inside the pouch, the T124 agreement looks like this: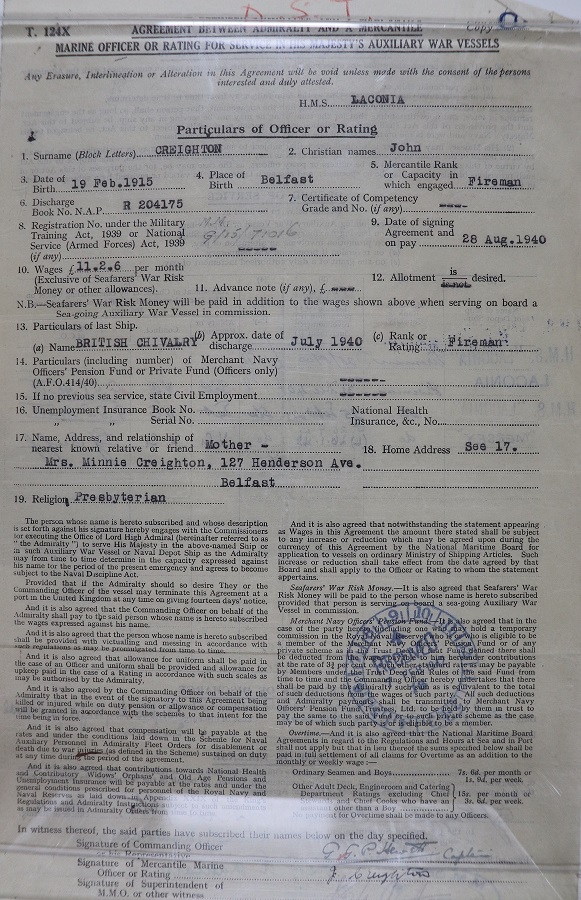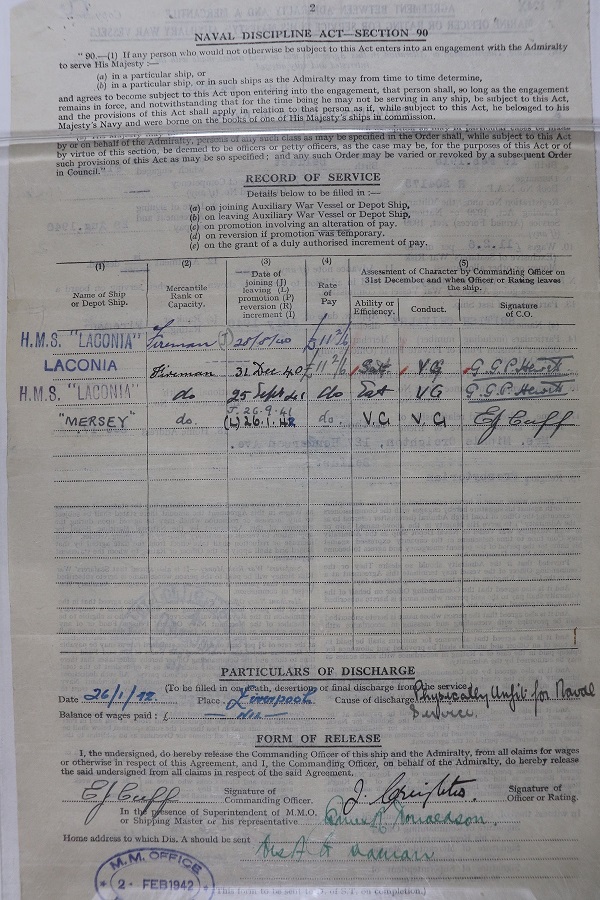 Some statistics
18,337 merchant seamen serving on auxiliary ships
186 Moslem seamen in BT 390, coming largely from Egypt and from Aden
5,664 merchant seamen serving on tugs
24,187 individuals recorded in this series
500,000 words added to Discovery in the course of the project
All manner of papers can be found in the pouches, alongside the T124X and T124T agreements. Below is an example for BT 390/179/65 – Frank Herkess, born 30 June 1908: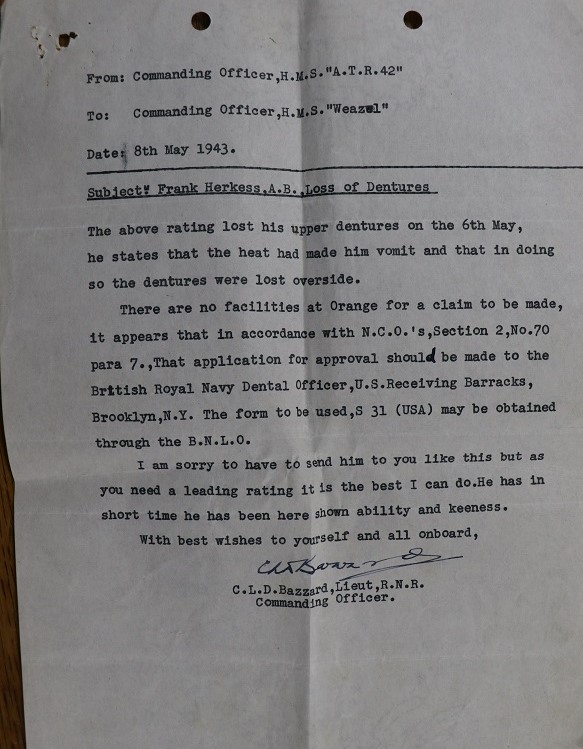 In a letter of transfer written from the Commanding Officer (CO) of rescue tug 42 to the CO of rescue tug Weazel, we learn that Able Seaman Frank Herkess lost his upper dentures. He stated that the heat made him vomit and that, in doing so, the dentures were lost overside. The CO of rescue tug 42 concludes: 'I am sorry to have to send him to you like this, but as you need a leading rating, it is the best I can do. He has in the short time he has been here shown ability and keenness.'
With the war almost over, on 4 August 1945 his wife sent a letter to the Admiralty asking: 'Could you please tell me if my husband is really on his way home? It is three weeks since I heard from him and the suspense is terrible, so if you would be so kind as to give me any information you can, I would be very much obliged.'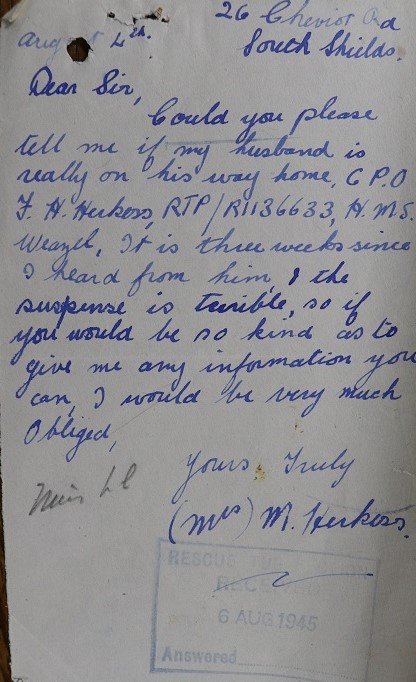 It appears that this wasn't her first such enquiry, as the terse reply from the Commander of Campbeltown Rescue Tug Base refers her to his previous letter and adds: 'your husband will be home just as soon as the exigencies of the service permit.'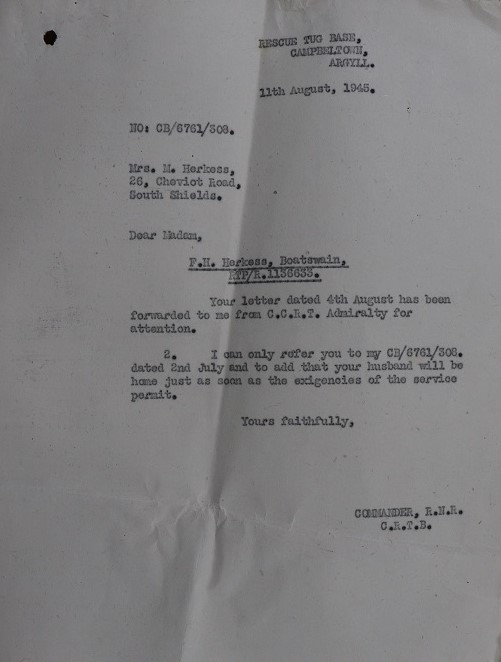 The pouch for William Henry Lee, a Greaser on the Tug Minona, contains a telegram from his wife Kathy which reads: 'William Lee, Greaser, HMRT Minona. Bombed out Ken and I safe = Kathy 13 March 1943.'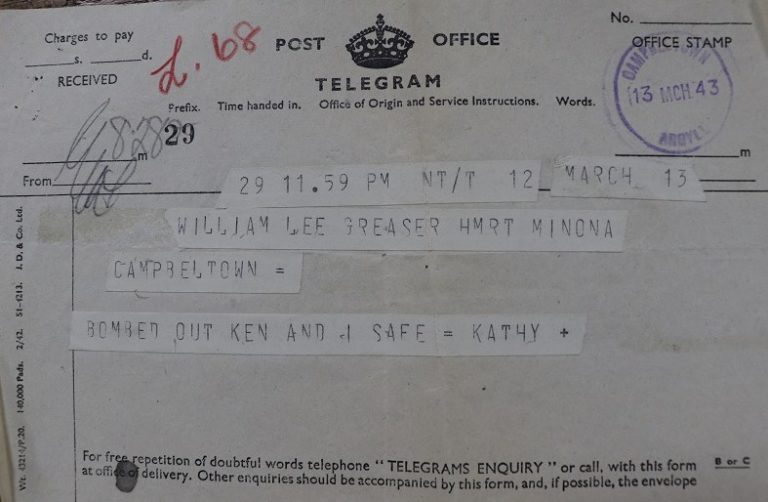 At a medical survey held on HMS Cormorant it was recommended that William Lee should be discharged due to chronic bronchitis and emphysema, which had rendered him totally unfit for further service at sea. The navy surgeons considered that his condition had been aggravated by service and recommended that a medical survey be held at a Royal Navy hospital for evidence or assessment of disability due to sickness aggravated by service in HM rescue tugs.
He was sent to Royal Naval Auxiliary hospital in Aberdeenshire, but without his respirator. A reply to the hospital from the Campbeltown Rescue Tug base states: 'we can find no trace of it here, and would point out that the care of a man's respirator is his own responsibility.'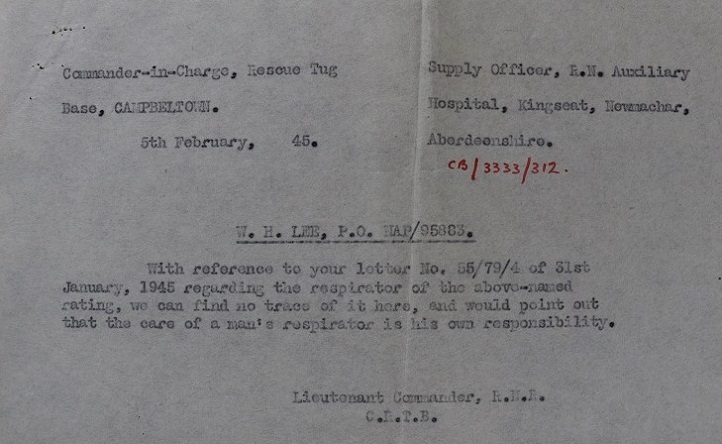 The pouch for Edward Warner Leighton, Able Seaman, contains a report from the Commanding Officer of HMRT Seaman: 'upon the excellent and courageous conduct displayed by E Leighton, Able Seaman, in saving the life of C H Burgess, 1st Mate, on 25th January 1943.'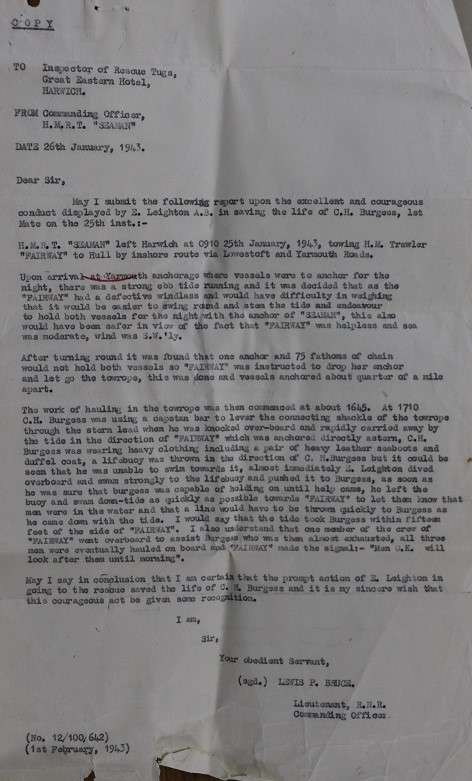 The officer, Lewis P Bruce, reports that while attempting to secure HMRTs Seaman and Fairway, 'Burgess was knocked overboard and rapidly carried away by the tide in the direction of fairway … Burgess was wearing heavy clothing, including a pair of heavy leather sea boots and duffel coat. A lifebuoy was thrown in the direction of Burgess but it could be seen that he was unable to swim towards it. Almost immediately E Leighton dived overboard and swam strongly to the lifebuoy and pushed it to Burgess. As soon as he was sure that Burgess was capable of holding on until help came, he left the buoy and swam downtide as quickly as possible towards Fairway to let them know that men were in the water and that a line would have to be thrown quickly to Burgess as he came down with the tide. I am certain that the prompt action of E Leighton in going to the rescue saved the life of C H Burgess and it is my sincere wish that this courageous act be given some recognition.'
Leighton received a Life-saving Certificate from the Royal Humane Society, which was presented to him on board HMRT Seaman in the presence of the ship's company, and the congratulations of all conveyed to him.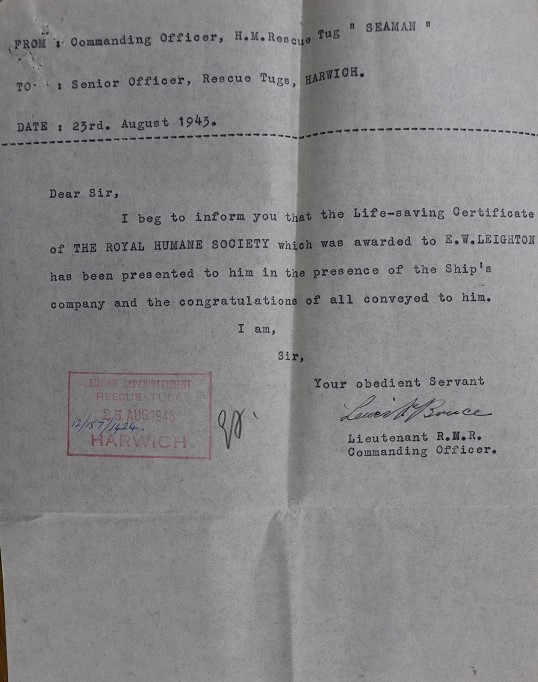 Sometimes a pouch can contain records returned by a merchant seaman to the Registry General of Shipping and Seamen. David McNally's pouch contains his Continuous Certificate of Discharge, known as a DisA.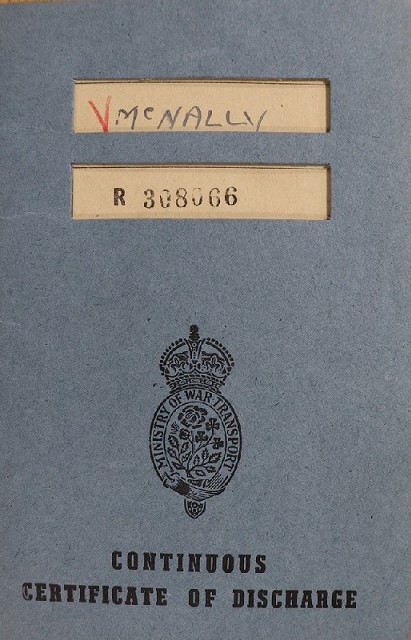 This was a seaman's contract book. He would take it with him from ship to ship. This wartime one doesn't contain a photograph because during the war everyone had to carry an identity card, and he would have with him his British Seaman's Identity card with a photograph and a description matching this one in his DisA.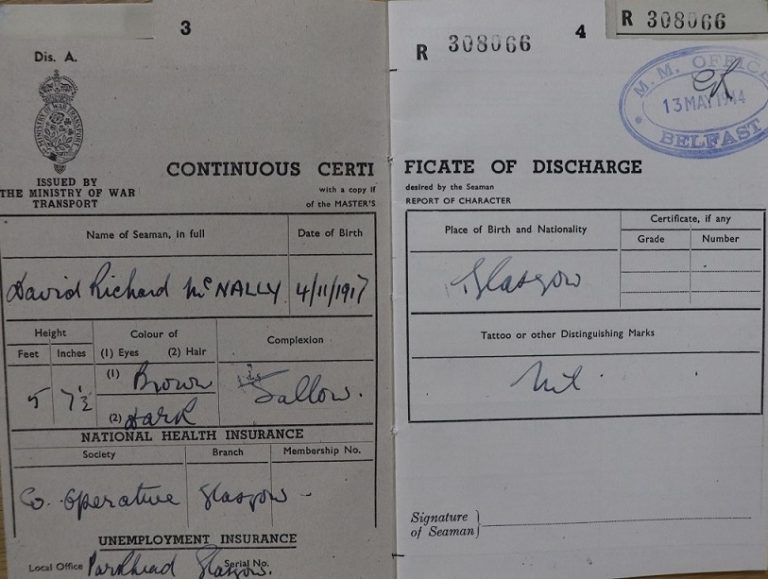 Every time a seaman was appointed on board a ship the name of ship and its official number would be entered, as well as the capacity in which he was taken on and the date and port at which he was engaged, a description of the voyage, a remark about his ability (usually VG) and conduct (ditto), the signature of the master, and the date and place of discharge.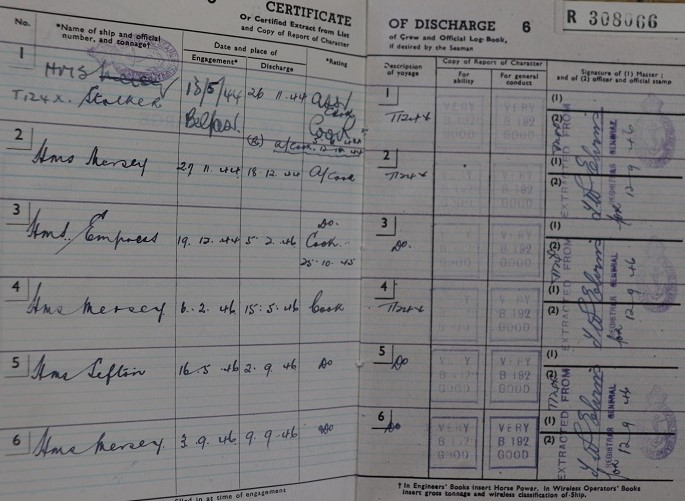 The BT 390 project took eight months to complete. This would not have been possible without a dedicated team of volunteers.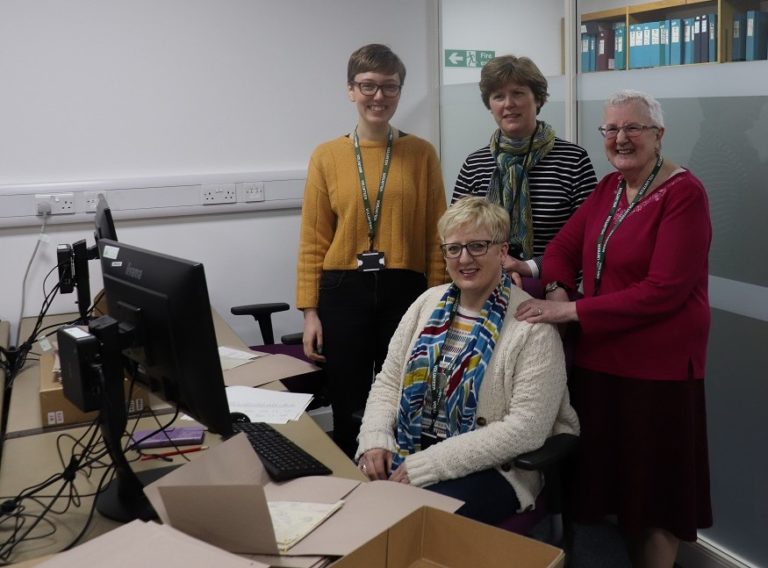 By cataloguing these to the level of each individual pouch, it will make it far easier for family historians to find details of a relative, and also for military and social historians, given the range of content in the pouches.
Look out for further blogs during National Volunteers' Week. To find out more about volunteering at The National Archives click here.