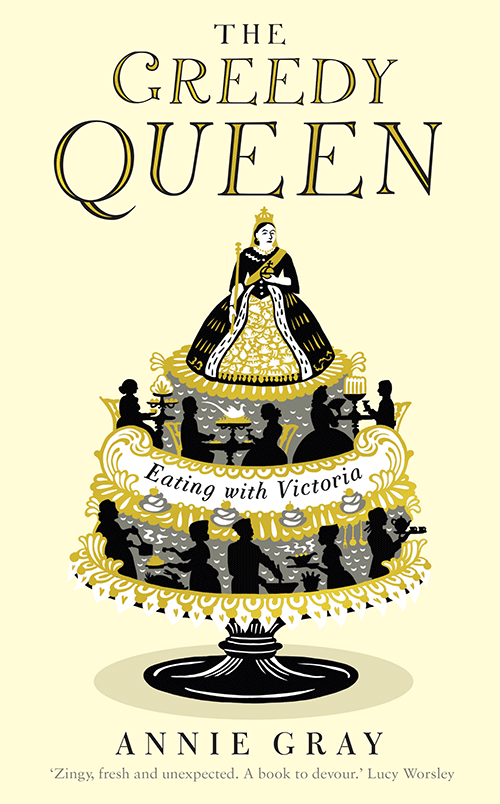 'Human lives are marked out in meals,' observes food historian Annie Gray, 'the everyday routine of breakfast, lunch and dinner; the yearly rituals of birthdays, Easter and Christmas; and the life stages of christenings, weddings and funerals. Any life can be defined by food…'
It is an approach I have significant sympathy for and one which shapes Gray's recent biography of Queen Victoria, The Greedy Queen. This is a fabulous read particularly absorbing if like me, you are interested – some would say obsessed – with the pleasures of the table.
Part of the fascination of The Greedy Queen is its upstairs, downstairs approach to life at the palace. It is indeed a culinary biography of Queen Vic, a voracious eater and a martyr to indigestion, but along the way you gain glimpses of the lives of those who prepared and shared the royal meals.
Being invited to the royal table was less of a treat than you might think apparently. Although the table was groaning with delicious comestibles, etiquette demanded that the Queen be served first and plates cleared away as soon as she finished. As Victoria was a gobbler you had to be careful not to pause to exchange a pleasantry with a table companion or you would find your plate whisked away and a long evening with a grumbling stomach ahead.
The Greedy Queen is one of those delightful books which provide a fund of fascinating anecdotes, from the danger posed by French sauce (a serious threat to chefs of the time was carbon monoxide poisoning caused by badly ventilated charcoal chafing stoves) to amusing advice on how to eat an orange taken from contemporary books of etiquette:
First let me advise you to avoid embarking upon an orange, unless you are an adept. It requires long experience, a colossal courage, any amount of cool self-possession, and a great skill to attack and dispose of one without harm to yourself or your neighbour. No amount of care can prevent the juice from besprinkling your own shirt or your neighbour's gown, be she opposite or beside you…
There are also recipes taken from a variety of Victorian cookbooks. These have been updated by Gray so you can reproduce them if you wish. Gray is a practical and realistic cook, a woman you can trust in the kitchen, and her recipes are peppered with such useful advice as 'egg wash, if you can be bothered' and 'this is not nearly as bad as it sounds (unless you make it with water in which case it is pretty grim)'. You certainly can cook the recipes, the Haggis Royale looks genuinely delicious and avoids the excess of offal so often found in classic haggis recipes. You could even if feeling brave make an attempt at Boar's Head in Aspic, a confection which shakes even the inimitable Annie who describes it resembling 'a stinking great haemorrhoid'.
If you want more detail about Victoria's life as a whole then look no further than A. N. Wilson's magisterial tome Victoria which fills in those bits of the queen's life that occurred away from the table.
But if it's edible history you love, you should also get a copy of The Short Life and Long Times of Mrs Beeton by Katherine Hughes. The popular myth of Mrs Beeton as a plump wise cook in the mould of Mrs Bridges (or Mrs Patmore if you are of the Downton generation) is well and truly debunked. A publishing phenomenon, the real Isabella Beeton led a rather tragic life: exiled to the suburbs, plagiarising Eliza Acton to create a bestseller for her feckless husband (who repaid her with the syphilis which caused her death aged only 28).
Another historical whizz in the royal kitchens was Antoin Careme, the celebratory chef of his age and the man who introduced the chef's hat, or toque, as we know it. Antonin was at the stove pre-Vicky (he cooked for Napoleon and later the Prince Regent, another royal who clearly loved his grub). An amazing patissier, his creations were showstoppers centuries before Bake Off graced our screens. His life story is told in 'Cooking for Kings' by Ian Kelly.
If you prefer fiction, then the excellent 'White Truffles in Winter' by Nicole Mary Kelby might be more up your street. This is a fictionalised account of the food, passion and passion for food evinced in the life of the great Auguste Escoffier – very possibly the most influential figure in the development of French cuisine.
Related blogs
The dissolution of the pasties: GBBO'S Tudor Week