Twiddling your thumbs at home and considering building your family tree? For our latest boredom buster, we've compiled a list of our top ten most handy resources for budding historians to get started with:
My Family History
A Ten Generation Family Research Record Book with Pedigree Charts
My Family History provides a really efficient way of recording all your family history research, and is a handy 'aide memoire' to carry around when researching. It consists of two parts: a ten generation record book and pedigree chart, plus a system for recording re-marriages or new partnerships.
There have been several five generation versions available for quite some time now, but the complaint has always been that 'they don't go back far enough'. This book allows the recording of ancestors back to 6-times great-grandparents; 256 marriages, 512 ancestors plus offsprings, stretching back to the early 1700s and beyond.
The Family History Web Directory
The Genealogical Websites You Can't Do Without
The internet can be an overwhelming place for the genealogist. The Family History Web Directory is an information-packed reference guide which distills the best of the internet into one easy-to-use format. Topics range from 'getting started' to specific occupations, and there is an index reproducing all websites in A-Z order.
Jonathon Scott's book is a vital source for less experienced researchers; readers will gain access to online shortcuts, tips for getting the best from well-known websites, plus details of all kinds of lesser-known and hard-to-find sources.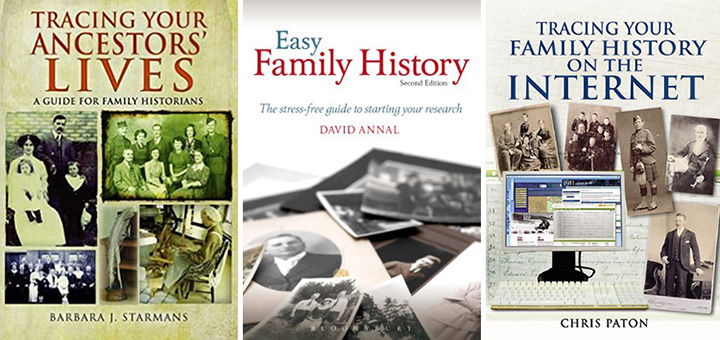 Tracing Your Ancestors Using DNA: A Guide for Family Historians
DNA research is one of the most important and rapidly advancing areas in modern science, yet there is no recent British publication in this field. That is why this introduction is so valuable.
Tracing Your Ancestors Using DNA offers a clear and practical way into the subject, explaining the scientific discoveries and techniques, and illustrating with case studies how it can be used by genealogists to gain an insight into their ancestry. The subject is complex but, with the aid of this book, novices will be able to interpret test results and use them to help answer genealogical questions which cannot be answered by documentary evidence alone.
The Genealogist's Internet (Fifth Edition)
The Essential Guide to Researching Your Family History Online
Ideal for both beginners and more experienced family historians, this updated 5th edition of The Genealogist's Internet identifies the major websites and online sources of data available. It covers:
1911 Census
prospects for the digitisation of civil registration (births, deaths and marriages)
new genealogy websites and search engines, digitised passenger lists and other migration records
online information on occupations and professions
online sharing (DNA matching, photo sharing, social bookmarking)
Whether you want to put your family tree online, find distant relatives or access the numerous online genealogical forums, discussion groups and mailing lists, this book is a must-have.
Birth Marriage and Death Records: A Guide for Family Historians
Birth, marriage and death records are an essential resource for family historians, and this handbook offers an excellent introduction. It explains the original motives for registering these milestones in individual lives, describes how these record-keeping systems evolved, and shows how they can be explored and interpreted.
Tracing Your Family History On The Internet: A Guide for Family Historians (Second Edition)
This fully revised second edition of Chris Paton's best-selling guide is essential reading if you want to make effective use of the internet in your family history research. Every day new records and resources are placed online and new methods of sharing research and communicating across cyberspace become available, and his handbook is the perfect introduction to them. He has checked and updated all the links and other sources, added new ones, written a new introduction and substantially expanded the social networking section.
Divorced, Bigamist, Bereaved?
The Family Historian's Guide to Marital Breakdown, Separation, Widowhood and Remarriage from 1600 to the 1970s
Most of our ancestors were wed only once, and after the death of a spouse did not remarry. Yet every family tree has individuals whose lives did not fit that pattern.
In Divorced, Bigamist, Bereaved? Rebecca Probert explains divorce, bigamy, bereavement and remarriage from the 1600s through to the late 20th century. How long did marriages last? Was the loss of a spouse in middle age as common as we might assume? And for those who did lose a spouse, what factors influenced their choice to remarry or remain single? What signs hint that a marriage might have been bigamous, or that a divorce had been hushed up?
Rebecca Probert is the leading authority on the history of marriage law and practice in England and Wales.
Easy Family History
The Beginner's Guide to Starting Your Research (Second Edition)
Take the stress out of family history research with Easy Family History. Let this book guide you through the most important information sources for family historians in the UK including family documents, official records, archives and websites. From what to expect on a birth certificate, to how to use newspaper archives, each chapter focuses on an area of research and takes you through the basics.
This newly updated edition includes information on recently released archives such as the 1911 Census and recently digitised military records and archives that are now online. The book features screenshots of useful websites and images of sample archival documents throughout.
Tracing Your Ancestors' Lives: A Guide to Social History for Family Historians
Tracing Your Ancestors' Lives explores the various aspects of social history that are relevant to family historians. Through its research advice, resources and case studies, researchers can learn about their ancestors, their families and the society they lived in, and record their stories for generations to come. Topics covered include the family and society; domestic life; birth, life and death; work, wages and economy; community, religion and government.
Death and Burial Records for Family Historians
Records of deaths and burials are capable of yielding much information about our ancestors and may be very helpful in tracing pedigrees. Death and Burial Records for Family Historians identifies the available records, where to find them, the information they contain and how to use them.