Archives are amazing. Without them we could not study our personal histories or the histories of our communities or nations. There would be no historically rich novels and films. We would know nothing about the lives of our predecessors.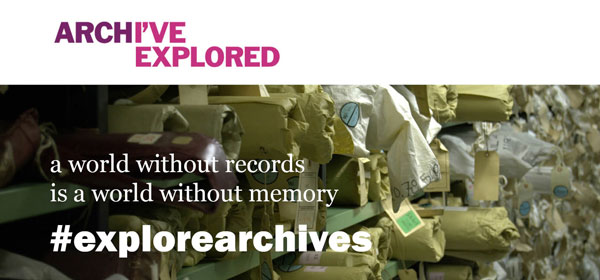 Through the Explore Your Archive campaign we are inviting you to explore your archives. Archives are where the records of your life, your community, your business, your nation and your world are collected, kept safe and made accessible. We all benefit from archives – often without realising. We want more people to understand and value the richness and diversity of archives. There are so many kinds of archives: in local authorities and governments, in businesses, in schools and universities, in charities, in private houses, in cultural organisations… All playing their part in keeping information safe and accessible.
An online flashmob
On Monday 16 November 2015 we want to celebrate all our wonderful archives from across the globe and the invaluable work that goes into collecting, keeping and sharing the world's memory. We hope you will lend us your voice and join our Thunderclap, to tell the world how truly exciting, relevant, diverse and fascinating archive collections are (find out more about Thunderclap).
Last year our message blasted out to a reach of 750,000 – for 2015 we'd love to break the 1 million mark, can you help us?
Join us on Twitter
Throughout the Explore Your Archive week the organisations and people who look after archive collections will be taking to Twitter – and we want you to join us!
Find out what a typical day in an archive is like, discover the collections, post your pictures and tell us why you love archives. Each day we will have a different hashtag for you to join in and connect with archives globally.
Monday 16 November: #ExploreArchives
A celebration of the richness and variety within archives – why they are relevant to our world today, what they can tell us and how they can entertain us. Share stories and gems that you have uncovered in your research.
Tuesday 17 November: #Archiveselfie and #ArchivesLive
Create and share your archive self-portraits and historic 'selfies' you've found within archive collections. Wear your arch'ive explored badges with pride and tweet us your pictures! Use video and broadcast channels to give us a glimpse of your research, but please ask permission before filming within an organisation.
Wednesday 18 November: #YearInArchives
Join us to celebrate everything that has happened this year in archives – projects, newly acquired documents and breakthroughs in your own research. This will also be your chance to discover an insider's perspective of what happens in an archive, in a typical (or not so typical), day, month, year!
Thursday 19 November: #ArchivesRock
Do you know of any great music and art collections? How have you been inspired by archive collections? What have you created as a result of archive research? Have you discovered anything particularly beautiful or unusual?
Friday 20 November: #ArchiveAnimals
After much fun in 2014, #ArchiveAnimals is back! Share stories and pictures of animals found in archive collections.
And throughout the week, don't forget to tell us if you visit an archive or collection event using #explorearchives.
Explore Your Archive. There is so much to discover.