As part of International Refugee week, I would like to draw your attention to the Freud family, who moved to the UK in 1930s escaping Jewish persecution as Nazi Germany's grip tightened in central Europe. In particular, using records housed at The National Archives, I would like to focus on siblings Ernst and Anna Freud, and their separate experiences once resident in the United Kingdom.
Both siblings were the children of Austrian psychoanalyst Sigmund Freud and his wife Martha Bernays, and both would become famous in their own fields – Ernst as an architect, and Anna as a psychoanalyst, following in her father's footsteps. They were two of six children. Anna was the youngest, born on 3 December 1895, and Ernst was the fourth child, born three and a half years earlier on 6 April 1892.
Ernst was the first of the family to flee to Britain. Born in Vienna, he relocated to Berlin in the 1920s to pursue his building career but fled Germany in 1933 with his wife Lucie and sons Stephen, Lucian and Clement. He arrived in London on 21 July 1933 and settled in Hampstead, London.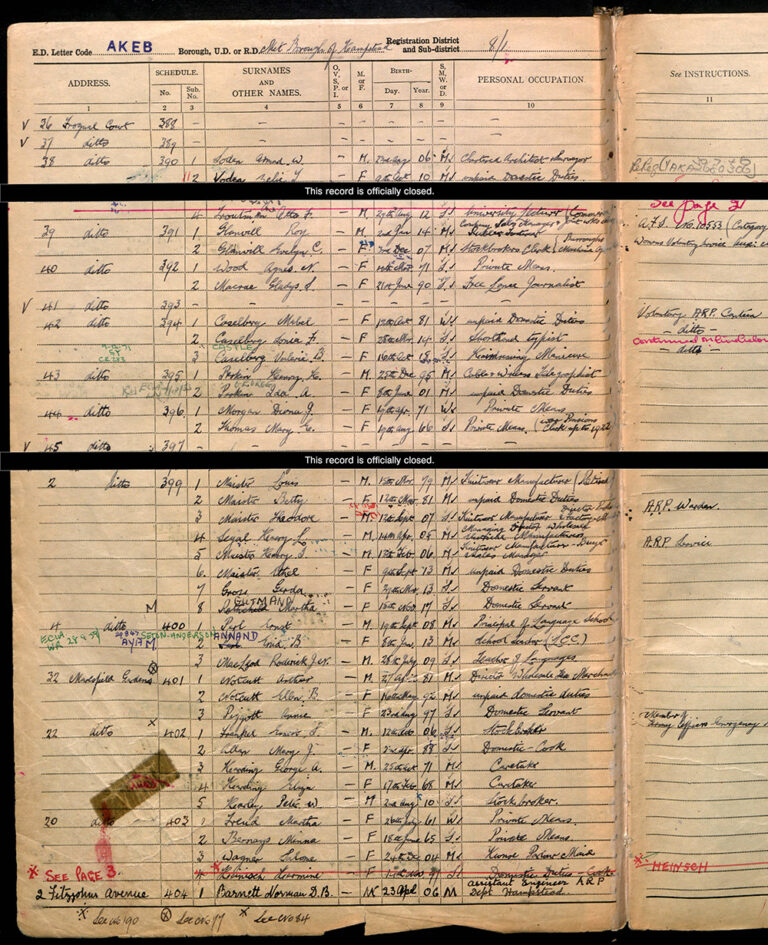 Under the Registration of Aliens Act, 1914, Ernst needed to register his details at his local police station, notifying them of any subsequent changes to his address and employment. The National Archives holds a small sample of these Alien cards in the series MEPO 35 and most are available to download through its catalogue, Discovery.
Among the 1,200 cases are cards for Ernst and his wife Lucie. At the time, aliens were allowed to apply for naturalisation after they had been resident in the UK for at least five years so, in 1939, he applied. He and Lucie became British citizens on 30 August 1939, just four days before Britain declared war on Germany. Naturalisation was extended to his three sons, all of whom were minors under the age of 21.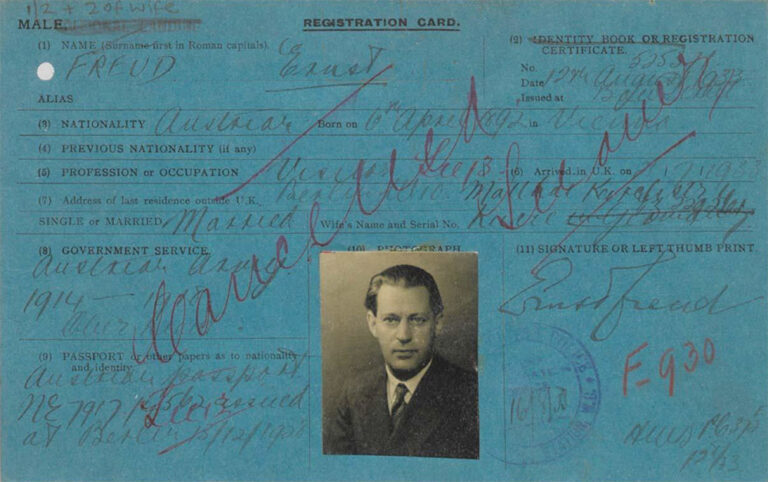 By becoming British, Ernst and his family had avoided sitting before a tribunal board as, less than a month after they received their naturalisation certificates, internment tribunal boards were set up to carefully consider the fate of more than 73,000 resident Germans and Austrians living in the UK, based on the information before them. Such individuals were now classed as 'enemy aliens'.
By 28 September, the Aliens Department of the Home Office had set up internment tribunals throughout the country, headed by government officials and local representatives, to examine every UK-registered enemy alien over the age of 16. The objective was to divide the aliens into three categories:
Category A, to be interned;
Category B, to be exempt from internment but subject to the restrictions decreed by the Special Order;
Category C, to be exempt from both internment and restrictions.
Some 120 tribunals were established, assigned to different regions of the UK. Many were established in London, where large numbers of Germans and Austrians resided. There were 11 set up in north-west London alone. The police were responsible for providing the details of enemy aliens to the tribunals as they kept registers of aliens.
Anna Freud, Ernst's younger sister, was one of the cases Metropolitan Police alien tribunal number 11 board heard on 11 October 1939. The tribunal assessed her as Category C. This was the case for more than 66,000 'enemy' aliens. The majority, but by no means all, of the 55,000 Jewish refugees who had come to the UK to escape Nazi persecution in the mid-1930s found themselves in Category C.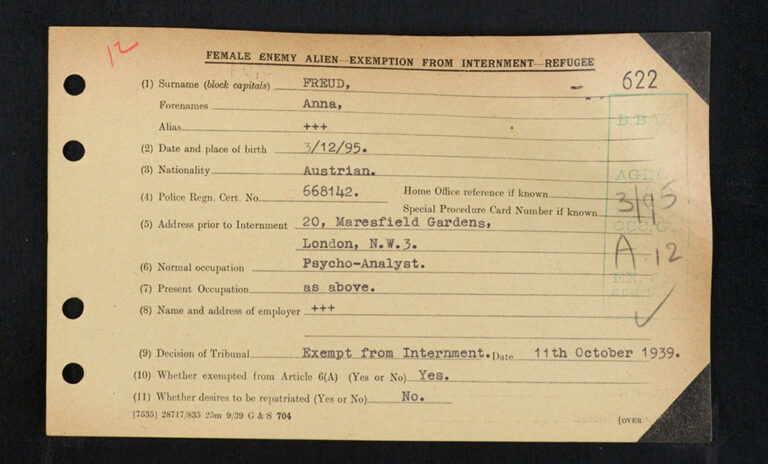 Anna had arrived in the UK on 9 June 1938, so was not eligible to apply for British nationality until June 1943 but when she did so, it was not as straightforward as it had been for her elder brother. When she applied at the earliest opportunity, her knowledge of psycho-analysis to cure bomb-shocked children was recognised. She had excellent references from upstanding British subjects but, despite this, her application was not accepted.
Complaints were made to MPs and to the Home Secretary, Herbert Morrison, responsible at the time for granting naturalisations. He was unyielding in his opinion and refused to approve her application because, in the main, the approval of naturalisation applications had been suspended for the duration of hostilities, though he did recognise her valuable services for the war effort. Princess Marie Bonaparte, known as Princess George of Greece and Denmark, a personal friend of Anna's, appealed to Foreign Secretary Anthony Eden in 1945, reminding him that he'd had lunch with her and her nephew, the King of the Hellenes, when he visited Athens in 1941.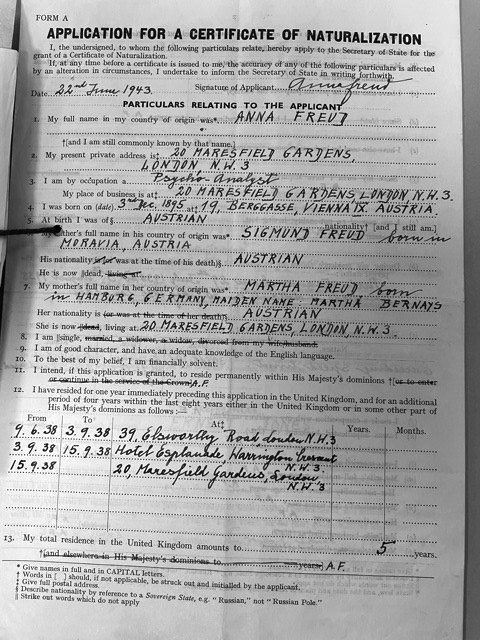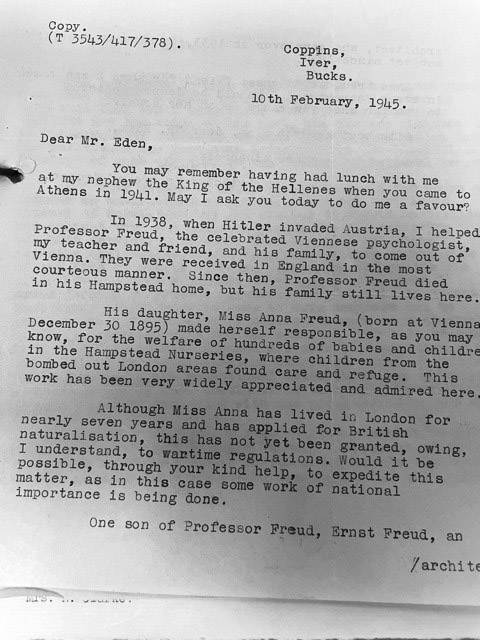 Despite repeated requests to reconsider her case, it was only after the end of the war that Anna's naturalisation application was finally approved and citizenship was granted on 18 July 1946, nearly seven years after her brother became a British citizen.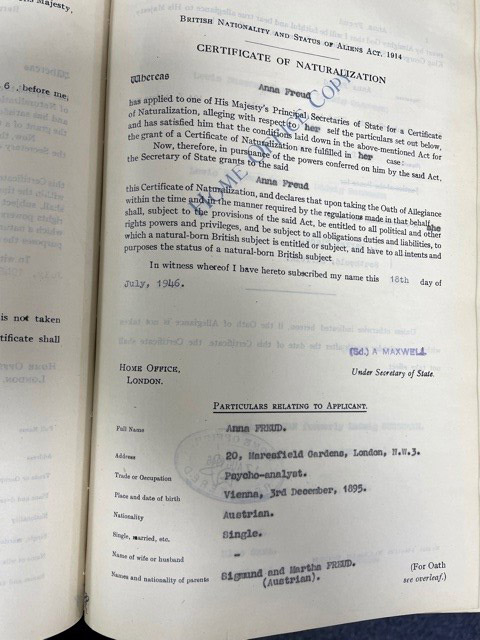 When asked to state why she felt her application was deserving of priority, Anna wrote: 'The particular type of psychological training which I possess has proved useful when dealing with psych. problems of wartime and is of potential value for the current reconstruction work in education and research on child development.'
Much of this information is contained in Anna's Aliens' file in HO 405/13317. Files in this series relate to individual foreign citizens (mostly European) who arrived in the UK between 1934 and 1948 and who applied for naturalisation. All files include applications for naturalisation with police reports. When managing records and appraising them for retention and selection, the Home Office selected an additional series of records, HO 382. This series consists of files relating to 'famous' individuals. Surprisingly, Anna's file is not here, yet her brother's Ernst's is, in HO 382/194.
Ernst died on 7 April 1970 after a long and successful career as an architect designing, among others, Belvedere Court, a residential block of over 50 flats in East Finchley, North London. His younger sister, Anna, outlived him by more than 12 years. She died on 9 October 1983 at the age of 86. After the Second World War, Anna carried out pioneering research into the experiences of child survivors from Theresienstadt concentration camp, and established the Hampstead Child Therapy clinic to further research and understanding.
In 1967 she was appointed a CBE by HM Queen Elizabeth II, and after her death a blue plaque was erected outside her family home alongside a plaque for her father, Sigmund. 20 Maresfield Garden opened as the Freud Museum in July 1986. It was Anna's wish that, after her death, the building be converted into a museum.