This year's International Archives Week (#IAW2021, #EmpoweringArchives) takes place from 7 to 11 June 2021. The International Council on Archives will run the entire campaign on social media following the success of last year's, led by the Association of Latin American Archivists.
We here at The National Archives join our colleagues and friends across the UK and the globe in conversations and activities along the themes of accountability and transparency; networking and collaboration; and, diversity and inclusion.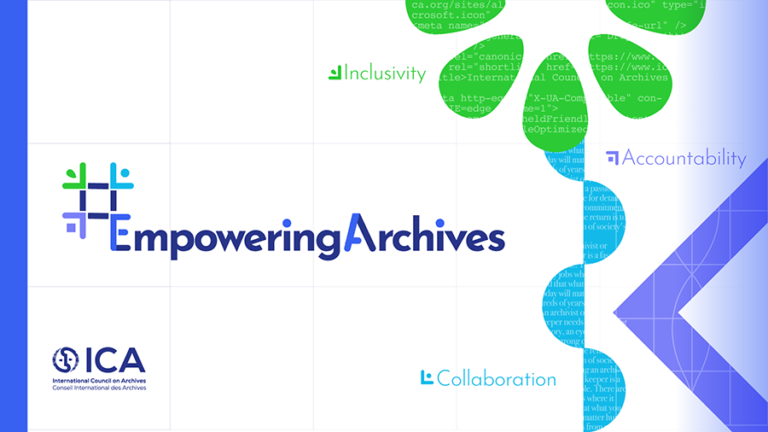 For last year's campaign, I touched on the impact of the Coronavirus (COVID-19) pandemic, and why archives of all kinds matter more than at any time in living memory. Without records, people couldn't trace their heritage. The information records contain fuels innovation and creativity, which is evident from the raft of fresh online content shared by archives across the world over the last year or so. Archives allow people to explore the events of the past with 21st century means, and their role – and that of records professionals – remains vital, especially in a world increasingly concerned about authenticity and accountability.
As a government department, and the official archive of the UK Government, we work with departments and other record creating bodies to support them in complying with the Public Records Act to ensure records are permanently preserved.
The pandemic has prompted greater national and worldwide scrutiny, and over the past year, we have worked more closely with colleagues across Government to ensure that they meet their statutory obligations.
Like many other cultural heritage institutions, archives have spent the last year reflecting on what they must do next to maintain people's trust, and to meet their shifting expectations. One example of the ways in which archives are doing this is through Archives Unlocked, the UK Government's strategic vision, created in consultation with the UK archive sector. The vision speaks to the core values and ambitions archives share: Trust, Enrichment and Openness, and reiterates that 'archives sit at the heart of our collective understanding: who we are, where we came from, and, indeed, where we are going' 1. I think this is a very apt way of expressing the sentiment of the theme of Empowering Archives.
It also goes hand in hand with the fundamental changes we seek to make so that archives are more transparent and accountable. To understand and address barriers to access; to equip archivists with the skills in an ever-expanding digital world; and to evolve professional standards to support the changing needs of collections and the archives workforce, especially in times of uncertainty.
We have undertaken several key pieces of work, including the launch of Plugged In, Powered Up, our ambitious strategy for building digital capacity for the sector, launched last January.
We have secured additional funding from central government for a new Archives at Risk fund to help preserve vulnerable and at-risk collections during the crisis.
In January 2021, we launched Becoming the Inclusive Archive, which underpins our four-year strategic plan 'Archives for Everyone'. This plan recognises that real transformation comes with increased openness to challenge. We will use it to hold ourselves to account to become a more representative archive that better reflects and serves our audiences over the next decade.
While these highlighted achievements are significant given the current circumstances, they also prompt further reflection. As we continue to make archives more transparent, recent worldwide conversations about histories and heritage and how they are shared provide pause for thought.
Archives are tasked with making their collections more accessible, and we have to balance our ambitions alongside our responsibilities, which differ for every archive. However, I believe by demonstrating our worth as the homes of varied and rich documentary heritage, we are best placed to empower a world where archives are – trusted, enriching and open institutions that bring benefits to societies and communities at large.