A lovestruck medieval clerk writing out romantic lyrics as he daydreams. A gay man in the 1930s who tears up a letter to his lover to hide it from the police. And two women who defy 18th-century conventions to marry in secret …
While these are characters from the past that you may not usually put together, they have two very important things in common: firstly, they are real people whose stories are captured within The National Archives' collection; and secondly, they all feature in our 'With Love', exhibition.
Their relatable stories, when told together, prove that despite what you might believe, a government archive can indeed be romantic. And it is with the help of archives, historians, and records experts that it is possible to uncover the real story of the letters that these characters left behind.
This is what The National Archives does with the third series of our podcast, On the Record at The National Archives, which is all about love. In episode one, we use letters chosen from our exhibition to look at stories of disappointed and forbidden love.
Listen to the podcast here:
'With Love' explores the stories behind a small number of love letters held at The National Archives. From the generous wish of a naval hero, to the plea of a selfless husband, our records allow us to tell a mini-history of love spanning 500 years.
The exhibition takes a slightly unconventional approach to the definition of a love letter. Typically, you'd expect a love letter to be sent from one absent lover to another, a physical token that brings to mind the far away writer. But here we have included wills, poetry, letters written to government officials and other state records.
All the records on display highlight an impulse of love, affection or concern for a lover, friend or family member. These letters allow us to peer into the worlds of past lovers and appreciate how different people have experienced and understood love, and how love is shaped by the time and place in which someone lived. There remains an unknown amount of love letters in our collection, waiting to be discovered by the keen researcher.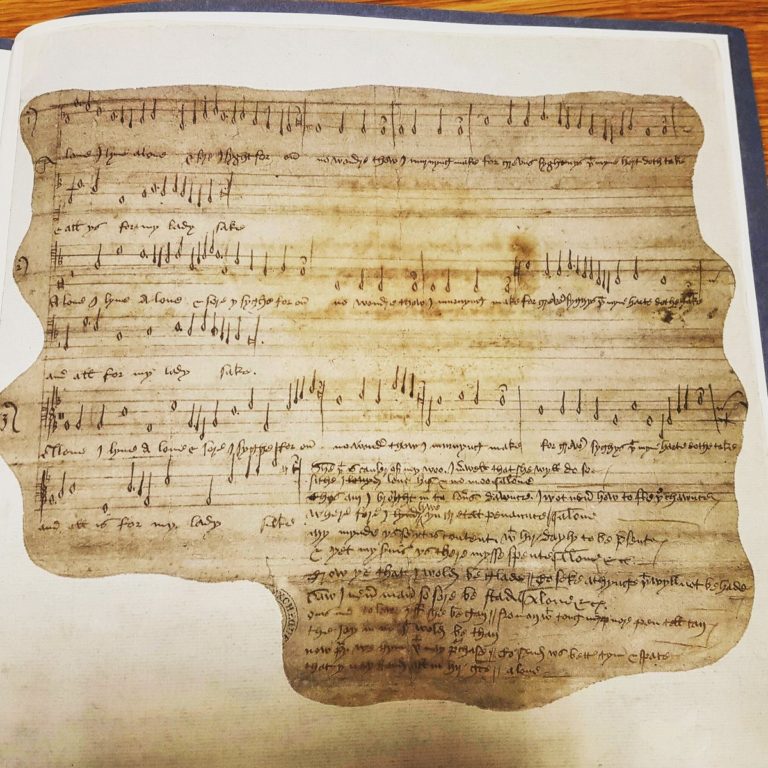 In this podcast episode we look at three very different experiences of love, which are unified by the disappointment and forbidden nature of the stories. First, we hear from a medieval clerk who takes some time out from his working day to jot down some lyrics of a love song on the back of an official report. While in the lyrics we hear of the longing and loneliness of the clerk who is pining for someone, the materiality of the document is fascinating – if he had not been so overcome with those feelings (or perhaps bored) at work, his love story would not have ended up within our collection. Without the lyrics and score being inserted into the public record we wouldn't have such a fascinating insight into love in the medieval period.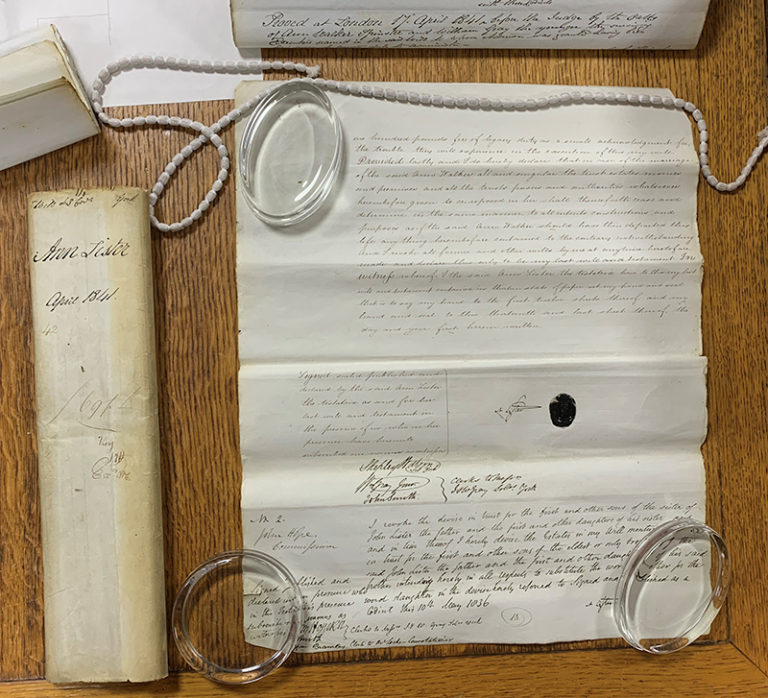 We also use the will of famed lesbian Anne Lister to gain an insight into her love life, and the contemporary social pressures surrounding same sex relationships between women. This is contrasted in the episode with a love letter sent by a man named Cyril to his 'Darling Morris'. While society would have been against Anne Lister's lesbian relationship, it was not illegal, whereas Cyril's letter was used by police as evidence of criminality – the act of sex between men.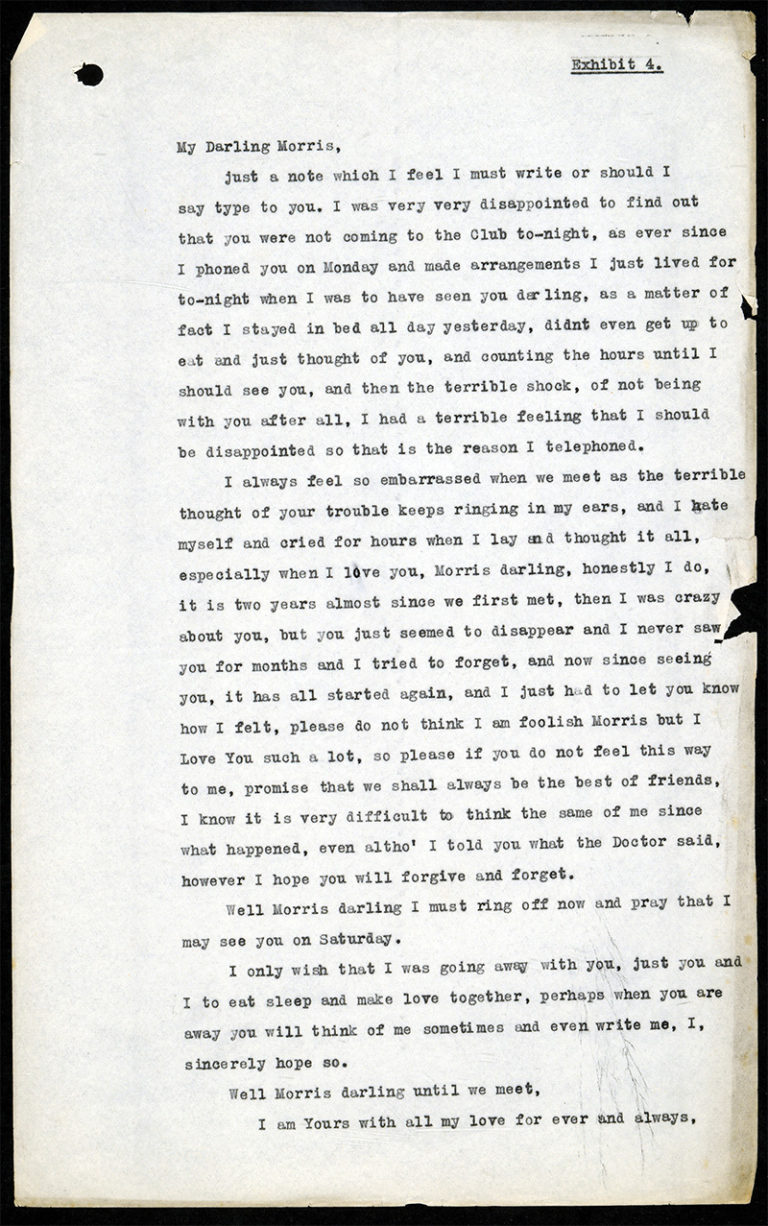 Cyril, in his letter, like our medieval clerk, is pining for his lover. Heard on its own, it is clearly a powerful love letter but we also explore the background behind the letter to gain an insight into why Cyril is so disappointed not to have seen Morris in effectively the only safe space for their love to blossom.
Sadly, along with Cyril and Morris and our unknown lyricist, many of the couples featured in the exhibition suffered disappointment in love. Love, after all, is a complex and often risky emotion – it is so delicate that it can easily be fractured. We see this time and time again, from Elizabeth I's rumoured relationship with her childhood friend and favourite in court, Robert Dudley, the Earl of Leicester, to sweethearts Hetty and Will separated by the First World War.
Nothing better fits this trope than the passionate relationship between the working class Labour Prime Minister James Ramsay MacDonald and socialite, aristocrat and writer Lady Margaret Sackville. Like the letter from Cyril to Morris, where Cyril expresses his desperation to see his beloved, Ramsay regularly and explicitly states his frustration in being unable to be near his love, as they were often separated by his work.
'Why aren't you here? I want you & you are hundreds of miles away and I cannot even kiss you'

RW 1/2/37
Ramsay proposed to Margaret at least three times during their 15-year love affair – each time she refused. Unlike Cyril and Morris, where their love was criminalised, it is thought that Ramsay and Margaret's biggest divide was religion; he was Presbyterian whereas she was Roman Catholic. Their love was strong enough to overcome distance, but could not progress past their beliefs.
Our next episode looks at other love stories from the exhibition, where the protagonists strive to keep their relationships together despite adversity.
On the Record at The National Archives: Series three available now
Episode one is now available on the Archives Media Player and on podcast listening apps. The second instalment will be available from 7 May and will focus on two very different stories of lovers divided: one of a queen and the other of a Jamaican sailor.
Subscribe: iTunes | Spotify | RadioPublic | Google Podcasts
You can also catch up on series one, which focused on espionage uncovering the true stories of famous spies; and series two, which looked at protest – from the medieval Peasants' Revolt to black power in the courtroom.
'With Love' online exhibition
Uncover stories of heartbreak, passion and disappointment through love letters spanning 500 years in our online exhibition.