As a Project Conservator in the Digitisation Team, I am used to hundreds of papers passing through my hands. Tagged files, large maps and bound volumes come and go within the fast-paced environment that is Repository 0, where large scale digitisation projects take place. Hundreds of documents are observed, stabilised and prepared for capture by the conservation team every day.
The nature of my work means that I do not often have the luxury to admire some of the documents that come through me, but every now and then something catches my eye and I can't help but stop and read. I find myself in front of a little treasure, one that not many others have laid their eyes upon, and I feel it my duty to give it the attention and admiration it deserves. This particular little treasure concerns the story of a man named Egbert V H Rizzo.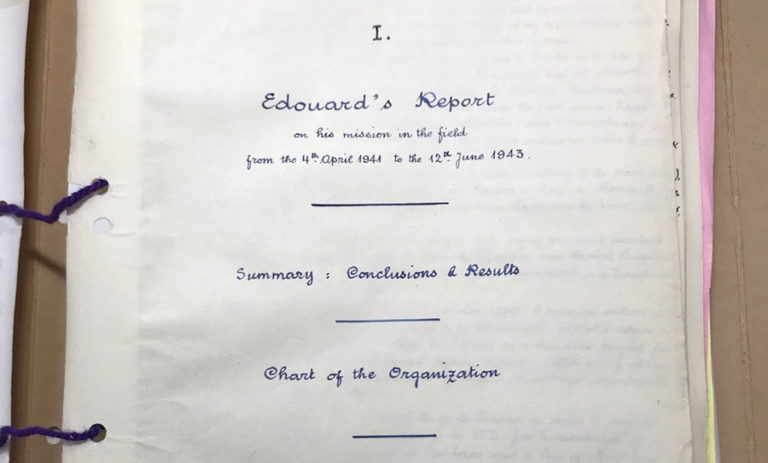 While working on a digitisation project focused on British Intelligence in January, I stumbled upon a 30-page handwritten report called 'Edouard's Report on his mission in the field from the 4th April 1941 to the 12th June 1943'.
Edouard was the alias given to Egbert Rizzo; a 61-year-old British man, Parisian resident, teacher of physics, chemistry and mathematics, and author of the extensive and gripping account that lay before my eyes. He was born in Malta, studied engineering in Belgium and worked as an engineer in England, France, Turkey, Egypt, Sudan and Germany. He spoke seven languages (French, English, Italian, German, Greek, Spanish and Turkish) and had notions of Russian.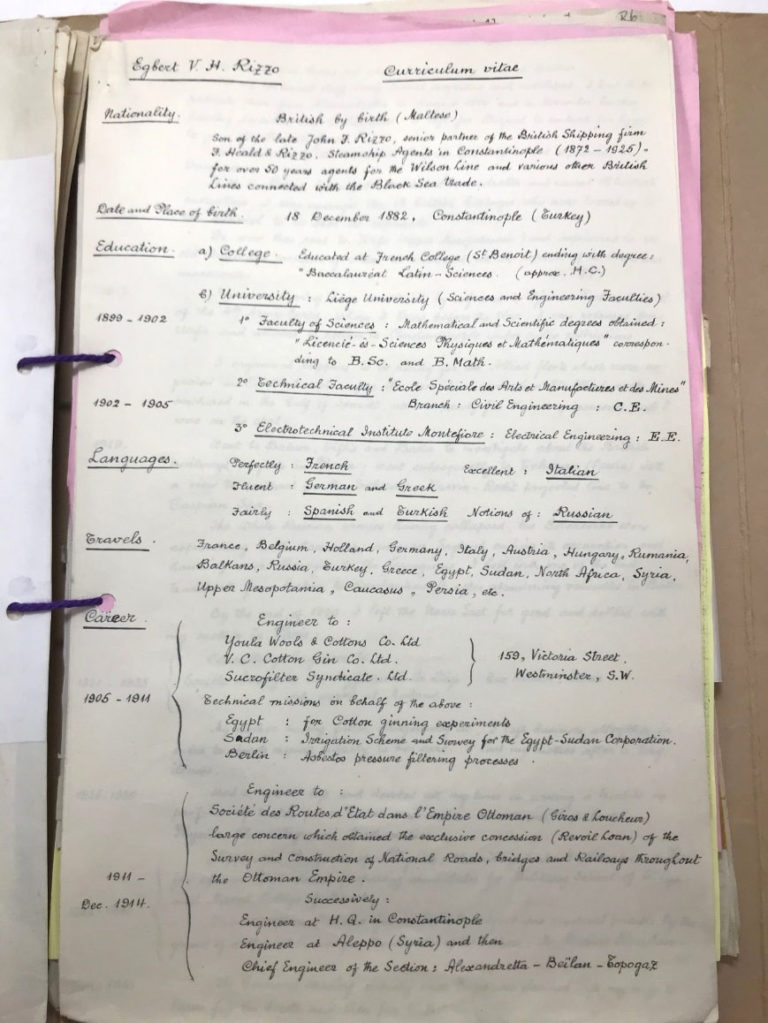 When the First World War broke out, Egbert was in Belen, Turkey. Before he was able to flee to Egypt to join the British forces, he was captured by the Turks and imprisoned in Damascus, then taken to Armenia before being rescued by an acquaintance in the Turkish army. After nearing death (he and 17 other British subjects were taken hostage and set to be shot) and serving with the British Army until the end of the war, Egbert decided to move to Paris with his mother.
For two decades he lived a quiet life; he married, published books on mathematics and became a teacher. In the summer of 1940, with the Germans occupying Paris, Egbert and his wife Anna made a plan to flee to the UK. Unfortunately, a change of circumstances meant Egbert was separated from his wife and had only one way of escaping France – a bicycle.
This is the story of Egbert's adventurous escape from France and subsequent work as a secret communication agent for the Special Operations Executive (SOE) 1.
On 11 June 1940, a then 57-year -old Egbert Rizzo was in the town of L'Aigle, 150 km west of Paris, probably on a teaching trip. His return to Paris was thwarted by the German bombing of Dreux, a town connecting L'Aigle to Paris. Evading German troops and hoping to reunite with his wife, Egbert travelled to his sister-in-law's house in Angers. From there, he embarked on a four-month, 1,500km bicycle journey to evade the Germans and return to the UK.
With the aim of conveying the full extent of Egbert's escape, I have mapped out his journey on Google Earth, pinning every town he mentions passing by and adding his personal commentary.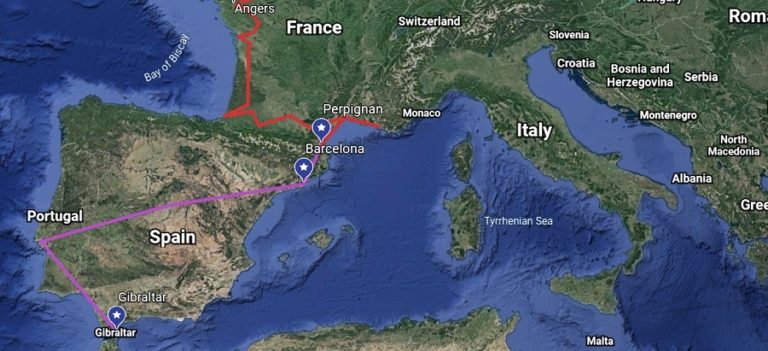 On 12 October 1940, Egbert finally reached Gibraltar and embarked on a ship to the UK. After two weeks at sea, he arrived in the UK on 27 October 1940.
Egbert immediately reported to W.O. Room 055A, following the advice of Commander Walsh, whom he had met while in Lisbon. In December 1940, he was interviewed by Major Humphreys and Lieutenant Belton, and after much going back and forth, accepted a proposal to go back to France to set up a clandestine communications line in the Vichy Zone (V.Z.) 2.
Egbert was promised an annual salary of £600 and given a fake French identity card. Without training, contacts or safe houses in France and only 42,000 francs to his name, he headed back to France on 4 April 1941. His mission: to set up a clandestine organisation for the transmission of messages and correspondence, establishment of post boxes and a line of communications from Perpignan to Spain over the Pyrenees.
This was to be code-named the Edouard Line. Egbert's story will continue tomorrow in the second part of 'Digitising Little Treasures'.
Notes:
The Special Operations Executive was formed in 1940 and was active until 1946. Its existence was kept relatively secret. Their main duty was to provide support for resistance in Europe, through clandestine communications, espionage and sabotage. ↩
Vichy zone was the name given to unoccupied France, also known as the Free zone. This entailed most of southern France, from the town of Vichy to the Mediterranean coast. The Vichy Zone (V.Z.) became part of the Occupied zone (O.Z.) after November of 1942. ↩