Friday 8 May was the 75th anniversary of Victory in Europe (VE) Day and we commemorated this historic moment through a series of posts on Twitter, Facebook, Instagram and our blog. These posts showcased the records we hold from 1945 and, in the case of one of our blogs, explained how 8 May became VE Day.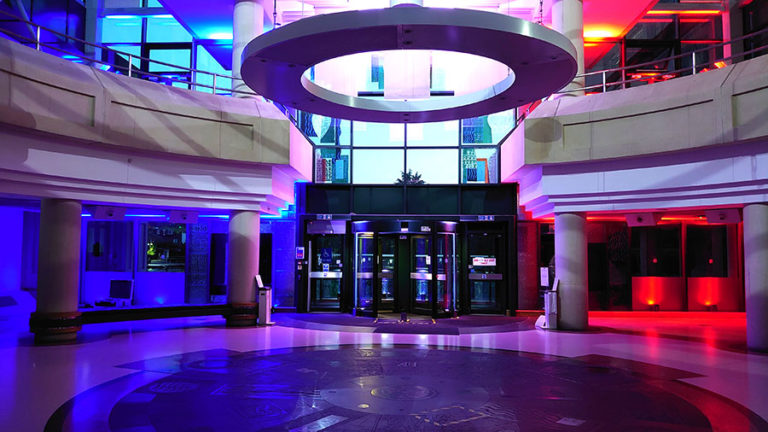 The National Archives was far from alone though in marking the anniversary; dozens of archives across the sector also organised their own celebrations that highlighted the important role archives play in preserving the nation's history. The scale of these celebrations was particularly impressive, given that the current situation had made impossible many services' initial plans of street parties and in-person exhibitions.
However, the sector rose to the challenge and managed to arrange successful online exhibitions, digital Q&As and video content that still sparked curiosity, conversation, and for some, memories. The hashtag #VEDAY75, which was part of the campaign by the Department for Digital, Culture, Media and Sport, was popular on Twitter throughout the week leading up to 8 May.
Did you take part in any VE Day activities run by the archives and heritage sectors, or see an archival record that left an impression on you? Here are some of the many examples of engaging activities that we appreciated from across the sector.
Croydon
The London Borough of Croydon was part of a National Lottery-funded project with Digital Drama called 'Home Front'. A range of films featuring London during the war were identified and re-mastered, with new oral histories being recorded before Christmas to create a new soundtrack for the VE Day film. The film was followed by an online exhibition featuring the paintings of John Harris Valda and online 'handling' sessions.
Hampshire
Hampshire County Council ran a 'This is Your Victory' event, providing a glimpse into the county's archives. There was an online exhibition and a film archive screening introduced by Zoë Viney from the Wessex Film and Sound Archive. Hampshire County Council also marked the anniversary via an online video, in lieu of a physical service, using archive images provided by Hampshire Archives and Local Studies.
Northamptonshire
Northamptonshire Archives posted extracts on Twitter over a number of days from the diary of a tank crew member as he progressed through northwest Europe, leading up to VE Day.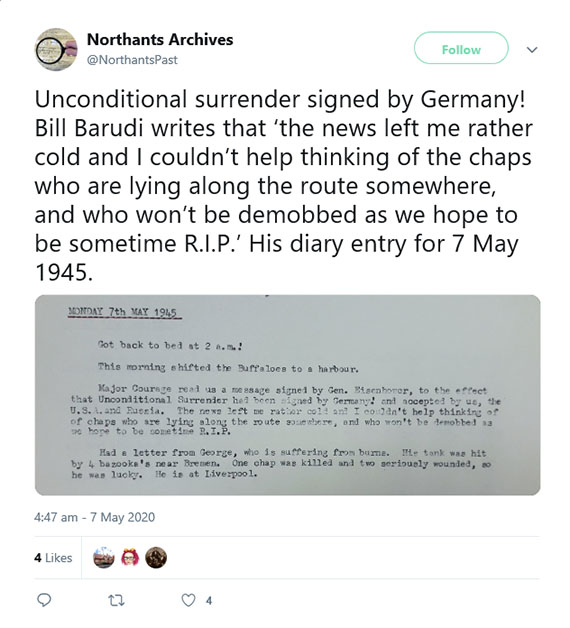 Suffolk
Suffolk Archives created an online display with huge amounts of content about VE Day in 1945, including details of the food, drink, music and dances from the time. They also created a VE image source pack for schools and an interactive map showing images of celebrations in different streets.
Devon and Somerset
Devon and Somerset substituted on-site events with blog and social media content. This was themed around stories of VE Day celebrations in Somerset and Devon, as well as the role of the Somerset Light Infantry at the end of the war. They also promoted videos from their previous War Stories project, in which local people gave their account of how life in Somerset was affected by the Second World War.
York
Explore York hosted a Stay at Home VE Day and encouraged people to share pictures and memories of celebrations over the last 75 years with the hashtag #VE75YORK.