To celebrate International Volunteer Day, this blog is dedicated to all those volunteers who support the work of the National Archives.
The National Archives holds a selection of medical case sheets relating to the many thousands of servicemen admitted to Napsbury Hospital during the First World War within the series MH 106 and within boxes 2212-2238 – a total of 27 boxes. Thanks to the MH 106 volunteer project, these have been catalogued to item-level and are therefore now name-searchable for the first time.
Medical experiences of the war
On 23 May 1919 Private Harold Norfolk was admitted to the County of Middlesex War Hospital, Napsbury with a mental illness. His medical records tell us that he had been demobilised in January 1919 from the Gloucestershire Regiment and give us insight into some of his lived experiences throughout the war. Norfolk suffered with mountain fever in Italy in June 1918 and 'was very ill' with gastritis on return home in July of the same year. Norfolk was then admitted to Colchester Hospital in August, and later to Birmingham Hospital for a short time before going home. While at home he was 'a constant source of trouble', threatening suicide on a number of occasions and developing a 'mania for buying motor cars', which 'involved his father in serious financial obligations'.
Writing to the Medical Officer at Colchester in May 1919, the Reverend H Deans of the Tendring Pension Committee stated Norfolk was suffering from nephritis (inflamed kidneys), suggesting 'perhaps you will think it advisable to send him to a "Shell Shock Hospital"', before adding that 'this young man had no mental trouble of any description before he joined the army'.
In Norfolk's notes from Napsbury it was reported that after being demobilised in January 1919 he was depressed and 'reluctant to enter into any kind of conversation'. Norfolk admitted to having 'periods of confusion' and was described by the medical practitioner as being 'somewhat manic', suffering from fainting fits 'during which he imagined himself back on the Italian Front'. He was eventually discharged in June 1919 after it was reported he was 'bright and cheerful' and 'converses readily'.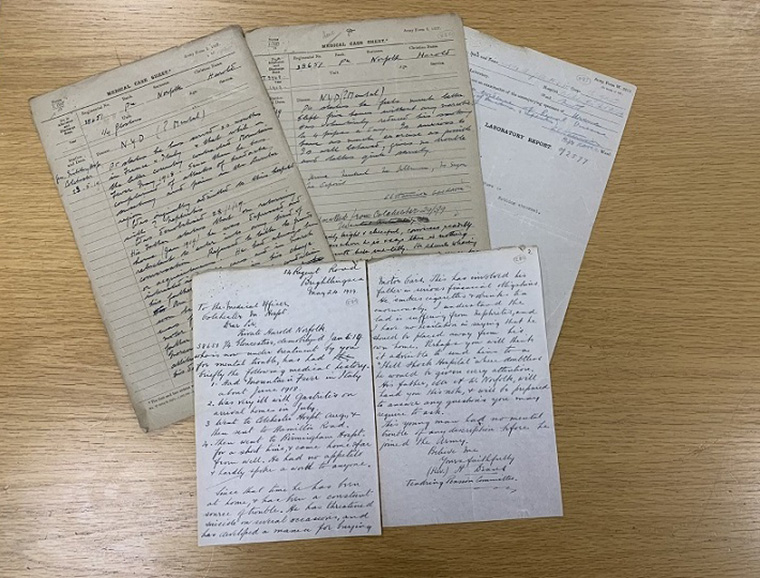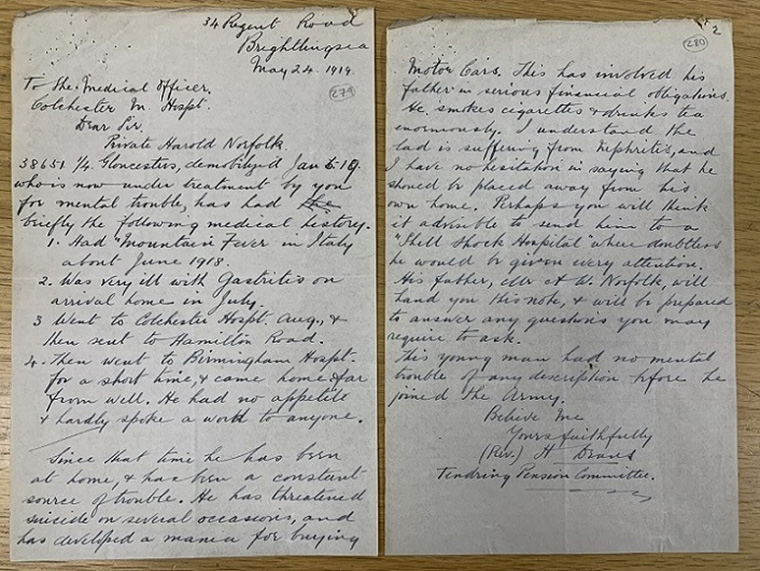 The Middlesex County Asylum was a mental health facility established at Napsbury in the district of St Albans, Hertfordshire. The hospital was founded in 1898, and open from 1905 to 1998. During the First World War, Napsbury Hospital was known as the County of Middlesex War Hospital, and acted as a general military hospital with 1,600 beds, receiving patients suffering with all manner of conditions. The surviving papers have, however, revealed a tendency towards more detailed documentation when a case involved a patient suffering with mental health conditions, compared to those admitted for other disorders. Napsbury's facilities included a specialist mental hospital with capacity for 250 men, which is perhaps not surprising given its origin.
Another such example of a patient suffering from shell shock was featured in an episode of BBC's Who Do You Think You Are?. Stood in the former grounds of Napsbury Hospital, David Walliams was shown a facsimile copy of a MH 106 case sheet after learning about the traumatic experience of Private John George Boorman, his great-grandfather, during the First World War. The record provides details of Boorman's admissions to various hospitals between June 1915 and July 1919 for treatment for shell shock, and includes written assessment of his mental state. Upon arrival to Napsbury in August 1918, Boorman was said to talk 'quite freely about the "voices of men" talking to him and persecuting him for the past six months'. By November, as the hallucinations of hearing persisted, it was observed that he 'talks to himself in quiet corners'. He appeared to remain unstable into 1919 but was ultimately discharged and sent home in July of that year.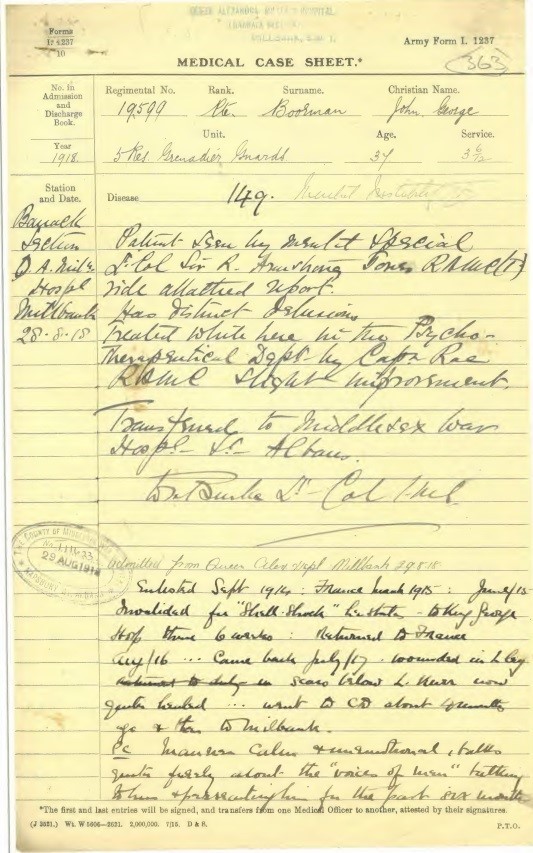 What is the MH 106 series?
The records in MH 106 are a representative selection (less than 1% of the original records survive) of several types of medical records from various theatres of war, including medical records of servicemen and servicewomen.
Having been injured, wounded or taken sick on the Western Front, British and Commonwealth soldiers initially would receive their medical treatment at a Field Ambulance unit. From there they would either be returned to their unit or sent further back to a Casualty Clearing Station for further care. From a Casualty Clearing Station they might be moved back further towards a base hospital before potential transportation home to a British civilian or military hospital like Napsbury.
As well as the battlefield wounds suffered by soldiers, the spread and impact of different ailments, diseases and mental health issues of service personnel are also made apparent by these records.
What has been catalogued so far?
Phase one of the project, financed by the Wellcome Trust between 2017 and 2020, saw the cataloguing of 109 boxes of First World War medical sheets and 28 boxes of medical cards; a total of 137 pieces, resulting in 44,612 item descriptions. As a result of this project, almost 50% of the collection is now fully-searchable by name, regimental number, regiment, hospital or illness.
Phase two is now under way of the remaining 169 boxes. This part of the project began in September 2020. The early stages of phase two were funded by The Friends of the National Archives to enable us to continue the process of enhancing catalogue descriptions as a volunteer project. As a result, we now have a brilliant team of volunteers who work on the project on Mondays.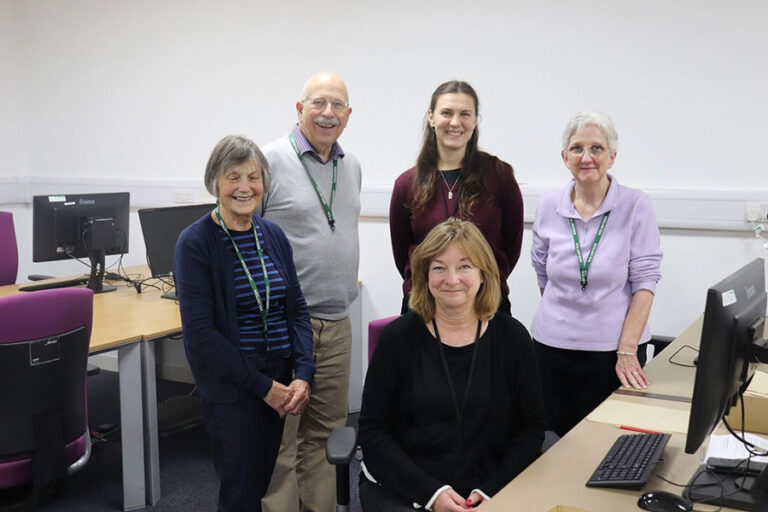 Our first task as part of this second phase was to catalogue the 27 boxes relating to Napsbury Hospital. Previously these records were extremely difficult to navigate. You needed to know which hospital the person was in before a speculative search could be undertaken within an alphabetical range.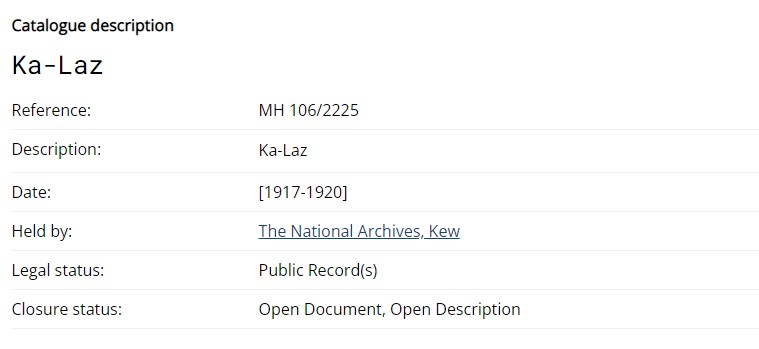 This Napsbury sub-series has now been catalogued to item-level and is searchable by the name of disease or ailment, name, regimental number, or regiment. But what information is captured in the record itself? The record can include more information than is found in the catalogue description, including length of service, religion and denomination, and further information about the treatment or how the wound or illness was incurred. The records may also contain extra sheets relating to the treatment and care of the patients, including clinical charts, X-ray reports and diagrams of the wounds among other papers.
Future research opportunities
These records offer people the opportunity to uncover their ancestors' movements during the war as well as their lived experience which has, for the majority of service personnel, remained undocumented. The records also offer opportunities for researchers to develop understanding both on the medical history of the war and its social and cultural aftermath, particularly with regards to mental health or disabilities, and afflictions that would have impacted service personnel long after the war had ended.
While it's difficult to know whether or how ex-servicemen dealt with mental illness after the war, we can use other sources to give an indication of what happened to them after the war. For example, we know from the 1921 Census that Harold Norfolk, then aged 23, was living at home with his parents in Brightlingsea, working – presumably happily, considering his passion – as a motor driver. Boorman, however, was recorded in the 1939 Register as a resident of the Cane Hill Hospital, an asylum at Coulsdon in Surrey, indicating that the shell shock he suffered during the war continued to plague him throughout his life.
As a result of these catalogue enhancements, more researchers will be able to locate and examine cases.
A huge thank you to all the volunteers who have worked so hard on cataloguing the Napsbury boxes. There are now 142 boxes left to catalogue to item-level, which will take several years to complete. There are many more thousands of stories of ordinary service personnel in this collection.