The subject of naming babies after battles arose as much as a result of curiosity as anything else. The home front during the First World War has of late been a research area at the forefront of my mind and the impact that the war was having upon daily life can be considered through examining data such as names. It has been fascinating to discover the extent to which children were named after First World War battles, key military figures and the outcome of the war itself. Whilst some of these names have passed out of use entirely since the First World War, it is interesting to note that some families have continued to include these names as middle names, thus continuing the tradition right up until the present day.
For the purposes of this research, I only looked at first names between 1914 and 1939. This is largely because not all middle names are listed in summaries of the General Register Office indexes, though there are further sources which indicate that many of these names appeared as middle names of children born during this period. Around 1600 babies with First World War inspired names were born between 1914-1919 (though many of these names continued to appear in the GRO lists right up until the beginning of the Second World War, and some even beyond that). Around 220 of these children died as infants, which represents around a 14% mortality rate. It is heart-breaking to consider that mothers might name their child for the battle which had claimed their father, only to then lose the child shortly afterwards.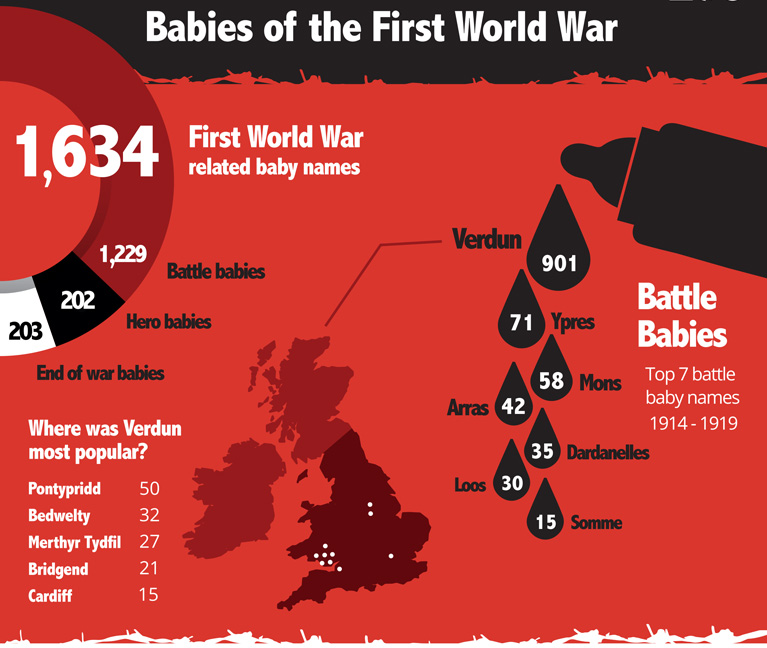 First World War inspired names peaked in 1916 – 812 children born in this year were given First World War inspired names, with 378 born in the June quarter that year alone (more than in the entirety of 1917 and 1918 combined!). There was a notable surge in such names appearing in the indexes of the December quarter in 1918, as you might expect.
The following battles appear as the names of children born 1914-1919:
Argonne; Arras; Cambrai; Cavell; Neuve Chappelle; Dardanelles; Delville & Delville Wood; Flanders; Heligoland; Helles; Isonzo; Jutland; Krithia; Liege; Loos; Marne; Messines; Mons; Paschendaele; Soissons; Somme; Thierry; Verdun; Vimy Ridge; Ypres.
It is not always clear whether these children are male or female from the GRO indexes, as gender is not specified, but feminine versions of several of the 'battle names' do occur. These include Sommeria, Arrasina, Verdunia, Monsalene and Dardanella. Several of these names do not appear either before 1914 or long after the end of the war in 1919, though some such as Jutland and Somme make a brief reappearance during the Second World War. For example, there are no births registered for 'Ypres' before 1914. Only one child was named Paschendale, born in July 1918. A further three girls and two boys have Passchendale (or variant spellings) as their middle names, and were all born between 1917 and 1920. Four children named Vimy Ridge were born between 1916-1918 (two boys, two girls) and a further four (two boys, two girls) had the name in full as a middle name between 1916-1920. One child was named Delvillewood, whilst another two were named Delville Wood. Perhaps their parents felt Delville was more passable as a day to day moniker…
Parents were also inspired by prominent figures during the First World War, and this is reflected in the birth indexes. 11 children were named Haig and 166 were named Kitchener between 1914-1919.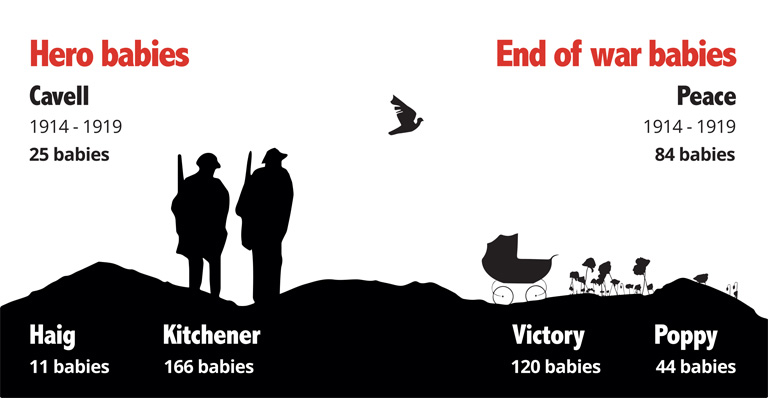 There was a decline in the registration of these war inspired names during 1918, presumably as the general population wearied of war. Only 151 children with such names were registered in 1918, down from 228 in 1917. It should be noted that the December quarter saw a remarkable surge – 88 children (over half) were so named, but the names chosen in this quarter are far more telling. Only one child born between 1914-1918 was named Peace, and then in the December quarter 1918, 28 were registered. 36 babies named Victory were born in December quarter 1918, with a further 69 babies named Victory born during 1919. There was also another name emerging in 1918, though it should be noted that almost all children named Armistice or who have Armistice as a middle name were born on November 11th or thereabouts.
Finally, with peace in mind, the data shows that only 36 girls were named Poppy during the First World War, with a further 8 in 1919. However, from 1920, the name grew in popularity, and peaked every year in the December quarter. This is almost certainly linked with the adoption of the poppy as a symbol of remembrance by the British Legion which was established in 1921.
Registration districts across England and Wales feature in this data set, but it is notable that popularity of names is more marked in some areas than others. South Wales features prominently, as does Yorkshire, London and the North East. It isn't always clear why this is – in some instances it is likely that a regiment engaged in a particular battle had a strong connection to that area, but in others and especially with the Battle of Verdun where the name is especially popular, the connection is not obvious. If anyone has any insight into the naming patterns, I would be interested to hear them.